Lee Bowen, AIF, WMS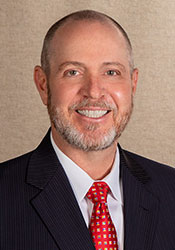 Senior Vice President, Investments
Investment Management Consultant
D 318.677.5519
lee.bowen@raymondjames.com

Lee helps investors, businesses and non-profits develop and direct their wealth management plans from the accumulation to the distribution phase. As an Accredited Investment Fiduciary® (AIF) and registered investment advisor representative with more than 20 years of experience, Lee offers his clients comprehensive services, including investment management, estate planning and fiduciary services. He enjoys building client relationships and has a knack for problem-solving. He also holds the Series 65 and Series 63 licenses.
He has a bachelor's degree from Louisiana Tech University, and also attended Centenary College and Louisiana State University. Lee was the recipient of the 2009 Morgan Keegan's Top Advisor Award for the Morgan Keegan Open Challenge* and was a member of the 2012 Morgan Keegan's Chairman's Club.** In 2015, Lee was a member of the Raymond James Chairman's Council,*** as well as the Raymond James Trust Advisory Council.**** An avid golfer, Lee is a past MGA Board Member of Southern Trace Country Club in Shreveport. Lee and his wife, Marjorie, have four children ‐ Craig, Duke, Francie and Logan ‐ and live in Shreveport.
The AIF® designation demonstrates that the holder has a knowledge of, competency in and commitment to the standards of investment fiduciary excellence. Holders of the AIF® mark have completed a specialized program on investment fiduciary standards and passed a comprehensive examination. They also must complete six hours of continuing education every year to retain the designation.

*The Morgan Keegan Open Challenge was based mainly on a challenge to double assets under management within two years.
**Membership in the Chairman's Club is based on prior year production. Re-qualification is required annually.
***Membership in the Chairman's Council is based mainly on assets under management, education, credentials and fiscal year production. Re-qualification is required annually. Prior membership is no assurance of future membership.
****Membership in the Trust Advisory Council is based on past support and willingness to share thoughts and ideas helping the council be the most supportive-trust company for our advisors and clients.