"Who is Henry Singleton?"

May 13, 2013
"'So Jeff, in your November Strategy Report you said, I recommend the gradual accumulation of stocks because they are trading at below known values. What are your top three stock picks?' My response was Teledyne, Teledyne and Teledyne!"
... Jeffrey Saut, E.F. Hutton (11/20/1974)
The year was 1974 and Teledyne (TDY/$77.56/Outperform), on a split-adjusted basis, was trading at about $0.05 per share. By 1986 it was changing hands around $75 per share. Unfortunately, back in 1974 I didn't have enough money to buy more than 10 shares, having lived through the devastating bear market of 1973 – 1974 where the D-J Industrial Average (INDU/15118.49) lost 47% of its value. At the time Warren Buffett was stating he felt like, "A kid in a candy store" because companies were selling at below net/net working capital and the INDU was changing hands at 6x earnings, below book value and with a dividend yield of 6%+. I was reminded of Teledyne last week by the excellent article written by Andrew Ross Sorkin co-anchor of CNBC's Opening Bell. Andrew was a gifted writer for the New York Times before joining my friends at CNBC and regrettably he now writes more sparingly for the Times. However, his article in the Times last week, titled "For Buffet, the Past Isn't Always Prologue," was, by my pencil, the best article of the week!
For the record, Henry Singleton was the Warren Buffet of that era. Singleton was the co-founder of Teledyne in 1960 and built it into one of the most profitable companies ever. He was the pioneer of company share repurchases, as well as the instigator of the purchase of deeply undervalued companies. He had an uncanny ability to resist fads, as well as criticism. His focus was on 1) defining his investment framework by following a strict discipline; and, 2) always doing his own work. Those focuses generated extraordinary results from ordinary businesses whereby Teledyne enjoyed 30%+ returns on equity, and EPS growth of greater than 1200% in a 10-year period. Teledyne's businesses were diverse, but with exceptional returns on capital that included companies like offshore drilling units, auto parts, machine tools, electronic components, engines, Water Pik, etc. Singleton often stated, "After we acquire a business, we reflect on all aspects of that business. Our conclusion was that the key was cash flow." He went on to note that investors should NOT focus on accounting profits, but free cash flow that can be redeployed in the business at a high rate of return to shareholders.
Moreover, like Buffett, Singleton concentrated his investments with Litton, at one point making up 25% of his investment portfolio. He also tried to stay within his "circle of competence" by buying companies that paralleled Teledyne's strengths. Further, Singleton liked to buy companies at 6x earnings (price/earnings), with an earnings yield of 17% (earnings/price), because such metrics provide a large margin of safety on the downside. After spending decades creating one of the world's largest conglomerates, Singleton stepped down as CEO in 1986, but remained as Chairman, and decided to break the company into three pieces, believing it had become too big for a single manager to oversee.
I revisit the Henry Singleton's Teledyne story this morning because my friend Doug Kass, of Seabreeze Partners fame, peppered Warren Buffet with questions at last week's Berkshire Hathaway annual event in Omaha. One of his more prickly questions was, "Should Berkshire be broken up into various pieces, like Henry Singleton did with Teledyne, to maximize shareholder value?" After a long pause a scowling Warren Buffet responded, "Breaking them up into several companies I'm convinced would create a poorer result." Charlie Munger, Buffet's partner, added, "I don't think you should get into your head, just because he is a genius, [that] he did it better than us."
I read Sorkin's article a few times and got the sense that Warren Buffet, and Charlie Munger, have been merely copying the traits of Henry Singleton's investment style. I also have to question, after the transition to new leadership, if Berkshire can compound money as well as it has under the current dynamic duo? For example, it is doubtful that new management will be able to command the kind of special convertible preferreds, with very high dividend yields, that Buffet was able to garner from companies like Goldman Sachs and General Electric among others, which have clearly helped Berkshire's performance.
Dougie concluded by asking Buffet if his son Howard would be installed as the nonexecutive chairman of Berkshire by asking, "How, beyond the accident of birth, is your son qualified to be nonexecutive chairman?" Buffet responded, "He has no illusions at all of running the business." Charlie Munger chimed in with, "I want to say to the many Mungers in the audience: Don't be stupid and sell these shares." And, last week that advice proved correct as Berkshire shares traded to new all-time highs.
Similarly, the equity markets traded to new all-time highs last week led by the strongest sectors – Industrials (+2.28%), Consumer Services (+1.88%), and Basic Materials (+1.88%). Interestingly, there was a rotation out of the defensive sectors as seen in the large 2.42% decline of the Utilities. I have previously warned that the Utilities, and Consumer Goods, sectors were about as expensively valued as they ever get and advised trimming back on those positions in favor of the other eight macro sectors. The Utilities have also come under pressure the past few weeks as interest rates have spiked, with the 30-year Treasury bond's yield rising from 2.81% to 3.13% in just seven sessions. That move also caused the T'bond to travel above its 50-day moving average (DMA), which gives a negative look to its chart pattern (see chart on page 3). Moreover, the long bond is now up from what I have termed the "yield yelp" low of 2.45% last July for a total rate-ratchet of roughly 28%. Buoyed by higher interest rates, the U.S. Dollar Index has likewise climbed above its 50-DMA (read: bullishly). While the strength in the greenback has surprised me, it does give foreign investors a "double kick" when combined with a rising U.S. stock market. The reciprocal, going back to last October, would be Japan's Nikkei 225 Index, which is up 71% when measured in yen, but is up by 32% when measured in U.S. dollars. Speaking to the waning earnings season, as of Friday 57.6% of reporting companies have beaten their earnings estimates with 51.6% beating revenue estimates. Accordingly, so much for the negative nabobs that have told us for seven quarters that earnings were going to fall out of bed. This week the economic calendar is much more robust than last week with the more import reports of Retail Sales (-0.3e), Industrial Production (-0.1e), Capacity Utilization (78.3e), Housing Starts (980e), Philly Fed (2.5e), and Leading Indicators (0.2e) on tap.
The call for this week: As stated in Friday's verbal strategy comments, there is a small window for a mild pullback this week with my daily internal energy indicator out of energy. However, there is minor support for the S&P 500 (SPX/1633.70) at 1614, and major support between 1590 and 1600, so I think any selling should be contained by one of those support levels with no damage to the uptrend. More importantly, last week the Buying Power Index crossed above the Selling Pressure Index (see chart on page 3), confirming the strength of the primary uptrend. Accordingly, I don't think the bears can prevent a move to 1700 into the end of the quarter (July 1st) unless there is some kind of "black swan" event.
---
"That Was the Week That Was"

May 6, 2013
Informally the TV show, "That Was The Week That Was," is referred to as TW3 and was a satirical comedy program first aired in the early 1960s. The program was considered a lampooning of the establishment. At the time it was considered a radical departure from legitimate television, but it set the stage for many more such radical departures. I revisit TW3 this morning because I have had so many requests for a formal repartee of a number of last week's Morning Tacks woven into a more formal strategy letter.
I began last week with Monday's comments that read:
Clearly, this performance pressure is currently playing on the 'street of dreams' as the D-J Industrials and the D-J Transports have tagged new all-time 'highs' over the past few months (yet another Dow Theory 'buy signal'). Accordingly, I revisit Ralph Wanger's 'Zebra' story this morning having returned from the RJFS National Conference where I interfaced with a number of portfolio managers (PMs) that are currently experiencing the same 'performance pressures' that many investors are feeling having missed the recent rally. Yet one of the most frustrating comments came from a PM that was almost fully invested, but is still woefully underperforming. His problem is he is fully invested in U.S. companies that generate more than half of their revenues outside the United States (Internationals). Surprisingly, companies generating more than 50% of their revenues inside the U.S. (Domestics) are outperforming the Internationals by a wide margin, as can be seen in the nearby chart (page 3) from the sagacious Bespoke organization. Indeed, the Domestics are better by 21.3% over the last 12 months while the Internationals are up only 8%.
On Tuesday I began the Morning Tack with a quote from my friend David Kotok, of Cumberland Advisors, where he noted the anger from the American public over the sequestration-induced TSA slowdown had caused the public to coalesce and demand a quick solution, which happened. I subsequently wrote:
Recall that I have said similar things about an angered electorate, and their collective need to change the status quo, since the mid-term elections of 2010. Indeed, I think the 'sea change' that occurred with those mid-term elections has ushered in a new assembly made up not of professional politicians, but rather having a business orientation. That sea change, I think, will evoke the election of smarter policy makers, and therefore smarter policies, with attendant more practical solutions to our nation's problems. And, evidently the stock market feels the same way as the Dow Industrials continue to trade to new all-time highs. Still, most investors do not trust the current rally, which has been a detriment to the performance in their respective portfolios! As repeatedly stated in these missives, 'I think there is a decent chance that a new secular bull market is afoot,' and has given investors multiple ways to leverage their way into that potential 'bull move' over the past five months.
Wednesday's missive was about the power of dividends. To wit:
As many investors know, the impact of dividends, and the growth of a company's dividend over time, has a very large impact on the total return of any investment portfolio. The numbers go something like this. Since 1926 the total return on stocks in the aggregate has been ~10.4% per year. Roughly 5% of that return came from price appreciation and 0.9% from price-to-earnings (P/E) multiple expansions. However, the remaining 4.5% of that total return has come from dividends and the compounding of those dividends over time. That means ~43% of total returns have come from dividends, which is why I always harp on them. Recently, however, the ubiquitous question has become, 'Hasn't the theme of buying dividend-paying stocks become a very crowded trade?' To answer that question, I hark back to the last era of financial repression that occurred after World War II. Indeed, post 1945 saw massive defaults on debts leaving the populace short of income. The CEOs of corporate America realized this and began increasing the payout of dividends on their company's stock. This trend continued into the early 1960s, at which time the dividend-issuers in the S&P 500 were paying out some 70% of their earnings in the form of dividends and the SPX was trading at a P/E ratio of ~23x earnings. Now fast forward, the dividend-issuers in the SPX are currently averaging a dividend payout of ~32% of earnings and the SPX is trading at a P/E ratio of somewhere between 14 – 15x earnings. So no, I don't think this is a crowded trade.
Because I was out of town speaking Wednesday night, our economist Dr. Scott Brown wrote Thursday's Tack and noted:
While there is clearly a lot of political noise surrounding fiscal policy in Washington, the biggest factor behind the large deficit of the last few years is that we had a severe recession. Recession-related spending, such as unemployment insurance benefit payments, has been trending lower. Revenues have improved as the economy recovers (but remain far below where they would be if the economy were nearer its potential). It's estimated that if the economy were near full employment, this year's budget deficit would be about 2.5% of GDP – not especially large. The problem with the deficit is the longer-term outlook. Lawmakers have focused on trimming the near-term deficit (which is not a problem), but have largely ignored the long-term problem. As the FOMC noted in its policy statement, tighter fiscal policy is currently restraining the recovery.
I closed out the week with this quip:
I was sitting in front of the camera yesterday listening to the program while waiting to be interviewed when one Wall Street strategist was regaling the anchor of the program about why he thought the U.S. equity markets were overpriced. He stated that the S&P 500 is trading at 2.5x book value versus the rest of the world's major equity markets being valued at 1.5x book. While he conceded the U.S. was likely 'the best house in a bad neighborhood,' he questioned if that was worth a 66% premium to the rest of the world. After screaming at my friend the anchor, who obviously could not hear me, I emailed her with this: I have often discussed such issues on your show. Firstly, the depreciation schedule in this country has a tendency to depreciate plant/equipment at a much faster rate than what the true useful life of such assets actually is. This means the stock market's book value is probably understated by a substantial amount, implying the 2.5x book is an overstatement. Secondly, our accounting system fails to properly account for the accumulation of 'intangible capital. In my client presentations I talk about intangible capital using the example of Apple (AAPL/$449.98/Outperform). AAPL spent a lot of money developing and perfecting iTunes. To be sure, AAPL can write off the research/development costs of that project. However, now that iTunes is perfected, what is it worth? The answer – it's worth a lot, but AAPL cannot carry it on its balance sheet as an asset. When such intangible assets are accounted for, the view of our economy, and subsequent 'book value,' changes -- and it changes profoundly for the better. It shows we are saving and investing more, which is the defining feature of a modern economy. QED, our price to book value is not too high.
That leaves the call for this week: The April payroll figure was better than expected, but more importantly, not as bad as feared. Moreover, the +114,000 net revision to the two previous months suggests that the labor market is stronger than we thought. And on that news the S&P 500 (SPX/1614.42) leaped above the 1600 level as we have anticipated. I actually thought it would take three or four attempts to surmount 1600 like it has taken at past century marks (the ideal pattern can be seen in the chart on page 3). This week what we have to be vigilant for is a sudden decline that would potentially represent a false upside breakout. However, I am not expecting that since the equity markets have a full charge of internal energy.
---
"Zebras?!"

April 29, 2013
Zebras have the same problem as institutional portfolio managers. First, both seek profits. For portfolio managers, above average performance; for zebras, fresh grass. Secondly, both dislike risk. Portfolio managers can get fired; zebras can get eaten by lions. Third, both move in herds. They look alike, think alike and stick close together. If you are a zebra, and live in a herd, the key decision you have to make is where to stand in relation to the rest of the herd. When you think that conditions are safe, the outside of the herd is the best, for there the grass is fresh, while the middle see only grass which is half-eaten or trampled down. The aggressive zebras, on the outside of the herd, eat much better. On the other hand – or other hoof – there comes a time when lions approach. The outside zebras end up as lion lunch, and the skinny zebras in the middle of the pack may eat less well but they are still alive.

... Acorn Fund's founder, and portfolio manager, Ralph Wanger
We saw many "outside zebras" gorging themselves on stocks in late 2007 as the D-J Industrial Average (DJIA) made a new all-time high and then registered a Dow Theory "sell signal" in November 2007. Subsequently, those outside zebras ended up as "lion lunch" when the senior index shed an eye-popping 53% over the ensuing 17 months. By March of 2009 many of those outside zebras had moved to the inside of the herd just in time to miss the bottom. Since those lows, more and more zebras have ventured back toward the "outside" of the herd driven by performance pressures. I have repeatedly commented that given the immense amount of cash still on the sidelines, as the equity markets continue to rally, the performance pressure, subsequent bonus pressures, and ultimately job pressure become just too great, causing portfolio managers to "pay up" for stocks. And that, ladies and gentlemen, is why the corrections have been short and shallow since the November 2012 "lows." As the Jeremy Grantham writes:
In markets, where investors hand over their money to professionals, the major inefficiency becomes career risk. Everyone's ultimate job description becomes 'keep your job.' Career risk-reduction takes precedence over maximizing the client's (portfolio) return. Efficient career-risk management means never being wrong on your own; so herding, perhaps for different reasons, also characterizes professional investing. Herding produces momentum in prices, pushing them further away from their fair value as people buy because others are buying.
Clearly, this performance pressure is currently playing on the "street of dreams" as the D-J Industrials (INDU/14712.55) and the D-J Transports (TRAN/6115.89) have tagged new all-time "highs" over the past few months (yet another Dow Theory "buy signal"). Accordingly, I revisit Ralph Wanger's "Zebra" story this morning having returned from the RJFS National Conference, where I interfaced with a number of portfolio managers (PMs) that are currently experiencing the same "performance pressures" that many investors are feeling, having missed the recent rally. Yet one of the most frustrating comments came from a PM that was almost fully invested, but is still woefully underperforming. His problem is he is fully invested in U.S. companies that generate more than half of their revenues outside the United States (Internationals). Surprisingly, companies generating more than 50% of their revenues inside the U.S. (Domestics) are outperforming the Internationals by a wide margin, as can be seen in the chart on page 3 from the sagacious Bespoke organization. Indeed, the Domestics are better by 21.3% over the last 12 months while the Internationals are up only 8%.
One company playing to this Domestics theme is Rite Aid (RAD/$2.54/Outperform). RAD has new management, is a real estate play, has in store clinics, and our analyst (John Ransom) thinks it can have a billion dollars in cash flow in 2015. While John projects only moderate price appreciation near term, over the next few years, as the turnaround takes place, he thinks the shares could trade meaningfully higher. As John writes in his company comment of April 12, 2013:
We are upgrading shares of RAD to Outperform from Market Perform ... We believe that FY14 guidance (i.e., flat EBITDA) looks conservative and the company will start to generate meaningful free cash flow (FCF) in FY14, reaping the benefits from its recent refinancing. While we acknowledge y/y pressure from the lapse of the Lipitor and Plavix generic exclusivity period and from a (still) leveraged balance sheet (5.3x EBITDA), RAD will continue to benefit from deleveraging, debt refinancings (including $800 million in callable debt in May at 9.5%), script growth, its burgeoning loyalty program roll-out, file buys ($60 million per year), and store refresh initiatives, which should help buffer the aforementioned headwinds. We believe that RAD will generate ~$0.27 of FCF/share in FY14 ($0.36 in FY15), and that FCF growth should average 10-20% over the next three years, assuming modest EBITDA growth.
RAD also plays to one of the best performing industries of the year (Drug Retailers +20.03% YTD), as well as one of the better performing macro sectors. To be sure, the Consumer Discretionary sector has been the third best performing sector year-to-date at +14.60%, while Consumer Staples is second (+15.61) and Healthcare is first (+19.60%) driven largely by the Biotechnology industry (+34.80%). Moreover, since we are in earnings season it is worth mentioning that of the 855 companies in the S&P 1500 that have reported, 59% have beaten the earnings estimates and 49% have bettered revenue estimates. Drilling down into the macro sectors, those showing the highest "beat rate" finds Consumer Staples first with a 69.6% beat rate, followed by Consumer Discretionary (+65.2%), and Information Technology (+63.5%).
As for the overall stock market, today is session 82 in the now legendary "buying stampede" because the Industrials have not experienced as much as a three consecutive session decline since the back-to-back 90% Upside Days of 12/31/12 and 1/2/13. At the time I was writing that such back-to-back sessions have left the INDU up 12.8% three months later 100% of the time; and while we didn't quite achieve that this year, we certainly came close. Last week's rally occurred from marginally oversold levels with the Buying Power Index rising while the Selling Pressures Index fell. Buying has also been broad based with all of the Advance/Decline metrics I monitor reaching new bull market highs. In summary, the data suggests the equity markets have once again dodged the opportunity to correct in any meaningful manner; and I must admit, I have NEVER seen anything like what has occurred since the "buying stampede" extended beyond the previous record of 53 sessions! That said, my work continues to suggest the equity markets do not face a period of serious vulnerability until this summer, unlike the last three years where "Sell in May and go away" has played so well, provided you redeployed the cash raised in the spring to stocks sometime during the summer months. I don't think the scenario plays that way this year.
The call for this week: This week will see a large 29 different economic indicators released with the most important being the ADP employment report, initial unemployment claims, the monthly non-farm payrolls report, the Chicago PMI, the ISM Manufacturing report, and the ISM Services report. Such a deluge of economic data within a one-week time period is fairly rare, so buckle up. All such reports can be market moving, but so far the bears, rubbing their collective hands together with glee over the fiscal cliff, sequestration, the continuing resolution, the debt ceiling, etc., have been totally w-r-o-n-g. I feel sorry for the bears waiting for the "crash" they have been expecting for the past four years all to no avail. It looks to me as if the stock market will continue its move irregularly higher until we get indications that something is irrevocably wrong. So far, nothing in the stock market's internal structure has told us to be anything more than cautious, but NOT bearish.
---
Additional information is available on request. This document may not be reprinted without permission.
Raymond James & Associates may make a market in stocks mentioned in this report and may have managed/co-managed a public/follow-on offering of these shares or otherwise provided investment banking services to companies mentioned in this report in the past three years.
RJ&A or its officers, employees, or affiliates may 1) currently own shares, options, rights or warrants and/or 2) execute transactions in the securities mentioned in this report that may or may not be consistent with this report's conclusions.
The opinions offered by Mr. Saut should be considered a part of your overall decision-making process. For more information about this report – to discuss how this outlook may affect your personal situation and/or to learn how this insight may be incorporated into your investment strategy – please contact your Raymond James Financial Advisor.
International securities involve additional risks such as currency fluctuations, differing financial accounting standards, and possible political and economic instability. These risks are greater in emerging markets.
Investors should consider the investment objectives, risks, and charges and expenses of mutual funds carefully before investing. The prospectus contains this and other information about mutual funds. The prospectus is available from your financial advisor and should be read carefully before investing.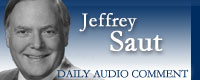 Jeff Saut's Daily Audio Comment is recorded every weekday, except Wednesday, at 9 a.m. ET. It is made available to the public on this Web page at approximately 1 p.m. ET.