Then and Now

September 15, 2014
At a meeting the other day, I was introduced as "a formerly notorious short seller." A friend asked, "Whatever happened to the old Shad? You never seem to have anything mean to say anymore?" ... Could it have something to do with interest rates? In our short selling days in the 1980's, we looked for poorly managed companies that burned cash, faced brutal competition, and engaged in dubious accounting. Interest rates were infinitely higher than today, and between interest on collateral and short credits, you could make high-teens rates of return if your short sales did nothing. All income was taxed at the same rates with no preference for long-term capital gains or dividends. Finally, if you sold short something that went to zero, you never had to close out your short sale and had the use of the money tax-free. All that has changed and new ways to make short sellers miserable seem to come along every day. With interest rates close to zero, it has become an almost impossibly difficult game. Conversely, the tax-efficiency of owning growing, brilliantly managed, cash generating, competitively dominant, global companies is an idea that has somehow been lost upon the investing public. I suspect the idea will be rediscovered, perhaps by the investment world equivalent of the Bedouin goat herders, who in 1947 recovered the Dead Sea Scrolls with all of their ancient biblical history.

... Frederick "Shad" Rowe, Greenbrier Partners
Dallas-based Greenbrier Partners is captained by my friend Frederick E. Rowe, who is fondly referred to as Shad. Now anyone from Virginia is familiar with the fish known as a shad, and are probably familiar with the political event known as the Shad Planking. Shad, the fish, is unique because it has developed the ability to detect ultrasound (frequencies greater than 20 kHz, which is above what humans can hear). Similarly, Shad, the man, has developed the ability to find "growing, brilliantly managed, cash generating, competitively dominant, global companies" and invest in them. I, however, am not as certain as Shad that his investing philosophy has "somehow been lost upon the investing public." Rather I think it is the simple fact there are not many of us left that have experienced a secular bull market like the 1982 to 2000 affair. Shad clearly has since I first encountered him when he was a contributing editor to Forbes magazine some 30 years ago and scribed some of the most clever and keen-sighted commentaries on Wall Street. Shad understands that in a secular "bull market" one of the most important things to know is not to lose your entire position because stocks tend to go higher in such an environment than most investors think. Yes, you can trade around that position, but don't lose the entire position! Over the years I have quoted Shad's prose in many of my letters, just like I quoted some verbiage from his July monthly letter in today's missive. I also remain impressed with Shad's stock picking. In the aforementioned letter he discussed a few of his positions that are from Raymond James' research universe and are all rated Outperform by our fundamental analysts.
He had this to say about Apple (AAPL/$101.66), "Apple has the most desired digital ecosystem in the world and it trades at a discount in comparison to its peers, the market, and its intrinsic value on virtually every metric. Two key investor worries were lessened: 1) gross margins do not seem to be cratering and 2) 28% revenue growth in China suggests that it is not too late for AAPL in the emerging markets. This is obviously not definitive, but it is encouraging and helped drive 20% earnings per share growth." On Bank America (BAC/$16.79) Shad writes, "Bank of America represents a proxy on an improving domestic economy and a company that still has vast room for operational improvement. The company's steady turnaround continued in the second quarter despite its continued legal/regulatory challenges. BAC remains cheap at 0.7x book value (1.1x tangible book value)." On Facebook (FB/$77.48) he notes, "Facebook is the backbone of the social media experience for more than one billion connected users around the world and provides the means for marketers to reach these potential customers with more efficiency and precision than has ever been possible. In the stupendously understated words of Mark Zuckerberg, Facebook 'had a good second quarter.' Revenue increased 61%, while 68% EBITDA margins drove 121% earnings per share growth compared to last year's second quarter."
I think these names should be on your "watch list" for any impending decline in the equity markets since this continues to be a secular bull market.
Speaking to the equity markets, the D-J Industrials (INDU/16987.51) have failed to confirm the new all-time high by the D-J Transports (TRAN/8552.28). As repeatedly written, that's an upside non-confirmation under Dow Theory and a reason for caution in the short-term. While the S&P 500 (SPX/1985.54) has indeed recorded a new all-time high, it too has been unconfirmed by a number of other indices. Nevertheless, the SPX's recent pullbacks have been able to stay above its 1980 – 1985 near-term support zone. I have written that I would be much more comfortable if the SPX would come down to its 1965 – 1970 support level so that I could see how it acts at this much more important level, but they don't operate the equity markets for my benefit. Also of interest is that while the SPX managed to tag a new all-time high, the average stock in the SPX is 7.5% below its respective all-time high. Moreover, as previously written, the average stock in Raymond James' research universe of more than 1,000 stocks is down 23.3% from its respective 52-week high. Outside of stocks, the yield on the 10-year T'note has risen to 2.61%, crude oil/gasoline prices have declined (bullish for stocks), commodities are swooning, and the U.S dollar is on its best upside tear in 17 years (bullish for small cap stocks). All of this is equity market friendly in the intermediate/long-term, even though in the short-term things are sketchy. In fact, as I wrote last week, there was a speculative trader's very short-term "sell signal" registered on September 4th when the 14-day Stochastic fell below its moving average. That signal was reinforced last week when the short-term Trading Index lost six points. Keep in mind, however, none of these short-term signals impacts my secular bull market "call."
The call for this week: I am in the San Francisco bay area speaking at various events and seeing accounts. I continue to find it fascinating that the portfolio managers (PMs) want to know what our advisors and their clients are thinking/doing, while our advisors/clients want to know what the PMs are thinking/doing. I believe this speaks to the fact that most are confused with the markets and that 77% of all active PMs are underperforming the S&P 500. This is likely because the surprise of the year has been the tremendous outperformance of the defensive sectors. To wit, Healthcare is up 14.70% YTD and the Utility sector has risen 10.35%. While we targeted Healthcare as a favored sector, we totally missed Utilities. I have also liked Technology, but recently I am hearing from tech companies their business with Russia has fallen off a cliff and I did not realize how big a consumer of U.S. technology Russia has become. This week investors will put on "rabbit ears" for statements out of the Fed meeting. Will Janet Yellen drop the phrase "considerable time?" Will she continue with "data dependent?" Or will she say "the FOMC's view is that there is considerable slack that remains in place?" Accordingly, all eyes will be on the bond market to see its reaction to the Fed's words. The other charts worth watching are crude oil, gasoline, and the U.S. Dollar Index. Also of note are Scotland's independence vote and this week's option expiration, both of which can be market moving.
---
Calm Down 2

September 8, 2014
In last Friday's Morning Tack I referenced some sage advice from the legendary Dow Theorist Richard Russell of Dow Theory Letters fame. The opening verbiage was (as paraphrased):
Calm down: nothing created by the mind of man has ever equaled the stock market in terms of its sheer ability to frustrate people. Why is this? The answer is the stock market frustrates because millions of traders and investors across the face of the U.S., and the world, are all trying to make money out of the market. Now when millions of people are trying to make money in the markets, you know that it is difficult to do. Many people are just not fated to make money doing anything, much less beat the stock market. "It's not fair" you complain, "why can't all these nice people make money trading and investing?" There is one simple fact that makes this difficult. Throughout history there have always been a small number of financial winners and a larger number of financial losers. So when you say the markets are "frustrating," the question becomes frustrating for whom? And the answer again is that the stock market is frustrating to the great number of participants, but highly rewarding to a smaller minority of informed, hard-working, intelligent winners.
And with those words I was inundated with queries of, "What do you have to do to be one of the investment winners?" Dick Russell responds:
You have to work hard. It's an ironic fact that people are willing to work hard and put in long hours in their own businesses, or on their jobs, buy then they think they can turn around and make easy money in the stock market. Beating the markets is one of the hardest endeavors in the world and these optimists believe that with a modicum of knowledge, a little study, and a large portion of luck they can make money "playing the market." It doesn't work that way, never has, and never will. Here's what I am talking about. The great Dow Theory writings were done by Charles Dow, William Hamilton, Robert Rea, and George Schaefer. How many analysts, professionals, strategists, etc. have read the works of these men? How many pros have ever studied Dow Theory, which is the basis of ALL technical market studies? Frankly, I think I could count on the fingers of both hands the analysts I know who have read, and are familiar, with the works of these men.
Now, there are certain pundits that will tell you Dow Theory does not work anymore because there have been so many changes to the components of the D-J Industrials (INDU/17137.36) and D-J Transports (TRAN/8601.80). I will tell you there has only been one false signal from Dow Theory (DT) over the past 15 years and that was a false "sell signal" generated by the Flash Crash in May of 2010; and, that was quickly reversed with a "buy signal." Indeed, there was a DT "sell signal" in September 1999, a "buy signal" in June 2003, a "sell signal" on November 21, 2007, and a DT "buy signal" in the 2Q09. Since then, except for the Flash Crash, there has been nothing but "buy signals." So what constitutes a DT signal?
Well, it's not very complicated. When the Industrials, and the Trannies, make new reaction highs, that's a DT "buy signal." Importantly, the indices do not have to do this simultaneously. For example, in January 2013 the Trannies made a new all-time high, but it wasn't until March 2013 that the Industrials did the same. It is worth noting the closer in time each index confirms the other, the stronger the signal. The reciprocal action is what constitutes a DT "sell signal." Of course that begs the question, "Did we get a Dow Theory 'buy signal' last week? The answer is, "Close, but no cigar." While the TRAN made a new high, the INDU did not. Still, the miss by the INDU was only 0.84 basis points. For the Industrials to confirm would require a close above the July 16, 2014 all-time closing high of 17138.20. It would seem appropriate during the week of 9/11 for such a confirmation to occur. While the S&P 500 (SPX/2007.71) has absolutely nothing to do with Dow Theory, it is worth mentioning the SPX did make a new all-time last week. Interestingly, however, less than 30 of the S&P 500's components made new highs as well. If we get a Dow Theory "buy signal" this week it would be just one of many that have been registered since March 2009 and only reaffirms we are in a secular bull market; and that's all you really need to know. As Curly (Jack Palance) said in the movie City Slickers, "Just one thing!" In this case the "just one thing" you need to know is that we are in a secular bull market, which reminds me of a story I have written about before.
Back in the 1920s there was a particularly shrewd stock operator named Mr. Partridge, often referred to as "Old Turkey." Many Wall Street wags constantly asked him, "What do you think I should do in the stock market?" Old Turkey would cock his head to one side, contemplate the question, and with a fatherly smile he would say, "You know it's a bull market." It was as if he were giving you a priceless talisman wrapped up in a million-dollar accident-insurance policy. Indeed, "just one thing" because in secular bull markets all of the surprises come on the upside. Well that's not entirely true; in the 1982 to 2000 secular bull market there was a pretty big mishap in October 1987. Still, in retrospect, that mishap was a great buying opportunity.
As for the question "What do you have to do to be one of the investment winners?" – while Richard Russell's advice certainly rings true, most individual investors do not have the time, or are unwilling, to do the due diligence to be big investment winners. Therefore, it is paramount to have a good financial advisor. Ever since the turn of the century I have opined that the 1970s was the decade of the product. My generation graduated from college and bought the first car, the first house, etc. The 1980s was the decade of the image. We bought the house on the golf course in a gated community and a Mercedes Benz. The 1990s were experiential. We went to Europe and brought back experiences, not things. The new millennium is all about the relationship. When our cars break we don't need the cheapest price to fix them. What we want is someone we trust to do the job right and charge us a fair price. And, we want the same relationship with a doctor, a lawyer, and especially a financial advisor. Our mantra is, "Please take stewardship of our money and try to give us a decent return. We don't need a spectacular return, but above all don't lose 58% of it in the October 2007 to March 2009 decline."
The call for this week: "Close, but no cigar" was the call on the Street of Dreams Friday as the Industrials failed by less than 1 point to notch a new all-time high and thus confirm such a move by the Trannies. But while all eyes were on the major indices, the Advance/Decline lines for most of the small-cap indexes remained well below their respective all-time highs. In fact, Lowry's list of domestic common stocks dropped to a new 26-week low. Adding to the divergences, while the NYSE All-Issues Advance/Decline Line is at a new all-time high, the Operating Company Only Advance/Decline Line (it leaves out ETFs, closed end funds, etc.) has not registered a new high. Further, the SPX is at the topside of its 3% trading band, and therefore overbought on a trading basis, and there was a traders' speculative short-term "sell signal" last Thursday when the 14-day Stochastic Indicator fell below its moving average. However, despite these near-term trading calls the "just one thing" investors need to keep in mind is that this is a secular bull market, so consider this. Since 1989 the S&P 500's earnings have grown by 6.15% annually. Extrapolating that into 2020 implies earnings of $183.36 (see chart on the next page). Using the historical median P/E ratio of 15.5x yields a price target of 2842 in 2020. This morning the preopening futures are marginally down on worries about what might happen during the week of 9/11.
---
Homesick

September 2, 2014
Because interest rates, credit growth and prices are mutually interdependent, the problem of analyzing their trends can be approached from a variety of starting points. In past reports we have looked at the level of rates as a measure of affordability of credit usage from a borrower's perspective and have come to the conclusion that money was too costly in relation to growth rates of incomes, profits or collateral values for much more credit growth to be sustained without producing a parallel growth of defaults, failures and forced liquidations. The general effect of this process is to slow the growth of total credit by undermining its quality and longevity. . . . Another perspective from which we have examined the problem is that of asset prices and their role in changing the supply/demand balance and thereby influencing the demand for credit as a means of acquiring assets. We have examined the way in which asset prices in and of themselves can reach levels at which excesses and deficiencies in supply and demand can change the basic price trend of any given asset category. ... The present situation in real estate bears some striking similarities to the heyday of the railroads. The initial boom period of the 1970s was sparked by a combination of high inflation, low real interest rates and a migration of population to the then prosperous commodity producing regions. As the continuing inflation made leveraged real assets financed at fixed rates more and more attractive, nearly limitless pools of capital were made available for construction, regardless of the initial economics of the project.

... Comstock Partners, "Homesick" (7/29/88)
In 1986 Stan Salvigsen, Michael Aronstein, and Charles Minter left Merrill Lynch to form the money management firm Comstock Partners. Thus began some of the best, and most colorful, economic/equity research Wall Street has known. I still vividly remember one of their initial reports, "That Ain't Mud on Your Boots, Partner." The trifecta were one of the first to predict the massive decline in interest rates, but unfortunately Stan passed away at 53 and was unable to realize how terrific that "call" would prove to be. I was reminded of Comstock's report titled "Homesick" by recent cries from select pundits that the real estate/housing recovery is over. Those cries have echoed down the canyons of Wall Street for weeks, but seemed to hit their zenith when last Monday's new home sales were much weaker than expected. Indeed, the median forecast was for sales of 430,000 homes on a seasonally adjusted annualized rate, yet the actual number was 412,000. Remember, however, there is a large level of uncertainty in the monthly figures. July sales were reported as -2.4% +/- 11.9% – meaning that we can be 90% certain the true monthly change was between -14.3% and +9.5%. As our economist, Scott Brown Ph.D. writes, "That is, the reported decrease in July is not statistically different from 0%. Also, note that the median sales price is dependent on the mix of homes sold (regional strength, high-end vs. low-end, etc.) and is not a good measure of home prices in general. Despite said uncertainty, the spin masters trumpeted those numbers prove the Housing Hurray is over.
Their "proof" is allegedly reflected by the fact that "all cash" home sales have fallen to ~38% in the recent quarter from the previous quarter's 42% level. While that may sound like a worrisome trend, common sense suggests private equity firms like Blackstone, who here in the Tampa area bought roughly $1 billion worth of "short sale" homes, have sucked-up the available supply. To wit, the inventory of vacant homes for rent/sale has declined from 6.6 million units in 2009 to ~5 million currently. The Blackstones of the world also are now competing with individuals that need to buy a house as household formations finally begin to increase. But there are more reasons the housing recovery is still in place. As my friends at the GaveKal organization write:
US households are no longer overleveraged. The household leverage ratio, measured by household debt to asset ratio, has declined back to 1990s level and household debt has begun to show some slight uptick. Given the (diminished) structural growth outlook for the US economy such reduced levels of average indebtedness look appropriate, certainly based on historical norms (see charts 1 and 2). [Further], Banks have started to loosen credit standards for prime mortgages, while standards for subprime lending, which tightened after the bust, look to be on the point of relaxation. Easier finance is a vital ingredient needed to draw back into the market homebuyers that have been squeezed out by effective financial exclusion (chart 3). [Finally], more expensive rental housing is pushing people to buy rather than rent. Home ownership affordability is near its average of the last 20 years. By contrast, the migration into rental housing caused by the 2007-11 bust has made renting very expensive. Households face the choice of enduring higher rents or getting back on the housing ladder, even if they missed the easy price gains of the last three years (chart 4).
I was just with some of the folks from GaveKal and was fortunate enough to discuss various strategies that have allowed their mutual funds to outperform respective benchmarks. I also opined that given their views on an improving real estate market (I agree), and my views on a healthy automobile market, it seems remote that the U.S. economy will slide back into a soft economic spot. Plainly, that's what the equity markets are sensing as they continue to ignore the obviously worsening geopolitical environment. Combine that backdrop with the 11.7% 2Q14 earnings growth, and the 6% revenue-per-share gains, and is it any wonder the equity markets remain perky. Does that mean we won't get a 10% - 12% pullback? Of course it doesn't! Everyone knows it is coming, they just don't know when. As stated, I thought there was a high degree of probability such a decline had begun in July, but after falling through its first support zone (1940 – 1950) the S&P 500 (SPX/2003.37) stayed above its secondary support zone of 1890 – 1900 and re-rallied to a new all-time high. Too bad the same cannot be said for the D-J industrials (INDU/17098.45), or the D-J Transports (TRAN/8408.02), causing one Wall Street wag to exclaim, "Can you spell non-confirmation?!"
Speaking to the report (internal use only) that Andrew Adams "inked" about various investment ideas from our recent meetings with portfolio managers (PMs), and that are followed by Raymond James' fundamental analysts with favorable ratings titled "Invest With The Best," I have received numerous requests for those names and the stories accompanying them. This morning I will share two. The first is Starwood Hotels & Resorts Worldwide (HOT/$84.54/Outperform) and according to the PM I met with Starwood has announced plans to and is repurchasing 10% of its outstanding stock and moving toward an "asset light" business model. That means the company will be selling some $2 billion (or more) worth of hotel properties in lieu of managing them rather than owning them. The PM's opinion is Starwood will be distributing some of the cash raised in the form of dividends. The second idea garnered from our recent meetings with PMs is Mohawk Industries (MHK/$146.02/ Outperform). In this case the PM thinks 80% of revenues come from the "new" and "remodel" businesses. Moreover, Mohawk is first, or second, in each of its business segments. According to this PM, the company has $10+ per share in earnings power, yet is trading at 13x depressed forward earnings. For more information, please see our fundamental analysts' recent reports.
The call for this week: Mark Twain once said, "OCTOBER: This is one of the peculiarly dangerous months to speculate in stocks. The others are July, January, September, April, November, May, March, June, December, August, and February." But the truth is the month of September has the worst track record. So we enter the month of September, which since 1928 has experienced an average decline of 1.07% and has seen gains a mere 45.3% of the time. That said, the August 11, 2014 traders' "buy signal" we identified was reinforced when the SPX broke out above its previous support zone, which then became the overhead resistance zone of 1940-1950, and traded to a new reaction high. This morning, the SPX preopening futures are higher by 4 points despite Putin's Prose about being able to take Kiev in a fortnight and his reminder that Russia is a major nuclear power. To me, it is pretty eerie our markets can ignore such rants.
---
Additional information is available on request. This document may not be reprinted without permission.
Raymond James & Associates may make a market in stocks mentioned in this report and may have managed/co-managed a public/follow-on offering of these shares or otherwise provided investment banking services to companies mentioned in this report in the past three years.
RJ&A or its officers, employees, or affiliates may 1) currently own shares, options, rights or warrants and/or 2) execute transactions in the securities mentioned in this report that may or may not be consistent with this report's conclusions.
The opinions offered by Mr. Saut should be considered a part of your overall decision-making process. For more information about this report – to discuss how this outlook may affect your personal situation and/or to learn how this insight may be incorporated into your investment strategy – please contact your Raymond James Financial Advisor.
International securities involve additional risks such as currency fluctuations, differing financial accounting standards, and possible political and economic instability. These risks are greater in emerging markets.
Investors should consider the investment objectives, risks, and charges and expenses of mutual funds carefully before investing. The prospectus contains this and other information about mutual funds. The prospectus is available from your financial advisor and should be read carefully before investing.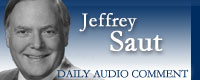 Jeff Saut's Daily Audio Comment is recorded every weekday, except Wednesday, at 9 a.m. ET. It is made available to the public on this Web page at approximately 1 p.m. ET.