No More Black Mondays

October 20, 2014
In a true demonstration of impeccable and apropos timing given the recent volatility we have experienced, yesterday marked the 27th anniversary of one of the stock market's most infamous and chronicled events. "Black" Monday, October 19, 1987 was one of those multiple standard deviation occurrences that statisticians will tell you are not supposed to ever really happen, but as is the case more frequently than most realize, it of course did happen, and its impact is still being felt today even as there are fewer and fewer investors around that actually had to suffer through it. The Dow Jones Industrial Average lost over 22% of its value that fateful day, a decline that takes on even greater significance when you consider the Dow hasn't undergone a 20% or greater slide over any time period since the 2008-2009 bear market (we came close in 2011, but no cigar). Having that much wealth wiped out in a single session will understandably leave its mark in financial lore, and since then, it has been responsible for countless market gurus attempting to predict when the next such impossible Black Swan crash will occur. You may have even heard some rumblings lately that the current market pattern is similar to 1987, a belief that makes for a good headline but is most likely better at generating mouse clicks than it is at actually forecasting the direction and magnitude of the next move. Anything can happen, of course, but I would like to point out that in 1987 the DJIA had soared an incredible 44% year-to-date at its August high, while our current 2014 version did not even manage a 5% gain at its September 19 top. There are still some issues under the hood of this market, but unless we see some drastic deterioration, I remain hopefully optimistic that the "once-in-a-lifetime" 1987 crash will continue its path toward being just a distant memory and that history will not subject us to a 2014 variety.
With that being said, the equity markets still do not feel completely healthy, and it remains to be seen if last week's wild rollercoaster action was enough to fully shake out the weak holders so the uptrend can resume. As we wrote in both Thursday's and Friday's Morning Tack, it certainly feels like we got a selling climax on Wednesday, but this week will be very crucial in determining whether or not we have truly begun the bottoming process. Strangely, I would have felt a little bit better if we had lost just a tad bit more last week in order to fully get the 10% correction in the S&P 500 that we have been expecting since the beginning of 2014. It's now been almost 2 ½ years since the last 10% dip, and I'd like to go ahead and get it out of the way, if only so we can stop talking about it. By my math, the S&P 500 will need to touch 1817 in order to make it official, and so we almost seem destined for at least an undercut low to take it out once and for all. As I wrote Friday:
The action most consistent with a bottom would be that we get a decent oversold rally that takes us up near the major moving averages before another round of selling brings us back down to challenge Wednesday's low. Then, if the low can hold, we will have an opportunity to take a real shot at the next leg of the secular bull market that we still believe is in effect.
Even if we do get an undercut low that falls slightly below the one from last Wednesday, it does not negate the bottoming process, in my opinion, but ideally it would not stay under that low for long or stretch too far underneath. We do not want to see evidence of renewed broad-based selling, so hopefully any further weakness takes place on lower volume and is not as sharp as what we saw the past couple of weeks. The fact that we are having a pullback is not altogether surprising given the run we've had [the fifth longest streak of days above the 200-day moving average in the S&P 500's history, according to Bespoke Investment Group (see Chart 1)], but we're obviously near levels where we want to start to see some increasing demand from buyers who feel we've corrected enough.
Along those lines, it would be a boon to the market if the small caps can continue their recent spurt of outperformance. Perhaps lost in all the craziness of last week was that the Russell 2000 actually managed a gain of around 2.75%, particularly impressive considering the small caps have routinely underperformed large caps since the beginning of March. In Chart 2, you can see how the relative strength trend has been steadily in favor of the S&P 500 over the last few months (small caps are outperforming when the line is moving up and underperforming when it is moving down). One sign of a healthy market is when we have broad participation across the different classes of stocks, and most strong bull markets have historically featured the small caps as leaders, not laggards. So it would likely only help things to get some renewed interest in the smaller, more speculative stocks. At this point, we cannot tell if this recent pick-up in strength in the Russell 2000 is the beginning of a new trend or solely a result of small caps being relatively more oversold than the large caps, but I will be watching the line in the aforementioned chart very closely and would like to see it start rising again like it mostly has done since the 2009 bottom.
We are now in the heart of earnings season, too, which will continue to provide sort of a status report as to how much the perceived global growth slowdown is affecting actual company performance and future outlooks. Analysts on the Street have been ratcheting down earnings estimates recently, having lowered forecasts for 728 companies in the S&P 1500 over the last four weeks compared to raising estimates for only 372 (source: Bespoke Investment Group). The question now becomes whether or not analysts have lowered the market's expectations enough to allow for some positive surprises, as a number of earnings and revenues beats could be an impetus to get things rolling again.
Europe may be playing its respective part, as well. Despite being the setting for many of the current issues the world markets face, the Continent actually finished last week with somewhat of a flourish and the iShares S&P Europe 350 Index Fund (IEV/42.22) looks to have made a hammer candlestick pattern, which is typically bullish in the short term (see Chart 3). If things can settle down across the pond and U.S. earnings turn out not to be the disaster many fear, it could set us up for another run at the highs to finish the year.
The call for this week: We are still in the early stages of what could be a bottoming pattern, but internal market indicators such as breadth readings still need to show improvement. Friday's high in the S&P 500 was stopped practically right at the 200-day moving average and that appears to be the first resistance level in the way of higher prices. If we cannot overcome the 200-day soon, then we could fall right back toward the lows of last week, perhaps touching the 1817 point that would give us the true 10% correction. The April low sits right underneath at around 1815, which should provide fairly strong support.
---
The Right Question

October 13, 2014
In this business it has been said, "Sometimes knowing the right question is more important than actually knowing the answer." Over the years I have found that old Wall Street axiom to serve me well. One example would be reading the footnotes in a company's annual report. My father taught me that trick years ago along with reading the auditor's statement. Verily, the first thing I do when opening an annual report is to read the two aforementioned items first. That habit caused me to ask the question, "What are all of these transactions taking place between various partnerships inside the Enron Corporation?" Subsequently, I never purchased shares in Enron.
Currently, the question I have been fielding from investors the most has been, "Have we begun a bear market?" Why such questions are surfacing with the S&P 500 a mere 4.3% off its all-time closing high of September 18, 2014 (2011.36) is a mystery to me, but there you have it. Since July I have suggested the stock market just doesn't feel right despite the recent Dow Theory "buy signal." Make no mistake, on a strategic basis I firmly believe that we are in a secular bull market that has eight to ten years left to run. However, on a tactical basis there have been numerous negative divergences ever since the U.S. dollar began its upward moon shot in July. I have written about the Operating Company Only Advance/Decline Line's upside non-confirmation, as well as the negative price divergence where the small/mid-capitalization stocks were falling while the large capitalization companies were hovering near their highs. That gave the illusion everything was okay because the major indices were near all-time highs, but clearly that was not the case.
Indeed, I recently sliced and diced Raymond James' research universe of 1025 stocks and found that the average stock was down about 19% from its 52-week high with many stocks down a lot more than that. Such negative price divergences get resolved in one of two ways. First, the large cap complex hangs in there while the small/mid-caps correct, allowing the overall equity markets to rebuild their internal energy for another leg to the upside. Second, the weakness in the small/mid-cap complex eventually spills over into the large-caps as they follow the small/mid-caps into the netherworld. Until the past few weeks it appeared the first option was going to play. Over the last two weeks, however, the large-caps have joined on the downside. Currently, investors' eyes are focused on the S&P 500's (SPX/1906.13) intraday reaction low of 1904.78 that occurred on August 7, 2014, as well as the SPX's 200-day moving average at 1905.22. If the SPX fails to hold those levels it would most surely cause a test of the often mentioned 1890 – 1900 support zone, which in my view would likely fail to hold. In fact, the D-J Industrial and the NASDAQ Composite have already closed below their respective 200-DMAs. If the SPX follows, the question then becomes, "Are we finally going to get the 10% to 12% pullback the historical odds have suggested should happen sometime this year?" While markets can do anything, and it doesn't necessarily mean such a pullback has to happen, in this business you play the odds or they carry you out in a box. For the record, a 10% decline in the SPX would target 1810 on the SPX, while a 12% drawdown foots to 1770. Perhaps the Russell 2000 (RUT/1053.32) is already pointing the way lower, having fallen through its major support level of 1080 (see chart 1 on page 3).
Obviously volatility is back, as we opined last July when targeting the low in the Volatility Index (VIX/21.24) below 11 (see chart 2). The statement back then was that, "Periods of low volatility are typically followed by periods of higher volatility;" and, last week certainly proved that point. On Tuesday the SPX was down 1.5%+, Wednesday it rallied 1.5%+, again on Thursday the SPX fell 1.5%+. As the keen-sighted folks at Bespoke note, "This kind of three-day action has only occurred 54 prior times in the S&P 500's history going back to 1928. ... Over the next week, the S&P has averaged a gain of 1.13% with gains 12 of the last 14 times going back to 1939. Over the next month, the S&P has averaged a gain of 2.71% with gains 24 of the last 28 times." I certainly hope it plays that way this time, but I am going to continue to "sit on my hands and do nothing" until the stock market registers an all clear signal. Manifestly, I know old traders, and I know bold traders, but I don't know ANY old and bold traders!
To be sure, the three most talked about charts over the past few months have been crude oil, the U.S. Dollar Index, and the 10-year Treasury note. Speaking to oil, more than a month ago I wrote about crude's demise when some of my D.C. contacts telegraphed the U.S. and Saudi Arabia were going use oil as a weapon, and pressure the price lower, to penalize Russia and ISIS. It was also noted the downside level was probably $80 to $85 per barrel because below that would be detrimental to Saudi Arabia's social agenda. And, here we are with the November crude oil futures dipping below $85 per barrel over the past two sessions (chart 3). As for the dollar, two weeks ago today I scribed, "I think the U.S. Dollar Index tops this week on a trading basis" (chart 3). So far, that looks like a pretty good call. On the 10-year Treasury note, however, I have been dead wrong. With a yield of 2.3%, many pundits are warning the 10-year is signaling recession and deflation. I am not one of those pundits. I think the yield yelp is more about what is going on in Europe and Draghi's "QE-like" announcement, which I do think is finally going to kick-start Euroland because Europe has reached the "end game" where the consequences would be terrible.
One thing for certain, the market mauling has left eight of the ten S&P macro sectors very oversold. The two most oversold are Energy and Materials, while the two most overbought sectors are Consumer Staples and Utilities. In screening the S&P 500's largest energy stocks, the ones from Raymond James' research universe that are the most oversold, and are positively rated by our fundamental analysts, include: Halliburton (HAL/$54.29/Strong Buy); Baker Hughes (BHI/$56.68/Strong Buy); Cabot Oil & Gas (COG/$29.34/Outperform); and Devon Energy (DVN/$59.42/Outperform). And yes, I know the chart patterns look terrible.
This week the markets will face a much more active economic calendar with the most important releases being Producer Price Index, Retail Sales, Fed Beige Book, Industrial Production, Building Permits, and Housing Starts. You can see Raymond James Chief Economist Scott Brown's estimates for said releases in chart 4. This week will also feature a torrent of earnings reports. Analysts' earnings estimates have been ratcheted down significantly over the last few months for various reasons. My sense remains, as it has for the last three years, that earnings will still look good, providing a downside cushion for stocks at lower prices.
As for all the questions about Ebola, at this stage the impact is unknowable. My belief is that the estimated death of 1.2 million people is unreasonable in today's medical world. While it is true the Spanish flu pandemic from 1918 to 1920 killed 50 million people, there were many exceptional factors that contributed to the deadliness of that pandemic. The most recent precedent would be the SARS crisis of 2009. A mild pandemic, such as the Hong Kong flu (1968 – 1969), could reduce global GDP growth by 2%. Of course if it turns out to be a major pandemic, the world's GDP could be more severely impacted. It is obvious that the travel/resort industries would be hurt by such a pandemic, but the networking/handset industries could benefit as people stay home and work. In any event, I am not yet all that concerned about the impact of Ebola on our country's economy. I do wish I had acted on one portfolio manager's advice to buy cocoa futures since the Ivory Coast, the world's largest producer of cocoa, has closed its borders to African workers to pick its cocoa beans with a concurrent rise in the price of cocoa.
The call for this week: Given the oversold nature of the equity markets it would not be a surprise to see a rally attempt, but I do not think it is sustainable. As stated last week, I think rally attempts here are a "bull trap" that will eventually lead to lower prices. Indeed, the Russell 2000 is down 13.2% from its July high as stocks have suffered their worst decline since the European crisis of 2011. This is an option expiration week so volatility should remain high. This morning we have better economic news out of China, there are scuffles in Hong Kong as protesters knock down barricades, Kurds hold off ISIS in Kobani, and Turkey says the U.S. can stage air attacks from its bases if we agree to topple Assad. The result has the preopening SPX futures up 6 points, but while there may be a rally attempt, I would not trust it.
---
That was the week that was...

October 6, 2014
A week ago yesterday I arrived in New York City just in time to have dinner with some friends. Avra Estiatorio is arguably the best Greek seafood restaurant in the city and it is located 20 steps from my hotel of choice, the Hyatt 48 lex, which is aptly named since it sits on the corner of Lexington and 48th street. The next day I spent time seeing institutional accounts, but did journey to the New York Stock Exchange to have some air time on CNBC and then Bloomberg radio. Directly across from the NYSE, in the old JP Morgan bank building now turned condo, is where my friend Eric Kaufman hangs his hat while managing money for the asset management firm of VE Capital. Eric is the founder, and managing partner, of the firm that specializes in Master Limited Partnerships (MLPs). In fact, he and co-portfolio manager Victoria Crisologo know more about MLPs than anyone else I know. That night they took Cheryl and I to dinner at JoJo, a Jean-Georges restaurant located on East 64th where we talked about many things, including investment ideas. Tuesday was much of the same, except I got to spend time at Bobby Van's with my pals the "Friends of Fermentation." Art Cashin, and his stories, were spectacular! Wednesday began with a walk to the closest Hertz location followed by a drive to Burlington Vermont through the Catskills and then the Green Mountains. At this time of year the scenery was spectacular, although the trip took longer than expected due to the "leaf peepers." That night, at the Burlington aquarium, I spoke to a crowd of investors for the financial advisors of Hickok & Boardman, which uses Raymond James as its platform. The next day it was off to Montreal to speak to 200 portfolio managers (PMs) over lunch and then a client appreciation dinner for our Canadian financial advisors. The last day of the tour was in Toronto where I met with six different money management firms and spoke at a lunch to about 50 PMs. Indeed, "That was the week that was."
As usual, I received many interesting investment ideas that I will be vetting and then sharing in these reports. One of the more interesting exchanges was at my friend Craig Drill's office where a Wall Street icon, from an era gone by, works. Al Wojnilower, Ph.D. was part of a dynamic duo called Dr. Doom and Dr. Gloom; the other member was Henry Kaufman, Ph.D. Back in the 1970s and 1980s Al Wojnilower worked at First Boston and was a very influential economist. Between him and Henry Kaufman they could move markets. Now in his eighties, Al works at Craig Drill Capital Management and still writes very thoughtful reports. As we ate lunch Al said that the economy is getting better with autos leading the charge while housing lags. Asked and answered he opined, "What will the Federal Reserve do? ... It doesn't really matter." He went on to note Japan will get better, but very slowly, there is very little inflation, wages won't rise by much, and corporate profits will stay high. Another member of Craig's team embraced the belief that we are in a secular bull market and because there are no excesses in the system, we are in a slow moving perpetual economic recovery. Moreover, we are entering the growth phase of the secular bull where all market capitalization, all industries, and all sectors will participate. He concluded by putting forth the notion that large capitalization stocks are exposed to some headwinds like currency fluctuations, international events, etc. Like most of the other money management firms, the PMs were trying to handicap the Hong Kong situation. I wrote about this in one of last week's Morning Tacks, asking if this situation will devolve into another Tiananmen Square, causing capital to flee China with a subsequent Chinese implosion? I guess we will find out about that today since the protesting students have been told to disperse.
As for the here and now, while in Canada I had the pleasure of catching-up on some of Tony Dwyer's work. I have known Tony for about 15 years, having met him at a Minyanville "Circle of Friend's" dinner. Tony is an independent thinker and currently resides at Canada-based Canaccord Genuity as the U.S. portfolio strategist. Tony writes, as paraphrased in a publication:
The equity market has some downward momentum that could continue, but the tactical backdrop, historical precedent and positive fundamental backdrop suggest any further weakness should be made up very quickly – and then some. While it seems impossible at this point to hit his 2014 S&P 500 target of 2,230, Dwyer says not to count it out. There are a number of data points he has discussed recently that reinforce his view the market should strengthen into the end of the year following the current pullback: 1) When the SPX has been up more than 8% through the end of August, the median gain to the end of the year is an additional 4.42% (since 1958); 2) Since the inception of the SPDR S&P 500 ETF (SPY/$196.52) in 1993, when the S&P 500 was trading above the 200-day moving average and the VIX jumped 9% two days in a row (as it did Monday and Tuesday last week), the S&P 500 was positive after all 13 instances by an average of 6.4%, three months later; 3) Since the inception of the SPY, when the VIX was under 20 and jumped 15% to a three-month high (as it did last Thursday), the S&P 500 was positive after all 12 instances by an average of 5.9%, three months later; 4) There have been eight prior instances since 2002 when the percentage of Nasdaq components trading above their 200-day moving average dropped below 42% (as of last week). Even though in all eight instances the NASDAQ continued to trade lower over the near term, it was followed by significant upside. The median decline into the low was a loss of 2.81% over 15.5 days, which was followed by a median gain to peak of 17.24% over 66 days (before a 5% pullback); and 5) Since 1957, when the first day of October was down more than 1%, the SPX was up an average of 5.87% and 11.45% for the month of October and through year-end, respectively. There was only one negative occurrence and that was a 1.22% loss in 1976, although the market rallied enough to see the year-end period up 3.16%.
While I agree with Tony into year's end, I am not so certain about the near-term. Surely, last Thursday stocks were massively oversold with the result being a springboard reversal day leading to a "hammer formation" in the candlestick charts (see chart 1 on next page). According to Wikipedia, "A hammer is a type of bullish reversal candlestick pattern, made up of just one candle, found in price charts of financial assets. The candle looks like a hammer, as it has a long lower wick and a short body at the top of the candlestick with little or no upper wick." Also of note is that following a 90% Downside Day, like we just experienced, there tends to be a two- to seven-session rally. I also wrote about this in one of last week's Morning Tacks. As for my call for a U.S. dollar "trading top," we will find out this week if that was a good call. I did meet with one very bright PM who thinks Draghi's effectively "QE" announcement will be a much better "transfer mechanism" to kick-start Europe's economy and said the way to play it is via WisdomTree's Europe Hedged Equity Fund (HEDJ/$56.83) that hedges out the euro's currency risk.
The call for this week: A lot of folks think last week's action represents a meaningful low in the equity markets. While I would like to believe that, all we did was rally back from a deeply oversold condition into the 1965 – 1970 level on the S&P 500 (SPX/1967.90) that since July I have deemed as a key "attractor/repeller" level for the SPX. How we pivot off this area in the week ahead will go a long way in determining the near-term direction of the equity markets. Notably, the SPX held its 126-day moving average (DMA) and looks poised to test its 50-DMA at 1974.76 on the better news this morning out of Hong Kong, where the students seem to have returned to school. As for Friday's much heralded employment report, it occurred because a record 92.6 million people are not in the labor force. Meanwhile, the participation rate fell to nearly a 40-year low (62.7%).
---
Additional information is available on request. This document may not be reprinted without permission.
Raymond James & Associates may make a market in stocks mentioned in this report and may have managed/co-managed a public/follow-on offering of these shares or otherwise provided investment banking services to companies mentioned in this report in the past three years.
RJ&A or its officers, employees, or affiliates may 1) currently own shares, options, rights or warrants and/or 2) execute transactions in the securities mentioned in this report that may or may not be consistent with this report's conclusions.
The opinions offered by Mr. Saut should be considered a part of your overall decision-making process. For more information about this report – to discuss how this outlook may affect your personal situation and/or to learn how this insight may be incorporated into your investment strategy – please contact your Raymond James Financial Advisor.
International securities involve additional risks such as currency fluctuations, differing financial accounting standards, and possible political and economic instability. These risks are greater in emerging markets.
Investors should consider the investment objectives, risks, and charges and expenses of mutual funds carefully before investing. The prospectus contains this and other information about mutual funds. The prospectus is available from your financial advisor and should be read carefully before investing.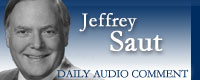 Jeff Saut's Daily Audio Comment is recorded every weekday, except Wednesday, at 9 a.m. ET. It is made available to the public on this Web page at approximately 1 p.m. ET.