Why are you so angry?

October 5, 2015
Mass layoffs are being announced. The U.S., Central America, South American countries, etc. are all economic disasters. Major currencies are falling and raw materials companies are seeing huge order reductions around the world. Plant production has been reduced to 66% in the first half of 2015; there are fields of idle construction equipment that China is not buying. Look for Korea to dump products into the U.S. Wholesale raw sugar prices dropped from $0.36/pound to $0.11/pound leaving Brazilian sugar cane companies ready to file for Chapter 11. When do we see price reductions in candy bars in the U.S.? Who is protecting the 'little people'? The Government? Wall Street? The States? How about nobody! The stock market is now a giant casino! When do the brokerage houses talk about it? Corporate profits are dropping, tax flows to Washington will drop, and the national debt will go to $21 trillion soon!

. . . An angry individual investor
Sitting at my perch I receive a lot of emails. Most of them are pleasant, insightful, or inquisitive, but a few times a week I get a vitriolic email like the aforementioned one from an individual investor. Usually when I receive such an item, I take a deep breath and try and figure out, "Why is this person so angry?" Most of the time, if I read the email a few times, it becomes apparent. In my response to that email, I did say that, "I told folks the first week of July the equity markets were going into a period of contraction, and have written extensively about the Dow Theory 'sell signal' of August 25th, so Raymond James did tell investors to get defensive." On further contemplation, I should have added that I didn't think the decline would be this severe because I did not believe the Industrials and Transports would break below their last October's lows. And that breakdown, ladies and gentlemen, is what gave us a Dow Theory "sell signal." Nevertheless, let's attempt to address some of my emailer's concerns.
Judging from my emails, many people are concerned with the debt our country has accumulated. In my world, this is usually referred to as Debt-to-GDP; and sure enough, when one studies the Federal Reserve's Debt-to-GDP chart it is worrisome (see chart 1 on page 3). However, I have argued for some time that is not the proper lens with which to view our debt. Even though I have written investment strategy since December of 1974, in a past life I was a fundamental analyst writing research on individual companies. In that role, when I dissected a company's balance sheet, I not only had to look at the liabilities side of the ledger, but also the company's assets. Herein is the problem with the Debt-to-GDP metric. While it may seem nonsensical to try and put a value on our government's land, intellectual, natural resource assets, etc., they do indeed have tremendous value. This point was recently written about by Dr. David Eifrig. To wit:
The Claim: The U.S. economy is about to enter a depression. Gold will soar past $5,000, the dollar will become worthless, money will become unavailable, and interest rates will skyrocket to 15%.

The Fact: There are a lot of "doom and gloom" financial forecasters out there. They make a mixture of the claims above. Their solutions to these "problems" almost always involve selling all your stocks and bonds and putting your life's savings in gold. Most of these folks have been saying the same thing (wrongly) year after year for decades, or they are really young and inexperienced and claim to be experts. The fact is, America is in great financial shape. When you analyze the financial health of a country, a company, or an individual, you can't simply focus on one side of the balance sheet, as these people do. They only focus on liabilities. Instead, you need to analyze both sides of the balance sheet, and that means factoring in assets. If you want to know the net worth of America, simply take the assets it has and subtract the debt it has and you get a "net worth" of the country. This is the same for households. Looking at debt without looking at the assets is silly and naïve. The U.S. asset side of the balance sheet has increased incredibly, especially in light of the oil and gas finds this past decade. We're a much richer country than we've ever been.
Speaking to my emailer's "layoffs" worries, in light of last Friday's surprising employment numbers, is yet another misread. While somewhat disappointing, September's payroll gain represented the 60th contiguous month of positive readings for the longest record since the government began keeping records. It is a fair point as to whether we are creating high paying, or low paying jobs, but that is a discussion for another time. I will not rehash the employment numbers, because the talking heads have done that ad nauseam. I will, however, share some thoughts from our economist, Scott J. Brown, Ph.D.:
One month does not make a trend, but the slower two-month pace in private-sector job gains likely reflects a stronger pace of seasonal hiring in the late spring and early summer (more jobs for teenagers in May and June, more seasonal layoffs in August and September) – moreover, that two-month pace is not far from what is considered a sustainable pace of job growth (that is, in line with the growth in the working-age population). The start of the school year and end of the summer travel season likely had an impact on the unemployment figures as well (while labor force participation was lower overall, it held steady for the key 25-54 aged cohort). . . . Beyond the headlines, this isn't a terrible report – but it does raise the importance of the upcoming data reports (ISM non-manufacturing on Monday, but then mostly lite until retail sales on October 15).
As for, "The stock market is now a giant casino," comment, I guess high frequency trading (HFT) gives that appearance. But, I remember the mid-1960s when the computer traders gave the same appearance. The cry of the day was, "Computer trading is going to take over the market!" Subsequently, the tech stock boom ended in the late 60s, the "nifty fifty" peaked in the early-70s, and with those "bookends" so ended the computer trading craze. Then there is the narrowness (lack of breadth) of the equity markets that we have written about for months. Maybe that qualifies as a casino, for as Bloomberg writes:
While the Standard & Poor's 500 Index is 1.9 percent above its worst closing level of 2015, almost 42 percent of the gauge's members have slipped back below their Aug. 25 price. The heavyweights are doing all the lifting: Apple Inc., Microsoft Corp. and Exxon Mobil Corp., the three largest companies by market cap, account for nearly one-fifth of gains since the market bottomed after a four-day selloff of 10 percent. . . . Megacaps are obscuring weakening breadth in U.S. equities. To some, that's an ominous sign amid market volatility that has seen the S&P 500 slide as much as 7.4 percent over the past two weeks, coming within five points of a 10-month low of 1,867.61 reached Aug. 25. The benchmark gauge fell 0.6 percent to 1,908.04 at 12:39 p.m. in New York.
However, one could argue that many stocks have already corrected by 20%+, setting the stage for another leg to the upside. A technical analyst would term that an "internal correction" (see chart 2). I would add, if the consensus 2016 EPS estimate for the S&P 500 is anywhere near the mark, at $129.45, that index is trading at ~15x 2016E EPS, which is certainly not expensive or casino like. Given those metrics, and Friday's "rip your face off" upside reversal, I added to some stock positions. I bought the same names I mentioned on CNBC's Nightly Business Report last Friday evening. Those names, all of which play to themes of mine and are favorably rated by our fundamental analysts, include: 9.4%-yielding StoneMor Partners (STON/$27.50/Strong Buy); 6.1%-yielding Genesis Energy (GEL/$40.88/Outperform); and 8.7%-yielding Flaherty & Crumrine Preferred Securities Income Fund (FFC/$18.69), which is managed by Don Crumrine, who has managed preferred portfolios for Warren Buffett.
The call for this week: To circle back to our original email, I would note, this is the kind of anger you typically see around market bottoms, not at the start of a new leg to the downside. That view was strengthened with Friday's HUGE upside reversal. Unfortunately, I was in a meeting and unable to see much of it, so I pinged the uber-connected Dave Lutz at Jones Trading, who responded, "It started as a massive short-covering rally led by biotech and high yield energy names." And sure enough, when I warped into my trading turret I looked at the session's action. Around 10:30 a.m. the "upside squeeze" began vaulting the S&P 500 (SPX/ 1951.36) above 1900 and then spurting to 1915 around 11:10 a.m. From there, attempts to sell stocks failed, leading to another "squeeze" into 1:15 p.m. taking the SPX to 1936. After more failed tries to sell stocks, a final hour "squeeze" left the SPX trading at 1951.36, which was the session's high. That action elicited this email, "What a strange market! Even "Never on a Friday" doesn't work. Maybe, just maybe, this is a start of an upside something?" I responded, "If you look at a chart of the SPX, it bottomed in a retest of the August lows on Tuesday the 29th. Today had nothing to do with 'Never on a Friday' and was all about the HUGE intraday upside reversal." The resulting chart pattern looks conspicuously like a double-bottom (W-shaped). As I said last week, aggressive trading-types can trade the long side using Tuesday's low as a stop-loss point. As I did, investors can judiciously commit a little capital to special situations, but should probably wait for the middle peak of the W-shaped bottom at 2020 on the SPX to be surmounted before becoming more bullish, because that is what it would take to complete a textbook double-bottom (see chart 3 on page 4). This morning the S&P 500 futures are following the rest of the world's markets higher on the sense the Fed is never going to raise interest rates. I would note that the last time we had such a large reversal, like we had on Friday, was at the bottom in October of 2011 and we all remember how that turned out.
---
Faint or feint?!

September 28, 2015
"Janet's faint causes stocks to feint."
The week began well enough as I winged into JFK and weaved my way into the city a week ago Sunday. I have had a love affair with NYC ever since my father took me there to see the Christmas tree lighting when I was six. Dinner that night was at the Da Noi right across the street from Smith & Wollensky's on 49th at the corner of 3rd Avenue. The next day it was all about meetings with portfolio managers (PMs). That night we tried to get into Avra for dinner, then the Sea Fire Grill, Smith & Wollensky's, and Da Noi (again), but all the bars were full (who says the economy is slow). So we walked down to Marco's place (Marcony's) on Lex between 31st and 32nd. For the record Marco was a partner, and ex-chef, for Scalinatella at 62nd and 3rd. The next morning it was co-hosting Fox Business followed by more PM meetings and then a "hit" on Bloomberg. The highlight of the day, however, was seeing my friend Phil Orlando and his boss Stephen Auth. Wednesday was a blur with back-to-back print media meetings and then a ride to Staten Island to speak to a group of investors for one of our financial advisors, namely Ziam Hajzari. Thursday it was more of the same, except for a terrific meeting with an investment team captained by Dan Roarty, portfolio manager and CIO of the thematic team at AB Global (Alliance Bernstein). I like thematic investing very much and would like to feature this fund, but I can't find my notes. I will have more on this when I dig those notes out. That afternoon, I sailed in for an appearance on CNBC's "Closing Bell" from the floor of the NYSE with Kelly Evans and Bill Griffeth. Subsequently, we went across the street to Bobby Van's for a round of drinks with the gang named "Friends of Fermentation." Of course the sagacious Arthur Cashin was there along with the rest of the usual suspects. Later that night Eric Kaufman, and his VE Capital partner Victoria, took us to dinner at the exquisite Acappella in the Village. Following dinner, I warped into Janet Yellen's afternoon address only to see her almost faint. Subsequently I thought to myself, "Is Janet's faint going to cause stocks to feint?" For those unfamiliar with the term "feint," Webster's defines it as, "To make a deceptive or distracting movement," and sure enough that is exactly what happened on Friday.
Friday began with a surprise Zip-a-Dee-Doo Dah resignation from House Speaker John Boehner, Janet's soothing words from the night before, some good earnings announcements, higher crude oil and world market prices, a stronger U.S. dollar, all combined with our expected upward revision to 2Q15's GDP (+3.9%). Most importantly, there were very positive improvements in the entrails of the GDP revision. To wit, consumption and investment jumped, while housing (residential fixed investment) and corporate (non-residential) fixed investment were positively revised. Accordingly, the preopening S&P 500 futures were sprinting higher by some 20 handles before the opening bell. With that as my backdrop, I walked from Grand Central Station to see the good folks at Capital Group, who just happen to own American Funds. Patrick Faulkner and I met with a number of PMs from 9:00 a.m. through 11:30 a.m. discussing the state-of-the-state. Our meeting with David Daigle was interesting on the fixed income side since he helps manage the flagship "American Funds High-Income Trust" (AHITX/$9.96). We gleaned a number of investment ideas from him, especially in the telecommunication spectrum space. Next was Andrew Suzman, the PM for the American Funds International Growth and Income Fund (IGAAX/$28.51). Andrew argued that on a worse case basis the S&P 500 earns $110 per share next year (the current S&P bottom-up operating earnings estimate is $130). Using that, and a price earnings (P/E) multiple of 15.5 gives you a 1705 price target for the S&P 500 (SPX/1931.34), or about 12% down from here. But, he also argued you could just as easily see a 12% rally from these levels. He likes Spain, noting that things are getting better. He has a large investment in Japan, suggesting that Sinzō Abe is the equivalent of Ronald Reagan and Margret Thatcher in that Abe believes, "Bad corporate governance is not in the best interests of Japan." He also thinks Japanese companies are listening, and paying attention, to shareholders' interests. As for China, he questions, "Can a one party government manage through all the various cycles?" Moreover, "Can the Chinese government deliver on the Chinese peoples' raised expectations?" Ladies and gentlemen, those are two REALLY good questions, which is why Andrew Suzman, and I, do not own any Chinese equities.
One of the more intriguing PMs, and funds, I met with last week was at JP Morgan. As I wrote in last Wednesday's Morning Tack:
(For those unwilling to use our strategy of just "sitting" and letting the stock market tell us what to do), I met with Hamilton Reiner, JP Morgan's portfolio manager (PM) for the JP Morgan Hedged Equity Fund (JHEQX/$15.73). What is really interesting to me is that the fund ALWAYS has a quarterly downside hedge in place attempting to insulate the fund from a 5% to 20% decline. According to Hamilton, the fund has half the volatility and beta of the S&P 500 (SPX/1942.74) (as an outcome) and has a gross dividend yield approaching 2%. The fund consists of some 200 of the S&P 500 stocks, which are screened using JP Morgan's excellent stock selection process and results in a portfolio that has similar characteristics of the S&P 500. I also really like that Hamilton owns his fund in a big way. As my father used to say, "I like a PM that eats his, or her, own cooking!"
Then there was the excellent conversation I had with Carol Lippman. For those of you that don't know Carol, she was one of the best stock pickers at the venerable investment firm of AG Edwards. As an aside, Ben Edwards was one of the finest men I have ever met in this business. After leaving AG Edwards, Carol joined Dearborn Partners, where she is the PM for the Dearborn Partners Rising Dividend Fund (DRDAX/$11.18). In her own words Carol writes:
It occurred to me that another feature of our Dearborn Partners Rising Dividend strategy is that we try to do our research so well before we put a company into our portfolio that we hope to never have to remove it. Our strategy emphasizes investing in what we consider to be great companies, not stocks, per se, because of course we have no control over stock market action. It takes time, of course, for companies to grow, which is why our intended time horizon is a minimum of five years. If we can have a high degree of confidence that these excellent companies have the potential to consistently increase their dividends, i.e., paying us no matter what the market does, then we include them in our portfolios, being cognizant of prudent sector diversification. Since the inception of our mutual fund on April 10, 2013, average annualized turnover through August has been 7.7%. In other words, although investing in a dividend strategy always makes sense in qualified plans, this is quite tax efficient for inclusion in taxable accounts, too.
Of course, Carol's strategy foots with that of none other than Warren Buffett who states, "The best holding period for any stock is forever!"
The call for this week: This morning I have not spent much time on the equity markets because to me the recent action remains worrisome, although I continue to be hopeful we are in a bottoming process; and as often stated, it is typically a process and not an event. To that point, I have included an old report from our now departed colleague Ralph Bloch, who did an excellent job of explaining said process (page 3). Interestingly, there is an analog chart from Bespoke comparing the same bottoming process Ralph Bloch wrote about to the current situation and the October bottom of 2011 (see chart on page 4). Back in October of 2011 we were making the comparison to the bottoms in the fall of 1978 and 1979 where in both years the D-J Industrials made a capitulation low followed by a series of failed rally attempts. Then, before the final low was made, the senior index came back down and undercut the capitulation low and that was it, the lows were "in." That sequence is what gave us the conviction level to tell participants to buy the October 2011 undercut low and the rest, as they say, is history. And maybe, just maybe, it will play that way here. Yet also of worry is that the German DAX has already fallen through its respective August low, raising fears of a Lehman Moment in the German banking complex. Also worrisome is the action of the Advance/Decline Line, which is suggestive of an intermediate top in the equity markets. This morning the S&P 500 preopening futures are off about 7 points on the Catalan separatist vote, China's bad industrial production numbers, Russia's Syrian initiative, and the Taliban breach in Kunduz. If this is the typical Monday traders will attempt to stage a rally after a weak opening. If that fails, it will not look good.
Exhibit 1 - Bulls, Bears & Bloch – July 30, 2002
We recently reviewed past "Bear market bottoms," hoping to identify the "missing ingredients" for the end of the current bear market, in force since early 2000.
What we discovered is that in going back to 1949 most -bear markets ended following a series of events- a "Low-Rally-Retest" sequence that occurred over a period of time. In looking over history, it was first necessary to distinguish between a "low" and a "bottom." A low is a function of price only, a starting point for a rally & the beginning of a bottom building process. A bottom is a function of price & time and a level from which a multi-week up trend can begin. Since it starts as a counter-trend move, it is a process, not a one-day event. Once a sharp high-volume price low is set (as it was on Wednesday, July 24), we need to see more ingredients follow before we can say that a bottom has been created.
Here is a table exhibiting the results of our observations:
Date &
DJIA Level
Date & Initial Reaction Low
Percentage Decline
Initial Rally
Retest Date
& Level
Time Between Initial Low & Retest Level
July 1957
521
October 1957
420
19%
7%
December 1957
425
2 Months
March 1962
725
June 1962
536
26%
14%
October 1962
560
4 Months
February 1966
995
October 1966
744
25%
11%
January 1967
786
3 Months
May 1969
967
May 1970
631
35%
14%
July 1970
670
2 Months
January 1973
1051
October 1974
585
44%
15%
December 1974...
578
2 Months
April 1981
1024
March 1982
796
22%
9%
August 1982*** 777
5 Months
August 1987
2722
October 1987
1738
36%
16 %
December 1987
1766
2 Months
July 1990
2999
October1990 2365
21%
12%
January 1991
2470
3 Months
July 1998
9338
August 1998
7539
19%
8%
October 1998
7625
1 Month
Average
11.8%
Average
2.66 Months
Source: Raymond James research
---
Go opposite to hysteria
September 21, 2015
. . . Look for hysteria to see if you shouldn't go the opposite way, but don't go the opposite way until you have fully examined it. Also, remember that the world is always changing. Be aware of change. Buy change. You should be willing to buy or sell anything. So many people say, 'I could never buy that kind of stock.' 'I could never buy utilities.' 'I could never play commodities.' You should be flexible and alert to investing in anything.

. . . Sometimes the chart for a market will show an incredible spike either up or down. You will see hysteria in the charts. When I see hysteria, I usually like to take a look to see if I shouldn't be going the other way. . . . Just about every time you go against panic, you will be right if you can stick it out. . . . How do you pick the time to go against hysteria? I wait until the market starts moving in gaps.

. . . Never, ever, follow conventional wisdom in the market. You have to learn to go counter to the markets. You have to learn how to think for yourself; to be able to see that the emperor has no clothes. Most people can't do it. Most people want to follow a trend; 'The trend is your friend.' Maybe that is valid for a few minutes in Chicago, but for the most part, following what everyone else is doing is rarely a way to get rich. You may make money that way for a while, but keeping it is very hard.

. . . Good investing is really just common sense. But it is astonishing how few people have common sense; how many people can look at the exact same scenario, the exact same facts, and not see what is going to happen. Ninety percent of them will focus on the same thing, but the good investor – or trader to use your term – will see something else. The ability to get away from conventional wisdom is not very common.

. . . Excerpt of an interview with Jimmy Rogers, Market Wizards by Jack D. Schwager
Going against the panic plunge of August 24th was pretty easy, especially if you heeded the market's warning message in early July that Mr. Market was going into a period of contraction. The ensuing post August 24th "throwback rally" was also pretty easy to anticipate. From there, however, things have become much more difficult. In past missives we have suggested that forming a bottom is more of a "process," rather than "event." Andrew Adams and I have addressed that process by noting, "Following the Fed's 'no hike' decision, my email box lit up with the ubiquitous question, 'Have we seen another 'V' bottom like the one we had last October 15th? As often stated, while markets can do ANYTHING, I have seen a lot more 'W' (double bottom) shaped bottoms than I have 'V'-shaped bottoms." Also mentioned in last week's Morning Tack were some indicators that argued for caution in the short-term. By far, however, the indicator that is causing me the most angst is the Dow Theory "sell signal" that was registered on August 25, 2015, when the Industrials and Transports closed below last October's lows. As previously stated, there has been only one false Dow Theory signal in the last 18 years, at least by my method of interpreting Dow Theory. That was In May of 2010 during the "flash crash," which was the last time the D-J Industrials were off 1000 points on an intraday basis. That "sell signal" proved to be false and was quickly corrected.
Fast forward, on August 24, 2015 the Industrials were similarly down 1000 points on an intraday basis, so I am hoping this "sell signal" will prove faulty as well. But, it gives me cause for pause because if you look at the attendant chart (chart 1 on page 3) you will see how accurate Dow Theory has been. I have included only the major signals because since the 2009 bottom there have been just too many "buy signals" to highlight them on the chart. So, for the stated reasons, I am temporarily ignoring the August 25th signal unless the Industrials and D-J Transports close below that session's closing price. For the record, those closing prices were 15666.44 and 7466.97, respectively. If those levels are breached, it suggests a "change in trend" that must at that point be honored. As Richard Russell, arguably the best Dow Theorist of my lifetime, wrote years ago:
Most people have a hard time envisioning change, and they are almost incapable of envisioning major change. Most people are guided by their experience of the immediate past. If the past was good, they believe the future will be good. If the past was rotten, they believe the future will continue to be rotten. Yet anyone who has studied the history of the stock market knows this is not true.
By studying the second chart one can easily see that last October's lows were decisively violated in August, which strongly suggests a "change of trend." If one wants to try and spin that occurrence positively, one could observe that the S&P 500 (SPX/1958.03) has NOT violated its respective October 2014 low. But, it's too bad the S&P 500 has absolutely no part in Dow Theory, and neither do the D-J Utilities.
Speaking to last week's action, well it really wasn't much of a surprise. As Michael Revilla, an astute Miami-based Raymond James advisor, emailed me last Wednesday:
Hey Jeff, is this "Buy the Rumor, Sell the News" that we are currently witnessing? I was implying this concept to this rally leading up to the Fed announcement. I remember when the House and Senate were voting on the bank bailout in 2008. The market rallied hard into the announcement and subsequently rolled over; if I am not mistaken, the Dow closed down roughly 1000 points that day. The quote that was used to describe that series of events was, "Buy the Rumor, and Sell the News".
Bingo, Michael nailed it because that is precisely what happened Thursday afternoon. To wit, following the Fed "no hike" announcement pop, which took the SPX from ~2000 to 2021 and close to our upside target, "they" sold stocks, leaving the SPX off 25.5 points from Thursday's intraday high and down ~5 points on the session. The selling continued on Friday, consistent with my mantra, "Never on a Friday!" Such trading action was telegraphed in last Wednesday's Morning Tack with the quip, "With this Friday's quadruple expiration, yesterday (last Tuesday) felt like a giant 'short squeeze.' The question now is can it continue through the Fed announcement and Friday's 'witching?' If it does, we may be able to tag the 2040 – 2050 zone on the SPX, but I would not bet that happens" . . . QED!
So what now? Well, we have had the anticipated "capitulation low" of August 24th and the subsequent two- to seven-session "throwback rally." Yet, all of the ensuing rallies did not quite make it to the prescribed 2040+ overhead resistance zone. Even last Thursday's "no hike" rally fell short at 2021. That 2021 "print high" left the McClellan Oscillator about as overbought as it ever gets, combined with the credit spread breakdowns mentioned in that day's Morning Tack. Typically, following a quadruple "witch twitch" (last Friday's option expiration), what you tend to get is further weakness the next week. Initial support would be around 16000 on the Industrials, and 1909 on the SPX. However, a violation of the August 25th closing lows would be a decided negative.
The call for this week: If you want to put a positive spin on things, the six other times the stock market declined by 10% in four days, like it did in August, every time the market rose within a year. If you want to put a negative spin on things, there was a Dow Theory "sell signal' last month. We are trying to stay constructive, but the negative evidence is mounting; and if the August 25th lows are breached, well you know how we feel. Last week's "now you see it, now you don't," post rate hike announcement stock market action was predictable, for as we wrote, "The first 'move' following such an announcement typically is a wrong-way move. And, boy did that play in spades with last Thursday's last hour downside reversal. The question this week is, "Will 'they' build on Friday's Fade?" This morning, at least so far, that is not the case with the preopening futures flat as I sip a latté at Grand Central Station . . .
---
Additional information is available on request. This document may not be reprinted without permission.
Raymond James & Associates may make a market in stocks mentioned in this report and may have managed/co-managed a public/follow-on offering of these shares or otherwise provided investment banking services to companies mentioned in this report in the past three years.
RJ&A or its officers, employees, or affiliates may 1) currently own shares, options, rights or warrants and/or 2) execute transactions in the securities mentioned in this report that may or may not be consistent with this report's conclusions.
The opinions offered by Mr. Saut should be considered a part of your overall decision-making process. For more information about this report – to discuss how this outlook may affect your personal situation and/or to learn how this insight may be incorporated into your investment strategy – please contact your Raymond James Financial Advisor.
All expressions of opinion reflect the judgment of the Equity Research Department of Raymond James & Associates at this time and are subject to change. Information has been obtained from sources considered reliable, but we do not guarantee that the material presented is accurate or that it provides a complete description of the securities, markets or developments mentioned. Other Raymond James departments may have information that is not available to the Equity Research Department about companies mentioned. We may, from time to time, have a position in the securities mentioned and may execute transactions that may not be consistent with this presentation's conclusions. We may perform investment banking or other services for, or solicit investment banking business from, any company mentioned. Investments mentioned are subject to availability and market conditions. All yields represent past performance and may not be indicative of future results. Raymond James & Associates, Raymond James Financial Services and Raymond James Ltd. are wholly-owned subsidiaries of Raymond James Financial.
International securities involve additional risks such as currency fluctuations, differing financial accounting standards, and possible political and economic instability. These risks are greater in emerging markets.
Investors should consider the investment objectives, risks, and charges and expenses of mutual funds carefully before investing. The prospectus contains this and other information about mutual funds. The prospectus is available from your financial advisor and should be read carefully before investing.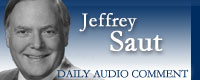 Jeff Saut's Daily Audio Comment is recorded every weekday, except Wednesday, at 9 a.m. ET. It is made available to the public on this Web page at approximately 1 p.m. ET.
Andrew Adams, Research Associate to Chief Investment Strategist Jeff Saut assists with the Daily Audio Comment, as well.