Thanksgiving dinner

November 23, 2015
Direction: In a large bowl, combine contents with a confused investor population. Toss lightly. Just before roasting, spoon loosely into body cavity. Do not over stuff! Truss all openings so that nothing escapes. Use skewers if needed.
Ingredients: Dough, watered stock, enriched money supply, malted securities, financial sausage, derivative yeast to increase expansion, government regulations added to retard spoilage.
This recipe for Thanksgiving dinner was proffered by my friends at Comstock Partners in an era gone by. Stan Salvigsen, Michael Aronstein, and Charlie Minter (Comstock Partners) wrote some of the best stock market strategy reports ever scribed on the Street of Dreams. Stan died in his fifties, I have lost touch with Charles, but Michael still writes stunningly good stock market strategy while managing money at Marketfield Asset Management. I resurrect thoughts of Comstock Partners this morning, not just because I think their Thanksgiving recipe is appropriate, but because they were one of the first to recognize the beginning of the great bull market. It was in the early 1980s when Stan broke off from Merrill Lynch and formed Comstock. Shortly thereafter the trio was writing reports like "Banzai Pipeline," noting that if you wanted to catch a wave you had to get into the water. The reference was that it is the start of a great secular bull market in stocks and bonds, so if you want to participate, you have to "grab a surfboard and get into the water."
This morning I ponder whether if Comstock was still together would they be writing about a secular bear market that might be commencing in bonds? Indeed, the bond bull market began in October 1981 with the yield on the 30-year Treasury bond at 15.21%. Ladies and gentlemen, while the long bond bottomed earlier this year at ~2.2% and currently resides at about 3%, the bond bull is/was 34 years old, for one of the longest bull markets in history (see chart 1 on page 3)! The focus on bonds this morning is because my model has always said the Fed could increase interest rates in November, even though there is not an official FOMC meeting. Of course that statement has brought about "cat calls" from other pundits, but the Federal Reserve does NOT need an FOMC meeting to raise interest rates. In fact, there is actually a Federal Reserve discount rate meeting today (Monday) and there is speculation the discount rate could be raised. For the record, and according to Investopedia, "The discount rate is the interest rate charged to commercial banks and other depository institutions for loans received from the Federal Reserve Bank's discount window."
Much has been written about how rising interest rates always derail bull markets, but the fact of the matter is that is just not true. Since 1953 the average months from the Fed's first interest rate hike until the equity markets peak is ~30 months. Moreover, the average performance three months after the first hike is -0.2%, six months later it is +4.1%, nine months +7.3%, and in 12 months +9.5% according to the Federal Reserve as compiled by Omega Advisors. Additionally, as scribed by my friend Peter Boockvar and quoted in Friday's Morning Tack:
With markets about 24 hours past the release of the minutes from the September FOMC meeting that reminded all that December is highly likely when we'll see a rate hike, the 2s/10s spread today is narrowing to the lowest level since April on a closing basis at 136 bps. It was at 141 bps before the release of the minutes. It widened to 151 bps on September 17th, the day the Fed chose not to raise rates. . . . If the bear flattening from here forward continues, it will say a lot about how the Treasury market thinks the US economy can handle rate hikes.
Plainly, I agree that the various markets can handle a 25 basis point increase in rates. Evidently, the S&P 500 (SPX/2089.17) believes it as well given its leap from last week's swoon to ~2023 into last Friday's close of 2089. I told Barron's Vito Raccanelli on Friday that we have entered a seasonally very strong period for the equity markets and that performance anxiety would probably keep the pros "paying up" for stocks into year-end. To be sure, I have learned the hard way it is difficult to sell stocks off in the ebullient month of December. And while Vito used that quote, he didn't include, "Just like the 'lock out' rally from September 29, 2015 to November 3rd didn't give the 'outs' a chance to get 'in,' we may have just started a repeat of that 'melt up'."
Shortly after the Barron's conversation this quip came across the transom from the invaluable Kimble Charting Solutions, with a tip of the hat to Ryan Detrick, who I have often quoted. They write:
The average year has 252 trading days. This is interesting, as Wednesday was the 223rd trading day of the year. In other words, it kicked off the final 30 trading days of the year. We've noted many times before how the end of the year tends to be very bullish based on seasonality. In fact, since 1950, November and December are the two strongest months. Many call this late year rally "The Santa Claus Rally." What is worth noting though, is the first part of November can be weak – before the usual late Thanksgiving strength. Here's a chart we've been sharing with Members and it shows November tends to form a low around the 12th and then has a late rally. The low this time was the 13th before the recent strength. So what happens the final 30 days? Well, what stands out to us is the last 30 days of the year haven't been lower for an incredible 12 straight years.
Speaking of bull markets, I was on the phone with one of the best "bulls" I know, namely Ron Baron, eponymous captain of Baron Capital. Like me, Ron is bullish about the longer-term prospects for the equity markets; however, we spent more time talking about stocks than macro things. And at the risk of over featuring Iridium Communications (IRDM/$7.75/Strong Buy); yes, Ron still likes and holds Iridium shares. Despite the stock's slide from its mid-April high of over $11, the story has never really changed. In the not too distant future, all of the company's low orbiting satellites should be launched and our analyst believes Iridium will turn into a massive free cash flow story. Enough said! While we did discuss a number of other stocks, I thought I would rather leave you with some triple-play ideas from the Raymond James research universe. Remember, triple plays are companies that beat both earnings and revenue estimates and guided forward earnings estimates higher. They are favorably rated by our covering fundamental analysts and screen positively on our algorithms. The list includes: Cubesmart (CUBE/$28.92/Outperform); ICU Medical (ICUI/$112.75/Strong Buy); Masimo Corporation (MASI/$41.72/Strong Buy); and NVIDIA Corporation (NVDA/$31.39/Strong Buy).
The call for this week: Last week the NASDAQ 100's 50-day moving average (DMA) crossed above its 200-DMA (Chart 2 on page 3) and the Biotech iShares ETF broke out above its downtrend line (Chart 3 on page 4). Meanwhile the S&P 500 and D-J Industrial Average continue to reside above their respective 50- and 200-DMAs (read: bullish). Also of interest is that the Paris tragedies give Mario Draghi HUGE cover for more quantitative easing (QE), implying higher European stocks and a lower euro currency. We think the way to play that is via the WisdomTree Inter Hedged ETF (HEDJ/$62.15), which is "long" Europe with the currency hedged out. Typically following a Friday option expiration the markets consolidate/pull back the next Monday. But since 1995 the SPX has been higher 60% of the time over Thanksgiving week, by an average of 0.81%. We will see if that plays this week. Happy turkey!
---
Friends

November 16, 2015
"Thank you for being a friend
Traveled down the road and back again
your heart is true you're a pal and a confidant."
. . . Andrew Gold, All This and Heaven Too (1978)
"Friends" . . . except in this case I am not referring to the 1994 TV sitcom, but the true friends I have met over the past 45 years in this business. I thought about this theme two weeks ago as I was sitting in Bobby Van's, across from the NYSE, listening to great stories from my friend Art Cashin and Eric Kaufman (captain of the sagacious VE Capital), and other members of Friends of Fermentation (FOF). As I listened to Arthur, I could not shake the feeling that these classic Wall Street stories need to be scribed lest they be lost forever. Regrettably, too many of my friends', and stock market icons', stories have been lost forever. One of the best writers I ever knew on the Street of Dreams was my friend Barton Biggs (Morgan Stanley). Most do not know that Barton was an English major at Yale, who studied under poet and novelist Robert Penn Warren, and was a member of the secret society Elihu. No wonder he was such a great writer! To be sure, most of Barton's personal stories were lost when he passed away in 2012, WAY too soon. In 1974 I had the privilege of talking with Larry Tisch, businessman, CEO of Loews Corporation, legendary investor, and billionaire. In said meeting I asked him why he was buying shares of Overseas Ship Group (OSG). He responded, "Kid, I can buy the entire company out at its current market capitalization, melt down the ships, and sell the scrap steel for twice what I am paying for the stock." Hereto, such stories have been lost with his death in 2003. Other deceased notables included: Alan "Ace" Greenberg (Bear Stearns); Henry Singleton (Teledyne); Muriel Siebert; Marty Zweig . . . well, you get the idea.
This "stories" theme was reinforced recently by a phone call I got from someone I didn't even know. That call was from Bill Brown, a Wall Street veteran of some 42 years. Bill currently hangs his hat at RBC, a firm he refers to as "a place where people care about people," which I said, "Yep, that sounds a lot like Raymond James' culture!" Bill related that Michael Metz, another Wall Street icon with Oppenheimer & Co. that I never met or talked to, had given Bill a task. Mr. Metz's task to Bill was a list of six rising stock market pundits he read every week, but was too shy to pick up the phone and talk to. His request was that upon his death, Bill was to contact all six and relate that Mike Metz "liked their insights and style." Bill told me he had been able to find five of those folks, but had missed the sixth. He continued, "A few weeks ago, one of our RBC brokers left the firm for Raymond James and began sending me your reports. While it took a few of them to sink in, I realized that you were the sixth rising guru that Michael wanted me to contact." My response, "I am truly humbled because Michael was brilliant and I regret I never got the chance to talk to him." Alas, many of us need to write a book before such stories are lost forever.
Speaking of "forever," only "Diamonds are forever," a mantra that unfortunately has been pointed out to holders of stocks like Enron, where participants refused to manage the risk. As stated in every presentation I give is a quote from Benjamin Graham that reads, "The essence of portfolio management is the management of 'risks,' not the management of 'returns'. All good portfolio management begins and ends with this tenet!" My father put it much more succinctly when he said, "Son, if you manage the downside in portfolios, the upside will take care of itself. Avoiding the big loss is the key to successful investing." Unfortunately, too many folks tell me, "Nobody can 'time' the stock market, therefore you should stay fully invested all of the time." I would respond that I disagree, if your time horizon is 20 years I agree, but if your timeframe is less, if you listen to the message of the market you can certainly decide if you should be playing "hard," or not so "hard." We played "hard" at the August 24/25th lows, and again at the envisioned downside retest of those lows in late September. More recently, we have suggested a much more cautious approach above our 2080 "pivot point" (basis the S&P 500). Is the subsequent envisioned decline back into the support level of 2020 a reliable "buy" point? Quite frankly, I just don't know, believing the downside is not yet complete. Maybe that will happen today/tomorrow with another Turning Tuesday. As another friend, none other than the brilliant Dallas-based "seer" Frederick "Shad" Rowe writes:
Formerly, Americans with capital could feel financially safe owning various businesses (newspapers, television stations, oil and gas production, etc.) or owning a diversified portfolio of "quality" companies and not only survive but prosper. That is no longer the case. Further, it seems to me that the inflation rate is grossly understated, which means that cash or bonds are not "safe," either. In short, formerly "safe" investments are not so safe. Instead, the one world we currently occupy is increasingly a "winner-take-all society" in which there will be fewer but bigger winners. It is a world, moreover, that is fraught with tremendous reward and risk. All of us understand that technology displaces jobs in the short run. But in the long run, we are all better off. Similarly, it seems to me that technology is displacing capital itself at an alarming rate, which will be painful. But again, in the long run we will be better off. Why? . . . because we always have been.
As feared, the S&P 500 (SPX/2023.04) sliced right through the 2040 – 2050 support zone and is now resting on secondary support between 1993 and 2020 (see chart 1 on page 3). Also worth mentioning is that the SPX has traded below its 200-day moving average (DMA) for two consecutive days. That brings into play the SPX's 50-DMA at 2007.68. If that level is violated it calls into question the viability of the fabled year-end rally. Troubling is that the S&P 600 SmallCap Index may be pointing the way lower as it is in jeopardy of traveling below its respective 50-DMA (chart 2). Andrew and I have counseled for caution over the past few weeks because our models/indicators suggested such. Indeed, we have often stated that those models never turned positive despite "calls" for us to "throw in the towel and admit we were wrong" two weeks ago with the SPX probing its highs. While we are often wrong, we will continue to trust our indicators that have served us so well over the years. If you do not agree with our current cautionary stance we would put these names on your watch list for potential purchase because they beat both earnings and revenue estimates and raised forward guidance. They are also rated positively by our fundamental analysts and screen well by our algorithms. The list includes: Alphabet (GOOG/$717.00/Outperform); Boston Scientific (BSX/$17.51/Strong Buy); DR Horton (DHI/$30.67/Outperform); Estee Lauder (EL/$82.66/Outperform); NVIDIA (NVDA/$29.80/Strong Buy); and Texas Instruments (TXN/$56.13/Strong Buy).
As for the Russian airliner and the Paris tragedies, while these events will likely impact tourism and travel, they may have FINALLY united the world. I am reminded of the quote by Admiral Yamamoto after the attack on Pearl Harbor when he said, "I fear all we have done is to awaken a sleeping giant and fill him with terrible resolve!" I will relate that such events have tended to reside around stock market lows.
The call for this week: Our models called the downturn beginning in July, as well as calling the bottom on August 24th. We subsequently said that a bottom is typically a process and not an event. What you tend to see is a capitulation low (August 24th) followed by failed rally attempts. Then, the market comes back down and tests the capitulation low. That is what happened in late September and we recommended mutual funds and stocks at the August and September lows. What followed was a double-bottom (W-shaped) in the charts. However, more recently our models have been calling for a more cautionary stance and we have complied. Hopefully, this recent weakness will have a positive resolution this week. Until then, we are operating under the prime directive of investing . . . "Do no harm."
---
Financial festival

November 9, 2015
I first met Minyanville's Todd Harrison more than 10 years ago. Subsequently the first "Minyans in the Mountains" confab was held in Crested Butte, Colorado. Todd's Minyanville idea was to create a financial community whose participants would bond over the years and share investment themes, strategy, and investment ideas. Minyanville also tried to advance the financial education of children. The "glue" that seemed to tether everyone together was dubbed "The Buzz and Banter" where all of us could contribute to the ongoing financial blog. A little over a year ago Minyanville was sold to T3 and I feared Minyanville's investment community would be lost. Silly me, for last weekend that community gathered at the Mayfair Hotel in Coconut Grove, Florida for the first ever T3Live's Financial Festival, an event I hope becomes an annual scene. Indeed, the dream is still alive!
The show was kicked off with a bull/bear debate between my friend John Mauldin and myself. I will let y'all figure out who was the bull. One of John's pearls was that investors should diversify across different trading systems because when one of the systems is out of favor (not working) it is likely another may be in phase. I had not really thought about diversification in that way, but it makes a lot of sense to me. Following our 45-minute diatribe was a panel discussing the future of online trading with TD Ameritrade's Nicole Sherrod and E*Trade's Kunal Vaed. Both had similar views, but I only scribed Nicole's. She began by stating that TD Ameritrade is trying to level the "playing field" between the institutional investor and the individual investor and noted the distance between the two has shrunk dramatically. The company's research also finds investors are moving beyond more information to true investment insights, to identify a "signal" from the "noise," if you will. She concluded that TD Ameritrade's client base is seeking a co-pilot to help them and are more interested in a "community" rather than just a hot technology platform (there is that word community again).
Next was Josh Brown, a CNBC contributor and CEO of Ritholtz Wealth Management. He began by stating there are 1.2 million households with $5 million or more of investable assets and there are 10.2 million households with $1 million. While the ranks of investors are growing, the number of financial advisors is shrinking, with the count now at ~301,000 versus 339,000 in 2005. He opined that retiring investors are not all that concerned with fees, but rather if they have the right financial advisor giving them the advice; and he said, "They want advice." Speaking to "robo investment platforms," Josh called the term an oxymoron because "robo advice" is not advice. Notably, the average account size at robo investment services is around $20,000.
From there was another panel discussing the Federal Reserve with the conclusion being – 1) unemployment is down from ~10% to 5%; 2) while GDP growth is spotty, it has still grown by about 2.25%; and 3) inflation is nearing 2% – so it's mission accomplished and the time for lift off (raise interest rates) has arrived. It was also mentioned that we had to dig ourselves out of the credit overhang and therefore the typical business cycle has been vastly extended. Concerning price-to-earnings (P/E) ratios, one of the panelists said the average yield on the 10-year T'note has been 6.5% over the past 50 years. To equilibrate that yield to a P/E he divides 1 by 6.5% and comes up with a bond P/E ratio of 15.4x, further opining P/E ratios for bonds and stocks tend be about the same over a long cycle. Since the historical average P/E for the S&P 500 (SPX/2099.20) has been roughly 15.4x that made sense to me. Going forward he said it is unlikely the yield on the 10-year T'note will travel above 4% any time soon. Using the same sequence (1 ÷ 4%) produces a P/E ratio for the SPX of 25x. I will let y'all do the math on that P/E ratio if S&P's 2016 earnings estimate of ~$127 is anywhere near the mark.
As always, David Rosenberg's session was a smash hit. Rosy figures it is much ado about nothing concerning China because what we are seeing is a "compositional change." That's something I have written about ad nauseam as China morphs from a manufacturing/export driven business model to one of more consumption. You can see this happening with iPhone sales up more than 70%, Nike sales jumping +30%, and food importation up more than 20%. He thinks there is a decent chance China is moving into a new super-cycle since China's service sector is growing by ~8.5%. He is also very bullish on India and its growth prospects. Turning to the U.S., he states the U.S. is "hitting on more cylinders than it has in the past six years." He counsels "real final sales to private domestic purchasers" are growing at a fairly robust 3% - 4% in the U.S., zero interest rates are now doing more harm than good, services inflation is picking up, and the Canadian bank stocks should be bought. Rosy recommended that the secular bull market in bonds is over and "bearsteepeners" should be scale bought over the next few months (http://www.investopedia.com/terms/b/bearsteepener.asp). Another idea was to short Treasury bonds and go long corporate bonds using extreme leverage, but I NEVER use leverage! In fact, it was Jimmy Ling, of Ling-Temco-Vought fame (LTV), who said "leverage, that's the last dollar the bankers will lend you!"
That night I had dinner with my dear friend David Kotok, of Cumberland Advisors' fame, and his brilliant wife Chris. David is negative on the insurance industry and urged me to read Nuveen's ADV, part 2a dated 9/25/15, page 67, last paragraph (https://www.google.com/#q=nuveen+ADV+part+2a+9-25-2015+page+67). After reading said paragraph I too am concerned. David also believes negative interest rates are going to land on America's door like they have in many of the international countries. While I agree with just about EVERYTHING David says, with this I have an exception. To me it seems incomprehensible that if the economy is going to improve, as I believe, how interest rates are going to decline into the nether lands doesn't foot.
Obviously there were many more panels suggesting the Canadian Dollar has bottomed, financials should be bought, midstream MLPs are a screaming "buy," be long Europe and Japan, quantitative easing goes to the strongest parts of the economy so in Europe play Frankfort and Berlin, go long India, and the list went on. Speaking to my models, regrettably they are still counseling for caution on a short-term trading basis despite the fact that I think the secular bull market is alive and well! As one particularly bright portfolio manager told me at last weekend's conference, "I like the fact that you have a model when most strategists only have opinions. A model tends to work much better than opinions!"
The call for this week: I am back in St. Pete and trying to play catch up after last week's jaunt to NYC, Orlando, Cincinnati, Columbus, and finally Miami for T3's conference. I will spend this Wednesday in Atlanta speaking to the World Congress, but then back to Florida Wednesday night. As for the stock market, despite the fact the SPX has stayed above my 2080 "pivot point," I do not trust the upside move. The D-J Transports, the Russell 2000, and the small cap indices are all showing weakness, while the S&P 500 Equal Weighted Index is struggling below its 200-day moving average, and my model is flashing caution. Indeed, there are just too many divergences conflicting my models to suggest a clear bullish view in the short-term. Hopefully, my crystal ball will improve in the days ahead.
---
Additional information is available on request. This document may not be reprinted without permission.
Raymond James & Associates may make a market in stocks mentioned in this report and may have managed/co-managed a public/follow-on offering of these shares or otherwise provided investment banking services to companies mentioned in this report in the past three years.
RJ&A or its officers, employees, or affiliates may 1) currently own shares, options, rights or warrants and/or 2) execute transactions in the securities mentioned in this report that may or may not be consistent with this report's conclusions.
The opinions offered by Mr. Saut should be considered a part of your overall decision-making process. For more information about this report – to discuss how this outlook may affect your personal situation and/or to learn how this insight may be incorporated into your investment strategy – please contact your Raymond James Financial Advisor.
International securities involve additional risks such as currency fluctuations, differing financial accounting standards, and possible political and economic instability. These risks are greater in emerging markets.
Investors should consider the investment objectives, risks, and charges and expenses of mutual funds carefully before investing. The prospectus contains this and other information about mutual funds. The prospectus is available from your financial advisor and should be read carefully before investing.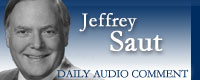 Jeff Saut's Daily Audio Comment is recorded every weekday, except Wednesday, at 9 a.m. ET. It is made available to the public on this Web page at approximately 1 p.m. ET.
Andrew Adams, Research Associate to Chief Investment Strategist Jeff Saut assists with the Daily Audio Comment, as well.