The conference

March 2, 2015
Greetings from Orlando where the Raymond James 36th Annual Institutional Investors Conference is in full swing. At this year's conference there will be more than 1,000 portfolio managers (PMs) and analysts, as well as more than 300 companies presenting. In a past life I used to attend many of Wall Street's institutional investors conferences, but have come to like ours the best. The reason is because of the diversity of companies and the fact there are no market capitalization constraints. Attendees are able to see a small cap bank in one presentation and $20+ billion dollar Technology Company in the next. I will be seeing presentations from companies where I own stock. One company I was really looking forward to meeting with, not only because our analyst loves it but so does premier stock picker Ron Baron of Baron Capital fame, was Iridium Communications (IRDM/$9.58/Strong Buy). The reason Iridium will not be at the conference this year is because they are hosting an Analyst Day next week and did not want to preempt that event. In lieu of that meeting our analyst (Chris Quilty) had this to say last week:
Following strong 2014 results, 2015 is shaping up to be a pivotal year for Iridium as the company begins launching satellites, ramps up aero/maritime/DoD efforts, and introduces new products/services. By year-end, the story should be significantly de-risked, with accelerating growth and a higher valuation multiple. Accordingly, we reiterate our Strong Buy rating. For the fourth consecutive quarter, Iridium delivered better-than-expected quarterly results, reporting revenue and OEBITDA that exceeded expectations by 1% and 7%, respectively. For the full-year, Iridium grew OEBITDA 8% to $217 million, topping the company's original guidance of $205-215 million. Iridium added 52,000 M2M subs in 2014 (up 16% y/y) and management expects to achieve double-digit sub/revenue growth in 2015 aided by price cuts, new OEM contracts, and new applications/verticals. Likewise, the aero and maritime businesses are poised for double-digit growth and the voice business could see a significant boost from the launch of commercial push-to-talk services later in 2015.
Management affirmed its long-term service revenue growth forecast of 8-12%, but indicated that 2015 service growth will come in below trend (3-6% growth) due to: (1) a $3 million currency translation hit in Russia, (2) a $3 million headwind related to the wind-down of NATO operations in Afghanistan, and (3) foreign exchange-related demand weakness in the commercial voice product line. Given the transitory nature of these issues, we expect normalized growth to return in 2016. (Full Report - IRDM: Solid Finish to 2014; On Track to Tackle 2015 Headwinds).
This week, at least for me, it's all about the conference. Last week, however, there was some good and bad economic news. Overall, of the 27 economic indicators released, 15 were weaker than expected. Nevertheless, speaking to the good, the GDP was better than estimated (+2.2% vs. +2.1%e), Durable Goods orders beat expectations (+2.8% vs. +2.0e) but missed excluding transportation, UoM consumer confidence improved (95.4 vs. 94e), New Home sales were above estimates (+3.2% above the y/y estimates), Home Purchases Applications rose by 4.6% after four weeks of declines, and there was a rise in the Market PMI Services Index for February to 57 for its best reading since October 2014. On the negative side, the Chicago Manufacturing PMI bombed (45.8 from 59.4), the Dallas Manufacturing Index slid (-11.2 from – 4.4), the Richmond Manufacturing Index fell to zero from +6, Initial Jobless Claims increased (313k vs. 282k the prior week), Existing Home Sales were 130,000 less than expected (the lowest since April), the February Consumer Conference Confidence Board fell to 96.4 from 103.8, and 2014's annualized GDP growth averaged only 2.45%.
Our economist, Scott Brown Ph.D., had this to say about some of these reports:
This isn't a sign of weakness. The revision was due largely to slower inventory growth (which is a good thing – leaner inventories pave the way from better production). The trade deficit was a bit wider, but not as much as anticipated. Domestic Final Sales, the preferred measure of underlying domestic demand, was revised higher – and if you exclude government, a 3.5% annual rate, vs. +3.3% in 3Q14 (economic growth DID NOT weaken in 4Q14).
However, as I drill down into the figures, at 2.2% for the 4Q14 the nation's GDP lost roughly 280 basis points (bp) of growth from the 3Q14's ~5% growth rate. So let's see where the shortfall was, Personal Consumption Expenditures were up (+62 bp), Gross Private Investment lost 34 bp, Net Exports of Goods and Services swooned by 193 bp, and Government Consumption Expenditures and Gross Investment declined 112 bp. There, ladies and gents, is the 277 bp difference. I suspect the wicked weather, the West Coast dock workers' strike, and the strong U.S. dollar had a hand in the GDP's descent, but it sure looks like spending was down on durables. Now one quarter's report does not a trend make, so it will be interesting to see what happens in this year's first quarter. To that point, I agree with my friend David Kotok, captain of Cumberland Advisors, who wrote (as highlighted in last week's Morning Tack):
According to Fundstrat's estimate, the negative impact on S&P 500 earnings in 2015 will be $4.63. The positive impact on S&P 500 earnings will be $10.04. Thus the net impact is a positive $5.41. That is, the overall impact of lower energy prices on S&P 500 earnings in 2015 will be an improvement of $5-plus per S&P 500 share. Energy prices fall; the Energy sector is hurt; the rest of the economy improves; the net effect is positive. That is the conclusion of Fundstrat. We agree with them. . . . Remember that this stock market effect is inter-temporal. There is the immediate down shock and the lag time to the positive outcome is two to three quarters. That is why Barclays is forecasting acceleration of [economic] recovery as the year progresses. We agree. Also, how does one price this shift of $5 in S&P earnings? Is it temporary, or is it more permanent? If temporary, the pricing change is small. If permanent, one could price it at 18-20 times, or a 5% permanent upwards shift in the S&P 500 Index trend baseline.
Following that prose I wrote, "Boy, if that sounds familiar it should because I have argued that according to Ben Graham's P/E formula, or the Rule of 20's formula, price/earning's ratios (P/Es) should be higher than where we trade currently. In fact, according to those two metrics, the S&P 500's (SPX/2104.50) P/E should be somewhere between 18.5 and 20.5, suggesting price targets for the SPX, even given (IMO) the overly reduced S&P estimates ($118.32), approaching ~2189 and ~2425."
For the month of February, all of the major indices I track were up by 5% or more. On a sector basis, all of the S&P 1500 sectors improved by more than 4% except for the Utility sector (-5.5%). In fact, Technology, Industrials, Energy, Healthcare, and Materials were all up by 8% or more (see chart 1 on page 3). Of course, such performance has left all of the macro sectors near-term overbought except for Energy and Financials (both neutrally configured) and Utilities, which are oversold. During the week there were 54 "buying climaxes" (upside red flag), the Bull to Bear Spread expanded to a worrisome 45.4% (Bullish Sentiment at 59.5%, Bears at 14.1%, and Correction Sentiment of 26.4%), my short-term indicators are overbought (read: extended), and my medium-term indicators are starting to raise red flags. Still, the 2080 to 2100 level for the SPX continues to provide support, while the upside resistance point is at 2120.
The call for this week: Last week I received a lot of questions about Dow Theory given the fact the D-J Transports (TRAN/9024.52) have broken below their near-term uptrend line (see chart 2) and have failed to confirm the D-J Industrials (INDU/18132.70) new highs. Potentially this could be an "upside non-confirmation" leading to a pullback if the SPX's 2080 – 2100 support zone is violated. However, remember there was a downside non-confirmation in late January of this year when the Trannies broke below their December 2014 closing low, but the Industrials did not, and that led to a Dow rally of more than 1000 points. However, for me to get a Dow Theory "sell signal," both Dow averages would need to close below their respective 12/16/14 closing lows of 17068.87 and 8740.52 and we are nowhere near those levels. This morning the futures are flat (again) as China cuts interest rates and India launches an expansionary budget. Regrettably, my work suggests the equity market's drift continues this week as well.
---
Gathering thin reeds?

February 23, 2015
Many of you know that I spend time gathering "thin reeds" and try to weave them into a favorable "investment bouquet." This is a strategy Fidelity's Peter Lynch took to its zenith in an era gone by. Recall the story Peter told about how he stumbled into Magellan Fund's (FMAGX/$96.12) investment in Hanes, when he first heard his wife rave about a new product called pantyhose. Indeed, Peter Lynch was a great observer of what was going on in life and invested accordingly. I have discussed such methods with Putnam's Jerry Sullivan, who worked for years with Peter and to this day incorporates many of Peter's strategies into the mutual funds he manages. One of Jerry's funds, which I own, is Putnam's Multi-Cap Core Fund (PMYAX/$18.11). This "thin reed," or observation, concept first struck me while reading the book "Reminiscences of a Stock Operator," published in 1923. The book is about the exploits of Jesse "the boy plunger" Livermore's rise to be the greatest speculator on Wall Street in the 1920s. One of the lessons gleaned from the book was related by Livermore after visiting two different railroad companies and observing (there's that word again) that one of the CEOs was dashing off memos on gold inlayed paper. The second CEO was writing on already used bills of lading to scribe memos on the back. Obviously, Livermore bought shares in the second company. The book is layered with similar lessons and if you have not read it, the book was ranked 15th on Fortune's 75 of "The Smartest Books We Know."
More recently, near the March 2009 "lows," a financial advisor (FA) told me about his friend who is the CEO of Bank of the Ozarks (OZRK/$35.50/Strong Buy), which is followed by one of our banking analysts. As I recall the story, George Gleason, who I have never met but the FA knows, was/is an extraordinary banker. As CEO of OZRK he eats and sleeps banking, always thinking about how to do things better than anyone else. In fact my friend told me other than ballroom dancing, which he is alleged to be excellent at, he does not golf, boat, etc. All he thinks about is banking. In retrospect I wish I would have listened to that "thin reed" and bought the stock.
This morning I review such "observations" because as Yogi Berra said, "You can observe a lot by just watching!" To this point, while seeing accounts in San Francisco recently, I read a story about Boston-based Fidelity having a good year in 2014 from an earnings and revenue standpoint, but that they were losing assets to passive investments, aka index funds, ETFs, etc. Here the observation is that this is what you see at infection points where individual investors are doing the exact wrong thing at the wrong time. The inference is, what investors should probably be doing is the opposite. They should likely be selling their passive investments, after a few years of out-performance, and redeploying those funds to "active" money managers. Intrigued by this observation, I asked my friend Bob Doll, strategist and portfolio manager at Nuveen, on the conference call we did for Raymond James advisors last Tuesday, that exact question. To wit, "Bob don't you think we are at the stage of the secular bull market where investors should be moving money into actively managed funds and away from passive funds?" While I could not write as fast as Bob spoke, his response went something like this:
Absolutely, for the past few years it's true most portfolio managers have not outperformed the passive indexes. But, I think we are at the stage of the bull market where it is going to be tougher for passive investments to outperform well thought-out active management strategies, as stocks grind higher rather than bolt higher.
While Bob didn't go into the reasons for that view, a recent story in The Wall Street Journal did. The article was titled, "The Case for the Active Mutual-Fund Manager" by Michael A. Pollock. Mr. Pollock began with, "Index funds clearly have won the hearts and minds of many investors." A paragraph later he writes, "Little surprise, then, that last year, people yanked $98.58 billion out of actively managed U.S.-stock mutual funds while putting $71.34 billion more into 'passive' ones that merely track an index." Hereto, the observation for the contrary investor is that participants should be doing the opposite. The article goes on to state five reasons why you should consider active management at this stage of the bull market (as paraphrased):
Investors have flocked to dividend-paying ETFs for income as yields have fallen. Such ETFs, however, are often focused too narrowly on certain sectors. Such ETFs only sell a stock if it no longer fits the mission. Meanwhile, if market sentiment shifts away from that sector, it can hurt its performance. An active manager could limit the impact of such shifts by diversifying.
If the markets start trading sideways, like they did from 2000 – 2008, nearly two-thirds of active managers of large-cap funds beat the S&P 500.
Bond yields are likely headed higher. Since yields move in the opposite direction of bond prices, if rates are going higher it could be risky to own an ETF that closely tracks a broad bond index.
ETFs make it easy to get non-U.S. exposure. But those ETFs tend to be based on market capitalization weighted indexes that tilt toward the largest foreign markets, often exposing investors to weaker markets like Russia and Western Europe. Active managers can fare better by diversifying away from such markets.
If you are worried about volatility, active managers have more ways to play defense. They can own higher-quality stocks and trim positions as valuations rise. They don't have to have the "pedal to the metal" when markets are going up, and they can put a brake on more quickly when markets are going down.
Boy, talk about volatility. This year the volatility has been intense. That should come as no surprise to readers of these comments because we entered the year noting, "The models that served us so well last year suggested a rocky start in the first few months of this year combined with more volatility." And, the volatility continued last week, although I am chagrinned to observe the media only tends to call it "volatile" when stocks go down. But last week stocks went up, as expected, imbibed by my anticipated last-hour Greek deal and the fact the S&P 500 has been pointing the way higher with its new all-time high of two weeks ago. While I have lamented I wish the D-J Industrials (INDU/18140.44) and Transports (TRAN/9131.16) would confirm the SPX's highs with new all-time highs of their own, I have often written I think the oodles of internal energy that has built-up in the equity markets would eventually be released on the upside. And, that is exactly what happened last Friday with the Industrial's new all-time high. Now, what we need is for the Transports to better their all-time closing high of December 29, 2014 at 9217.44 for yet another Dow Theory "buy signal," the multifarious such "buy signal" since our "it's the bottom" call of March 2, 2009.
As for investment ideas, in last Wednesday's Morning Tack I featured a number of stocks from Raymond James' research universe that were/are accumulating large amounts of "intangible capital," and are also favorably rated by our fundamental analysts. Our friends at the astute GaveKal organization have made a "religion" of unearthing these types of companies, which is why I own their mutual fund (GAVAX/$14.24) managed by another friend of mine, Steve Valenti. More on this GaveKal point in tomorrow's Morning Tack.
The call for this week: The index to watch is the D-J Transportation Average to see if it confirms the Industrials by making a new all-time high of its own with a close above 9217.44. Speaking to upside breakouts, while all but one of the S&P macro sectors are overbought, Utilities being the exception, there were two Select Sector SPDR Funds that broke out to new highs last Friday. Those two were the Industrial Select Sector SPDR Fund (XLI/$58.16/see chart 1 on page 3) and the Healthcare Select Sector SPDR Fund (XLV/$72.18/see chart 2), both of which screen well on my algorithms. Attentions for this week will also be on the plethora of economic releases because only two of last week's 13 economic reports beat estimates. As for earnings and revenue estimates, of the 1680 companies that have reported so far, 61.1% have beaten earnings estimates and 58.1% have beaten revenue expectations. This morning the preopening futures are lower (-4 SPX) as participants contemplate more conflicts in the Ukraine and a Greek reprieve that may pave the way for an exit from the EU. As well, European banks are set to fail the Fed's stress test, Turkey basically invades Syria, the refinery strike extends, and the port strike seems to have a pleasant ending.
---
Can trees really grow to the sky?

February 17, 2015
it doesn't matter how many of its leaves fall,
it still adorns its boughs with more.
it doesn't matter how many storms try to make it bow and bend down,
it still stands tall and clings firm on its ground.
it doesn't matter how alone and lonely it stands,
it still keeps nesting wild sparrows in its motherly arms.
it doesn't matter how hot the sun burn through its time,
it still remembers to look up and worship the Great One above.
...Thoughts Under The Sequoia Tree by Cristone Benavente
I stopped my rental car in the middle of a cluster of giant sequoia trees while driving to one of my speaking engagements in northern California last week. I have always been overwhelmed with these beautiful "beasts" and last week was no exception. As I lay supine at the base of the behemoth the visual fallacy actually made it look like this monster was indeed growing to the sky. The surreal sensation brought to mind the old stock market axiom, "Trees don't grow to the sky!" Yet, the stock market's action since the intraday low of March 6, 2009, at the surreal 666 "mark of the devil" basis the SPX, certainly gives the impression that trees can truly grow to the sky. Most recently, we have seen this "trees to the sky" effect over the past few weeks.
Recall, just two weeks ago the S&P 500 (SPX/2096.99) completed a third "bonk" against its downside support level of 1990, causing me to utter the old stock market saw, "Triple bottoms rarely hold." Well, the news backdrop changed and those "bonks" proved to be a rare triple-bottom as the SPX spurted a cool 100 points from its intraday low back into its longstanding overhead resistance zone of 2060 – 2080. Hereto, the SPX "bonked" three times against that resistance zone, triggering another market mantra, "Triple-tops rarely hold." The implication is/was that while there are numerous examples of double-tops stopping rallies, typically when you see a triple-top the stock, or index, in question breaks out to the upside; and that was the case last week. Moreover, as stated for weeks, I have not seen such a huge buildup of internal energy on my proprietary indicators for the equity markets in years. Two weeks ago I thought that energy was going to be released on the downside (as a sidebar, the indicators do not tell you which way the energy is going to be released, but rather that there is a lot of energy to drive a big move in either direction). Obviously, some of the internal energy has been released on the upside since the February 2nd intraday low of ~1981. However, what is amazing to me is there is still a large amount of internal energy left. So while I am chagrinned to put this in writing, if last week's upside breakout to new all-time highs by the SPX sustains, and if it is a true upside breakout and not a fake out, my models suggest a move to 2200+ on the SPX is possible in the short/intermediate term. I know that sounds improbable, and maybe even impossible, but that is what the models are saying.
Speaking to Dow Theory, first let me say to all the false prophets of Dow Theory that rang the Dow Theory "sell signal" bell two weeks ago, while the D-J Industrials (INDU/18019.35) and the D-J Transports (TRAN/9034.06) have not registered new all-time highs, they are certainly close to doing so. If the Industrials can close above their December 26, 2014 closing high of 18053.71, combined with the Transports closing above their respective closing high of 9217.44 on December 29, 2014, it would yet be another of the long string of Dow Theory "buy signals" chronicled in these missives since our "it's the bottom call" of March 2, 2009. So what are we as investors, and or traders, to do at this juncture?
Well, I will repeat what I have said ad nauseam for nearly six years, "It's a bull market and in bull markets all the surprises come on the upside!" Accordingly, while Andrew Adams and I have made some "trading calls" to raise cash from time to time, those "calls" have ALWAYS been within the context of a secular bull market that likely has eight to nine years left in it. To be sure, secular bull markets historically last 14 to 15 years and compound at a 16% average annual rate of return. Since we are nearly six years into this one, if past is prelude, we should have another eight to nine years left in this secular bull market. And, if the 16% average annual compounding return holds true, the SPX will be substantially higher in the early 2020s than it is now.
That said, the SPX's breakout to new all-time highs, which is as of yet unconfirmed with a Dow Theory "buy signal," leaves us at a unique spot in time. If the Industrials and Transports fail to confirm the SPX on the upside, the huge buildup of internal energy could still be released on the downside. Right now, I think said energy will be released on the upside, but a few weeks ago I wrong-footedly thought it would be released on the downside. Therefore, this week is critical in the short-term scheme of things. Nevertheless, there are some interesting events that occurred last week with some of our stocks. Years ago, with the arrival of Obamacare, we determined the big winners would probably be the drug store chains and featured our fundamental analysts' favorable thoughts and ratings on the group. Particularly featured were CVS (CVS/$102.63/
Outperform), Rite Aid (RAD/$8.34/Outperform), and Walgreens (WBA/$78.73/Market Perform). Last week Rite Aid made an interesting acquisition and our fundamental analyst wrote this:
We reiterate our Outperform rating on shares of Rite Aid… following the acquisition of EnvisionRx, a leading independent pharmacy benefits manager (PBM). Management expects Envision to generate $150-160 million in CY15 EBITDA, implying an 11.1x purchase multiple (versus CTRX at ~12x and ESRX at ~10x), net of $275 million in net operating losses. The $2 billion acquisition will be financed with a combination of new unsecured debt ($1.8 billion) and stock (27.9 million shares issued to the seller); the transaction is expected to close by September 2015 at the latest. We believe the pursuit of an integrated model is more important than initial accretion (we estimate ~3% accretive to FCF per share in year one) and the favorable purchase price. Three key factors make the integrated model work for Rite Aid: 1) lower drug acquisition costs for EnvisionRx via MCK (included in the $25 million initial synergy estimate); 2) adding a captive retail network to EnvisionRx's offerings; and 3) 'soft steering' retail traffic to Rite Aid stores a la 'Maintenance Choice,' the CVS model. The CVS retail/PBM model has certainly stood the test of time.
The call for this week: This week we find out if trees can really grow to the sky; indeed, breakout or fake out. Speaking to crude oil's action, amid Citi's call for $20 per barrel oil last week, all I can say is where were such oil bears when rude crude was breaking down at $100 a barrel?! The only folks I know that had a bearish "call" at the time were the energy analysts at Raymond James. Now our team thinks oil is bottoming and they are not the only ones, as referenced in an article titled "Bottom Fishers Play Energy Angle" in last Friday's Wall Street Journal. The first line of the article read, "The oil slump is drawing interest from some of the savviest bargain hunters on Wall Street." And then there was this this from the chief of Royal Dutch Shell, who said he expected crude demand would grow faster than supply this year, which caused crude to pop ~3% last Friday. Of course all of this dovetails with what I wrote months ago following my visit with David King, portfolio manager of Columbia Flexible Capital Income Fund (CFIAX/$12.35), who said, "Jeff, you are getting a once in a lifetime opportunity to buy the 'broken debt' of some of these smaller energy companies." Plainly I agree, but if you don't have the skill sets to drill down into the balance sheets of such companies, you can just buy David's fund. This morning the futures are flat as Greek talks stall, the Ukraine truce fades, U.K. inflation falls to the lowest on record, China's defense budget defies an economic slowdown, and crude oil is up ... again.
---
From Russia with love?

February 9, 2015
The big news late last week was German Chancellor Angela Merkel's and French President Francois Hollande's emergency trip to Russia for peace talks with President Putin. Obviously, the situation in the Ukraine is heating up again or such Herculean efforts would not be undertaken. This latest escalation was likely caused by a story in the New York Times (NYT) suggesting the United States is about to send a large shipment of lethal weapons to Ukraine to help the beleaguered Ukrainian forces fight the pro-Russian rebels. In past missives I have theorized this was going to happen ever since Ukraine voted to become a non-aligned state. Before that vote Ukraine had been aligned with Russia; and while the non-aligned vote was not a vote to join NATO, it was certainly a step in that direction. To a cornered Vladimir Putin, a NATO-aligned Ukraine is unacceptable for a multiplicity of reasons. In an attempt to gain some insight into the situation, I emailed my friend Bob Hardy, the lynx-eyed captain of the must-have Geostrat organization. My query read something like this, "Hey Bob, if memory serves me, I don't recall that anything good has ever come about when leaders of the Western world brave Russia's notoriously severe winter and journey to Moscow. Any thoughts?" Here is Bob's response:
One thing to note is the U.S. was not included. I hear Putin offered Merkel and Hollande a deal in a phone call last Tuesday. Apparently the French and the Germans are willing to accept a ceasefire and a demarcation line between the two side's forces that accepts the current situation on the ground. Merkel would never have traveled to Moscow unless she thought a real deal was possible. Last Sunday's NYT report that the U.S. was considering supplying lethal weapons to the Ukraine and the report on Monday proposing $3 billion in American equipment be sent to the Ukraine, sharpened Merkel and Hollande's minds. They know Moscow would invade Ukraine if this happens and the conflict would intensify and widen. Getting into an arms race with Russia in the Ukraine is stupid and dangerous. Kiev is #$@!&, but I think it agreed after the EU promised to send it some money. Notice that Kiev stopped exchanging its currency for dollars and euros. It is broke and faces disaster on the battlefield. We will have to see what develops, but where there is smoke there is fire.
"See what develops" indeed because Russian President Putin is being battered on many fronts. Consider this, Russia needs an end to the destabilizing sanctions imposed for its Ukraine misadventures. As the economic environment in Russia worsens, and the Russian solder death toll continues to rise, more and more Russian citizens will start to realize, as The Wall Street Journal (WSJ) notes:
[The longer the Ukraine crisis goes on] many Russians may come to see that the Ukrainian model of a peaceful and spontaneous rebellion against a corrupt regime can have relevance for them. It was because of the potential power of the Ukrainian example for Russia that Mr. Putin began the war in Ukraine in the first place.
Plainly, corruption is rampant in Russia with 110 people controlling 35% of the country's wealth, while "50% of adults have household wealth of $871 or lower (WSJ)." Boy, talk about "The 1%!" No wonder Russian capital flight is epic. Moreover, in 2014 food prices surged 15.4% while crude oil prices plunged. Crude oil exports from Russia account for roughly 50% of Russia's GDP, and the breakeven price for a barrel of oil to balance Russia's budget is notionally $100. Further, Russian crude oil, for the most part, is priced in U.S. dollars, which is why much of Russia's debt is also priced in U.S. dollars. Given the dollar's strength vis-a-vis the ruble, that debt is becoming increasingly difficult to service. For example, if a Russian energy company borrowed $1 million dollars at the beginning of last year when $1 equaled ~33 rubles (33 million rubles), the size of that loan is now 67 million rubles since the exchange rate currently is $1 to ~67 rubles. Accordingly, our hypothetical Russian energy company's debt has effectively doubled, while its revenues have been cut in half due to the crash in oil prices. To be sure, "Ya got trouble. I say trouble right here in River City. Trouble with a capital 'T' and that rhymes with 'P' and that stands for Putin!" No wonder Frau Merkel donned her galoshes and trudged off to Moscow.
Speaking to crude oil, I thought the most interesting thing about Friday's market action was the fact that the U.S. Dollar Index rose (+1.2%) and so did the price of oil (+2.4%). For a very long time oil has gone down as the dollar's value has increased. What happened on Friday was a change in that relationship and only further bolsters my belief that crude oil has bottomed. Recall, it was three weeks ago today on CNBC I stated, "I think the price of crude oil bottomed last week." I still feel that way and would tilt portfolios that way. In the conference call I did with Troy Shaver, CEO/Senior Portfolio Manager (PM) of Dividend Asset Capital and outside PM of the Goldman Sachs Rising Dividend Growth Fund (GSRAX/$21.45), we discussed various energy themes and stocks. Three of the energy stocks Troy currently likes, and that are favorably rated by our fundamental energy analysts, include: Enterprise Products Partners (EPD/$35.29/Strong Buy), EOG Resources (EOG/$95.79/ Outperform) and Plains All American Pipeline (PAA/$51.69/Outperform).
Speaking to the equity markets, as stated in Friday's verbal strategy comments, "What a difference a week makes for it was a mere week ago last Friday when the S&P 500 (SPX/2055.47) was trading at 1990 and threatening to break below a spread triple-bottom. As noted at the time, there was/is a huge amount of internal energy built up on my proprietary indicators making me think that energy was going to be released on the downside." Silly me, for the news backdrop changed and the SPX surged from last Monday's intraday low of ~1981 to last Friday's intraday high of ~2072 before a late fade left it at 2055.47.
The call for this week: I am off to San Francisco to see institutional accounts and speak at various events. Despite last week's hurrah, all we have done is once again rally from the SPX's support level (1990 – 2000 to 2060 – 2080). Nevertheless, the last line of Friday's Morning Tack read, "While I am still not sure about the upside from here, I am pretty certain crude oil has bottomed." Hereto, I continue to feel that way. Over the weekend, Greece said it would run out of cash in the next few weeks, which is probably why S&P downgraded Greece's debt. S&P also warned that Greece's "cash crunch" could force it out of the euro and the EU. As of this writing (5:00 a.m. Monday), there has been little news from the Moscow meeting other than Merkel saying she thinks the Minsk deal will provide a "dividing line" between the "Ukrainian troops and pro-Russia separatists redrawn to take account of recent separatist gains." There was supposed to be a four-way phone call late Sunday between those leaders, but all that has come from that is another meeting in Belarus slated for Wednesday. Combine that with a defiant Greek Prime Minister on a bailout, and sketchy economic news from China, and you have the preopening S&P futures off some 9 points as I wing my way westward ...
---
Additional information is available on request. This document may not be reprinted without permission.
Raymond James & Associates may make a market in stocks mentioned in this report and may have managed/co-managed a public/follow-on offering of these shares or otherwise provided investment banking services to companies mentioned in this report in the past three years.
RJ&A or its officers, employees, or affiliates may 1) currently own shares, options, rights or warrants and/or 2) execute transactions in the securities mentioned in this report that may or may not be consistent with this report's conclusions.
The opinions offered by Mr. Saut should be considered a part of your overall decision-making process. For more information about this report – to discuss how this outlook may affect your personal situation and/or to learn how this insight may be incorporated into your investment strategy – please contact your Raymond James Financial Advisor.
International securities involve additional risks such as currency fluctuations, differing financial accounting standards, and possible political and economic instability. These risks are greater in emerging markets.
Investors should consider the investment objectives, risks, and charges and expenses of mutual funds carefully before investing. The prospectus contains this and other information about mutual funds. The prospectus is available from your financial advisor and should be read carefully before investing.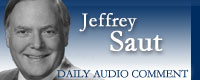 Jeff Saut's Daily Audio Comment is recorded every weekday, except Wednesday, at 9 a.m. ET. It is made available to the public on this Web page at approximately 1 p.m. ET.