Greed and genius?!

July 27, 2015
In "Parsons Pleasure," a short story by Roald Dahl, a greedy London antiques dealer dons a clerical collar, drives to the country, parks his car, and walks from cottage to cottage requesting old furniture, under the guise of collecting for the Society for the Preservation of Rare Furniture. His mission, of course, is to winkle the bumpkins out of treasures they don't know they have. He can scarcely believe his luck when he is promised a chest worth thousands of pounds. He buys it for a song, saying he wants the legs and dismissing the rest as firewood. He fetched his car and drives back to find that his benefactors have carefully removed the legs and chopped the chest into firewood.

. . . "Winkling the Bumpkins and Other Tales of Greed", Patricia O'Toole, Lears, March 1992.
Greed is always hard to measure. Certainly we have seen some signs of it in the Big Bio-Bubble and the new issue market. Putting the latter into perspective is Michael Milken, who was featured in an exclusive cover story interview in the March 16, 1992 issue of Forbes:
The stock market is certainly voracious today for stock offerings. It's beginning to look like the 1960s again. Or 1983 or 1986. These times don't go on forever. Anyone who isn't selling equity today should have his head examined. The window is WIDE open. Window? It's the Grand Canyon.
Many of his observations rang true back then and they ring true today as well. Milken goes on to note:
I have often been told, "You keep harking back to 1974. You were just a kid!" I was 100 then. I'm 200 now. The year 1974 taught me that leverage can decimate even the best company when its access to capital is cut off. It also taught me that most people have short memories. That's why most financial people have five-year careers; one market cycle. All those geniuses who bought stock in the mid-1960's thought they had some divine touch then it all stopped. It hadn't occurred to them that they looked good because virtually everything was going up. In 1983 Drexel published a paper called "The $55 Billion Misunderstanding." That's how much was lost by people following Nifty Fifty growth stocks. It was a trend, and trends end.
Wow! Do I remember the 1974 period. From the bull market top on January 11, 1973 at 1051 . . . all the way down to December 6, 1974 at 577. Ugly, and awful for almost two years with every rally a trap set up by the bears. Day after day the market went down. It seemed as if it would never end. As Jimmy Wheat Sr., of Wheat First Securities, would say, "We are being pecked to death by pelicans!"
Listen to Peter Lynch in the January 20, 1992 Barron's "Roundtable:"
LYNCH: Taco Bell went from $9 to $1 in 1974. They made money and they never had a down quarter. I mean, you get one of these big drops in these overpriced stocks, like you had in '87, in '74; you get one of these major corrections of these growth stocks and everything goes down.
Or, listen to John Boland in a November 1990 issue of Warfield's "Easy Money" Column:
Anyone who was active in the market through the 1973-74 collapse will remember that at the bottom, when the process were at once-in-a-lifetime lows, buying stocks held scant appeal. Reasons for shunning the bargains were abundant. The days when people made money in stocks were gone. The economy was in a bucket going to hell. If you bought stocks today, you would lose money – because you had lost money every time you bought stocks in the last two years.

. . . Back in 1974, (our friend) had a favorite stock, with about $15 (per share) in cash in the till, a book around $20. He started buying at $10 (and) bought it down to $6 and change. The shares sank to $3.75, but my friend was out of money. That's a bear market. The bulls aren't just morally beaten. They're broke.

. . . The bleak mood has a tenuous bridge to reality. Perception, intensely felt, creates minor reality. A trader, brutalized for every optimistic thought he has, stops having them and drops out of the market. The absence of his bids causes prices to fall further. This feeds on itself only for a time, but while it does, anyone stuck in the stock market would be much happier sitting in T-Bills in Acapulco.
The bear market that ended in December 1974 did such damage to investor psychology that it wasn't until the mid-'80s that stock ownership became chic again. And, a number of weeks ago the "window" was wide open again with a plethora of IPOs and new ETFs. Yet we were writing, at the time, the stock market's internal energy is TOTALLY used up on a short-term basis, leading us to believe a trading top was at hand. We wrote, "Either the SPX will fail to make a new all-time high, or make a marginal new all-time high, before succumbing to a pullback." Clearly, the anticipated "pullback" is at hand, leaving current investor psychology just about as bleak as it gets, which is pretty amazing with the S&P 500 (SPX/2079.65) only 2.6% below its intraday all-time high! Still, as expected the 2110 – 2112 level didn't hold, and neither did the 2090 – 2100 level. In fact, in Friday's Fade the SPX decisively closed below its 50-day moving average (DMA) of 2102.26, bringing into view its 200-DMA at 2063.64. With the NYSE McClellan Oscillator vastly oversold on a short-term basis (see chart 1 on page 3), it would not surprise to see a rally attempt off of the 2050 – 2065 level. Quite frankly, however, I think that 2050 – 2065 zone eventually gives way to a more formidable pullback to the 2020 – 2030 level, and maybe as low as last December's lows of 1970 – 2000. In response to one of our financial advisor's questions of how will you know when we bottom, I said, "It's kind of like pornography, you will know it when you see it!" I will say, however, the selling in the energy complex borders on capitulation, as do commodities in general!
The call for this week: The NASDAQ has failed to sustain a breakout to new decisive all-time highs seven times recently. I don't know the precedent for that, but I will bet it is legion! Moreover, there were 33 "buying climaxes" on the SPX last week, the most since last March's short-term "Trading Top;" as well, the SPX also experienced the candle-stick chart pattern of a "bearish" engulfing pattern last week (see chart 2). Accordingly, we have been in "correction mode" for the past few weeks: and, we still feel that way even if we get an oversold "throwback rally" in the short run. Indeed, 10% corrections tend to occur about every 26 months, yet it has been 45 months since the last 10% correction. And, the three previously longest such periods led to 10% pullbacks. I don't know if that is the case here, but it sure was in China overnight as shares fell an eye-popping 8%! Of course that has our preopening S&P 500 futures off around 6 points as the sun rises over Vanderbilt University here in Nashville Tennessee. Firewood anyone?!
---
Release the condor!

July 20, 2015
A long time ago in a galaxy far, far away, there was an advertising company trying to come up with a video commercial to introduce Buick's new car. After a number of the ad company's proposals were turned down, they came up with the idea of the car cruising on a road down the side of a mountain with an eagle superimposed flying over it. Buick loved it! There was, however, one problem; you cannot capture, or tame, an eagle. Therefore it was decided to use a condor. Hereto there was a problem, the ad agency could only find one captive condor in the world; and, it was at a zoo in Lima, Peru. After arrangements were made, the camera crew showed up on a cliff in the Andes Mountains to film the commercial. With all cameras rolling the call was given to "release the condor." But instead of soaring into the sky, the condor plummeted hundreds of feet to its death because after years of captivity it had forgotten how to fly. Subsequently, anytime something bad was about to happen, or something bad had just happened, advertising companies shouted "release the condor!"
I recalled this true story as I was reading an excellent article written by Mitch Tuchman for MarketWatch with the title, "Why long-term investors should listen to Jamie Dimon on China, Greece." The author went on to write:
J.P. Morgan CEO James Dimon, a man known for tough-talking swagger and massive Wall Street deals, recently told reporters anxious for news exactly what they didn't expect to hear: Everything is fine, so stop freaking out. Indebted Greece is on the ropes and might leave the euro, it's true. China's main stock market index recently went into free fall. They didn't mention the latest atrocity by ISIS or wild new predictions of a "mini ice age" by 2030, but Dimon's response would have been the same. Why worry about these things? They won't really change the investing world much. "You have to separate the financial markets from the economy," Dimon said when quizzed about China. "You can't expect any economy to have perpetual growth at 10%." Does Dimon know something we don't know? Yes ... and no. More accurately, he has come to accept a basic fact about stock markets and the news cycle that all long-term investors should recognize – that there is no real link between specific "disastrous" events and the performance of the stock market.
This concept espoused by Jamie Dimon is what we attempted to convey in last month's Gleanings report titled "Feel the Fear ... and Do it Anyway." As expressed repeatedly in these missives, "The equity markets do not care about the absolutes of 'good' or 'bad' but only if things are getting better or worse, and things are getting better!" Yet, it is human nature to worry about the "good" and "bad" things that constantly bombard investors. However, as a successful investor, "[You need] to accept a basic fact about stock markets and the news cycle that all long-term investors should recognize – that there is no real link between specific 'disastrous' events and the performance of the stock market."
Shortly after reading that MarketWatch article I received Murray Stahl's always insightful quarterly market commentary. I met Murray a few years ago after reading his book "How They Did It: Exceptional Stories of Great Investors." Murray is the chief investment officer at the New York-based money management firm Horizon Kinetics and is truly a value-centric, out of the box thinker, who has penned such reports as The Spin-Off Research Compendium, The ETF Compendium, etc. Many of his insights can be gleaned at the invaluable website www.horizonkinetics.com by clicking "Research Library." In this quarter's report Murray writes:
In last quarter's review, we threatened to return to the inflammatory statement that many standard macroeconomic factors that are considered necessary elements of the portfolio management process and security valuation models, such as the expectations for GDP growth or interest rates or oil prices, and so forth, are more the source of bad decision making than good, and probably detract from performance more than they help. That approach is rooted in an unintended departure from the scientific method, the notion that one can bring a systematic, formulaic approach to perhaps the ultimate non-absolute, interactive environment: namely a market-place composed of ever-reacting and anticipating participants called human beings—the stock market.
Wow, if that sounds familiar it should because it sounds a lot like me. Clearly I like "out of the box" thinking and while Horizon Kinetics has many funds on the Raymond James platform, the fund I really am intrigued with is the "owner/operators" fund, namely the Virtus Wealth Masters A Fund (VWMAX/$15.22). The fund mainly invests in companies where the company's management team owns a substantial amount of shares. Over the long term, such owner/operator companies' stock tends to do pretty well, for obvious reasons.
Speaking of "out of the box" thinkers, I am hosting a conference call with another friend of mine, Troy Shaver, President and lead portfolio manager of Dividend Assets Capital. His investment model is to screen down to about 130 companies that have increased their dividends by 10% or more per year for at least 10 years. He then turns that list over to his fundamental analysts to research which ones are the best investments. A number of years ago Troy was "tapped" to be the outside manager of the Goldman Sachs Rising Dividend Funds (GSRAX/$21.59), which I own; and, whose investment model is the same as Troy's. Those that have listened to Troy's previous conference calls know that he not only discusses themes and sectors, but gives stock-specific recommendations. The "call" will begin at 4:15 p.m. today and the dial in number is 888.500.6948 with the passcode 5528510.
As for the stock market, last week the NASDAQ broke out to new all-time highs largely driven by the internet stocks. Unfortunately, the S&P 500 (SPX/2126.64) and Russell 2000 did not. Moreover, Friday's action in the S&P MidCap 400 (MDY/274.20) and Russell 2000 (RUT/1267.09) may be pointing the way lower. Recall, two weeks ago the models were calling for a trading bottom in the SPX at the 2040 – 2050 level. Last week those same models suggested a top would occur with either no new high in the SPX, or a marginal new high. They are still suggesting that. The Volatility Index (VIX/11.95) also implies a trading top is due given its recent collapse to under 13, which in the past has signaled trading tops. Further, the McClellan Oscillator, and all of the macro sectors, are overbought, with the exception being Energy and Materials; and, the U.S. Dollar Index, while not back to the March/April double top highs, has been strong recently, bringing back concerns about multinational companies' earnings. This is not an unimportant point. I, however, continue to think the dollar topped in the spring, at least on a trading basis, and that earnings are going to be just fine. Not too long ago 2Q15 earnings reports were expected to be down more than 5%. Now that expectation is for down 3%, but judging by the current earnings "beat rate," 2Q earnings are on track to end up by 3%. That could make 2015's earnings numbers for the SPX to be $121, which is what we wrote about back in April when we said analysts have cut earnings estimates by too much based on the weakness in the energy and financials complexes. If that proves correct the SPX is trading at 17.6x 2015's earnings estimates, and if next year's S&P earnings estimate of $132.06 proves correct, the P/E multiple is 16.1x. Obviously, we continue to believe the equity markets are in a secular bull market that has years left to run, even though our models are suggesting a very modest pullback over the next few weeks. If correct, that pullback is for buying.
The call for this week: Today's conference call with Troy Shaver is a must! Also on the "must" list is for the SPX to break to new highs and extend higher. Regrettably, I do not think that is going to happen. Look for early week strength in the SPX that gives way to late week weakness. This morning the futures are marginally higher on Greek banks reopening, a new era with Cuba, a three-month high on the U.S. dollar, Europe backing the Iran deal, and commodities cracking. Indeed, "release the condor!"
---
Become like water my friend

July 13, 2015
I used to love watching the History Channel. Back in the good ole days (which actually weren't too long ago), it would feature real historical content like documentaries, mini-series, and regular programs dedicated to some of the most interesting moments in which human beings have participated. When nothing else seemed to be on the other 300 stations, I could at least count on the History Channel to help kill a few minutes without killing my brain cells in the process. Nowadays, though, ratings trump all, and content providers have quickly learned that by throwing out some cheap reality show, they can attract more viewers by showing the inner workings of a pawn shop or the exciting life of a swamp person than they can with a seven-part series on the medieval feudal system (crazy, I know!). Consequently, I don't find myself stopping on the History Channel very often these days during the rare cases when I actually sit down and flip through the channels. Therefore, I was quite surprised last week when I realized I had been tuned into a biographical documentary on Bruce Lee for about 10 minutes before I discovered it was being shown on the History Channel.
Now, if you aren't very familiar with Bruce Lee, you should be, as he is certainly one of the most interesting characters in pop culture from the last 50 years. More than just a martial artist, Lee was an accomplished actor, filmmaker, and philosopher who managed to achieve more in his short 32 years of life than most who are afforded a full slate of time on this Earth. And while he spent much of his childhood in Hong Kong, Lee was actually born in San Francisco and later moved back to the U.S. where he completed his education, ultimately enrolling at the University of Washington where he studied drama, philosophy, and psychology. Of course, he'll always be most well-known for his remarkable martial arts abilities and charisma on camera, but it was his concern for the more cerebral arts that really interested me while I was watching the aforementioned documentary and it got me thinking that he would have probably made for a very good trader if that had been his chosen path. Take, for example, one of Lee's most famous quotes:
"You must be shapeless, formless, like water. When you pour water in a cup, it becomes the cup. When you pour water in a bottle, it becomes the bottle. When you pour water in a teapot, it becomes the teapot. Water can drip and it can crash. Become like water my friend."
Now, I am fairly certain he wasn't referring to the attributes of a great trader here, but he might as well have been. The ability to adapt is of great importance, not only in life, but when tackling the financial markets too since they are always changing and require flexibility if you want to consistently outperform. It reminds me of another quote, this time by famous market wizard Ed Seykota: "The markets are the same now as they were five to ten years ago because they keep changing – just like they did then." Of course, there is a lot to be said for having an investment plan and sticking to it, but as this year has shown us, there are going to be times when it is difficult to make money and a little flexibility can go a long way toward helping smooth out that equity curve. And the continued volatility we have seen over the last few months may be here to stay for a while, as one of my major themes has been that without the added liquidity of the Fed, we are going to return to more of a stock-picker's market that will require being in the right sectors and stocks if you want to really make the kind of returns we all desire. So you must "become like water my friend" and adapt to whatever the market is giving you at the time, and right now I believe the market is setting up for a bit of a rebound.
Much of this belief is based on sentiment and the fact that there still exists tremendous negativity out there at the moment. Many investors still cannot fathom how this bull market can continue, particularly without some sort of correction to make stocks look more attractive. However, I would argue that we have already experienced a stealth correction, much like we did last summer when the major averages did not really fall much, but the average stock did. That appears to be what we are seeing right now, as only about 34% of equities on the New York Stock Exchange are above their respective 50-day moving average, near levels that have historically been associated with short-term market bottoms (see chart #1 on page 3). What's more, the current five-day moving average of the Equity Put/Call Ratio is also near extreme levels, since many more investors are buying puts than calls at the moment in anticipation of lower prices. While this may sound like a negative, these investors do not have a great track record of positioning correctly in front of inflection points. As you can see in chart #2, typically when the Put/Call Ratio gets this extended, it leads to higher stock prices and I think we're all hoping this happens once more (there have been six times in the past three years when the ratio reached two standard deviations above its mean and all led to a market rally not too long afterward). And with earnings season beginning to ramp up, we may finally get a catalyst to break us out of the Greece/China stranglehold that has gripped the markets for weeks now.
Speaking of earnings season, a study done by Bespoke Investment Group gives further hope that we may be in for some positive markets in the near-term since it appears that analyst expectations have been falling recently, a contrarian signal that has actually led to positive results in recent history. Per Bespoke, "in the 18 prior quarters where analysts were more negative than positive, the S&P 500 averaged a gain of 2.41% (median: +3.65%) with positive returns 83% of the time [in the six-week period beginning the Friday before the start of earnings season]." That's not exactly blockbuster performance, to be sure, but it at least means that expectations might be low enough that we will see some positive surprises that can help move the market higher and bring us closer to the 10%-12% total returns we expected coming into this year.
And that leaves the call for the week: Stocks will try to extend their momentum from Friday's positive session to further shake off the oversold readings that I have pointed out here and that Jeff Saut mentioned in his commentaries last week. With two recent 90% downside days, sentiment may have reached its nadir in the near-term, and if the S&P 500 can get back above 2090 and take out a couple of resistance lines in the process, I think it will be set up to take another shot at the all-time highs (see chart #3). Last week, the S&P 500 touched its 200-day moving average for the first time since last October, and, if you will remember, stocks went on a nice little run back at that time after doing so, rallying almost 15% before any sort of meaningful pause. I'm not saying that will happen again, but if earnings can come in better than expected, the Greece noise settles down, and if we have already seen the worst of China's sell-off, we may just be set up to surprise a lot of those negative investors. So continue to be flexible. Become like water my friend.
---
Additional information is available on request. This document may not be reprinted without permission.
Raymond James & Associates may make a market in stocks mentioned in this report and may have managed/co-managed a public/follow-on offering of these shares or otherwise provided investment banking services to companies mentioned in this report in the past three years.
RJ&A or its officers, employees, or affiliates may 1) currently own shares, options, rights or warrants and/or 2) execute transactions in the securities mentioned in this report that may or may not be consistent with this report's conclusions.
The opinions offered by Mr. Saut should be considered a part of your overall decision-making process. For more information about this report – to discuss how this outlook may affect your personal situation and/or to learn how this insight may be incorporated into your investment strategy – please contact your Raymond James Financial Advisor.
International securities involve additional risks such as currency fluctuations, differing financial accounting standards, and possible political and economic instability. These risks are greater in emerging markets.
Investors should consider the investment objectives, risks, and charges and expenses of mutual funds carefully before investing. The prospectus contains this and other information about mutual funds. The prospectus is available from your financial advisor and should be read carefully before investing.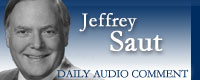 Jeff Saut's Daily Audio Comment is recorded every weekday, except Wednesday, at 9 a.m. ET. It is made available to the public on this Web page at approximately 1 p.m. ET.
Andrew Adams, Research Associate to Chief Investment Strategist Jeff Saut assists with the Daily Audio Comment, as well.