"Changes in Latitudes, Changes in Attitudes..."

March 10, 2014
These changes in latitudes, changes in attitudes,
Nothing remains quite the same.
Through all of the islands and all of the highlands,
If we couldn't laugh we would all go insane
... Jimmy Buffett (1977)
As many of you know, I travel a lot to speak at events and see portfolio managers (PMs). Last week my travels took me to Orlando for the Raymond James 35th Annual Institutional Investors Conference, which was attended by roughly 900 PMs and analysts and 300 presenting companies. During a number of conversations with various folks from Europe it was suggested that inflation in the U.S. had increased noticeably. Now I know the government's official inflation statistics belie that assertion, but as Yogi Berra said, "You can observe a lot by just watchin'." And watchin', ladies and gentlemen, shows inflation is higher than the government is telling us. Subsequently, I received this quip from my friend, the always keen-sighted Doug Kass, who wrote:
Rising inflation and slowing real growth are value-destructive factors to the U.S. stock market. The inflation voices are rumbling. The five-year breakeven today has jumped above 2% for the first time since May. This will serve to slow domestic economic growth in the months ahead. Rising inflation and slowing real growth are value-destructive factors to the U.S. stock market. The attendant chart from Deutsche Bank (chart 1) shows that when wages begin to move higher, inflation takes hold.
While at this point I do not agree with the "value-destructive and slowing real growth" statement, my interest was indeed piqued and I decided to look at the S&P 500 (SPX/1878.04) chart relative to the Continuous Commodity Contract (see chart 2). Notice that when the price chart is rising, stocks are outperforming commodities. The reciprocal is that when the price chart is declining, commodities are outperforming stocks. Recently, said chart has been in decline such that the price has broken below a major ascending trendline, which has been intact since October 2012. It might be that this is just a short-term aberration, but when taken in concert with the fact the PowerShares DB Agricultural ETF (DBA/$28.38) has rallied ~18% YTD (chart 3), it potentially implies a change in the direction of inflation.
Also of interest on the "changes in latitudes, changes in attitudes" is that using the same type of chart, comparing the SPX to the Emerging Markets ETF (EEM/$39.52), shows a similar potential reversal in that while U.S. equity markets have been outperforming emerging markets (EMs), recently that relationship seems to have changed (chart 4). Hereto, notice that when the direction of the chart is rising U.S. stocks are outperforming EM, but when the price is declining EMs are outperforming U.S. stocks. As in chart 3, a major trendline has been broken to the downside, suggesting the potential for a change in trend. While this also may be a short-term aberration, it bears watching.
Speaking to "slowing real growth," the recent (January) nominal personal spending report was intriguing. Intriguing because nominal personal spending rose a much larger than expected +0.4% versus the consensus estimate of +0.1% (chart 5). The two service categories that drove spending were household utilities (+9.7%), which was weather-induced, and healthcare (+1.6%). The healthcare spend was prompted by enrollments due to the Affordable Care Act (i.e. Obamacare). Since both of these factors are included in the upcoming GDP report, it is expected to have a stronger tilt.
To be sure, the equity markets seem to believe the economy is getting stronger because the economically sensitive D-J Transportation Average ($TRAN/7592.36) traded to a new all-time high last week, thus producing one-half of a Dow Theory "buy signal." If the D-J Industrial Average ($INDU/16452.72) can do the same by surpassing its December 31, 2013 all-time closing high of 16576.66 it will render yet again a full Dow Theory "buy signal." That would be an appropriate way to celebrate the five-year anniversary of the March 9, 2009 closing low for the senior index. Verily, five years ago this month I stood on stage at the Raymond James national conference in Las Vegas and told 3,000 despondent financial advisors to take heart because the stock market had bottomed. Since then we have had more than a dozen Dow Theory "buy signals," so another one this week would be nice. Yet, naysayers continue to doubt we are in a secular bull market. One of the main "cat calls" is that the current "bull" is long of tooth at 60 months old because the average "bull" only lasts for 50 months. In past reports I have addressed this, but I will do so again.
NOBODY measures the 1982 to 2000 secular bull market from its nominal price low of December 6, 1974 (the lowest price the INDU would trade at of 577.60). Rather they measure the beginning of the 1982 – 2000 bull market from the valuation low of August 12, 1982 at 776.92 (the cheapest the INDU would get in terms of price/earnings, price/book, price/sales, etc.). So why do pundits insist on measuring this bull market from its nominal price low of March 2009, instead of its valuation low of October 2011? Using that as your starting point makes the current rally only 29 months in duration. Irrespective of that, I continue to believe we are in a secular bull market that has years left to run; a point of view confirmed by my friend Rich Bernstein, the former strategist at Merrill Lynch. He and I actually did a video about this a week ago while discussing the American Industrial Renaissance and the two Eaton Vance funds he manages to that theme (EARAX/$12.74; ERBAX/$14.60), as well as the First Trust UIT he manages (FWRVLX/$11.12).
Circling back to our conference, I heard numerous decent risk-adjusted ideas that play to my various themes and are positively rated by our fundamental analysts. One of them was Goodrich Petroleum (GDP/$14.95/Outperform), which has a 6%+ yielding convertible preferred (GDPAN/$39.00). As always, terms and details should be checked before purchase.
The call for this week: Stocks closed trendless on Friday right in the middle of their daily range in what a technical analyst would term a Doji formation (+). That implies news will determine the stock market's very short-term direction. Year-to-date the INDU is down 0.75%, but the TRAN made a new all-time high last week and is up 2.59% YTD. If the INDU can better its all-time high of 16576.66 it would be another Dow Theory "buy signal." If it doesn't, we may have an upside non-confirmation that causes a pullback attempt before we better 1900 on the SPX. However, as investors' attentions have been focused on the major averages' strong comeback from their February 3rd lows, the Dow Jones/UBS Commodity Index is up 8.02% YTD. More importantly, natural gas is better by 10.31%, corn by 14.43%, gold has gained 10.86%, and coffee is up an eye-popping 73.98% YTD. The result feels to me like the "worm has turned" and that commodities have begun a rally that has upside "legs." Interestingly, emerging markets have tended to rally when commodities rally, but as of yet that has not happened this year, although as stated ... this too may be changing. If so, one way to play that theme is via the MFS International Diversification Fund (MDIDX/$16.34) managed by my friend Thomas Melendez.
---
"I'm Confused"

March 3, 2014
In one of last week's Morning Tacks I used this email from one of our financial advisors:
"Hey Jeff, about a month ago I emailed you asking if the ~1750 low on the S&P 500 was a good buying opportunity. You emailed back saying – 'No, not yet' – and ever since in your remarks you claim not yet. So now that we are well above that level, clients are asking why didn't we get in ... what's your recommendation?"
I responded with, "Okay, that's a fair enough question, but at 80% invested, it is not like we don't already have a lot of skin in the game. So my response was, 'You should have 20% cash if you followed the advice in these missives. Moreover, I have suggested numerous 'investment ideas' for your consideration, most of which are followed by our fundamental analysts, over the past month (13 to be precise)'."
However, this response to that same Morning Tack from a portfolio manager says it better:
After listening to people since the beginning of this year recount what Jeffrey Saut is recommending, I am convinced that what you are actually saying is not being understood by a vast percentage of your readers/listeners.

Here's what I believe you are saying is this (let me know if I am the one who is misunderstanding):

I am a long term bull, but believe in the very short term the market is a bit long in the tooth. As such I think that investors with a horizon of three years or longer should currently have 80% of their money invested in equities. Therefore, if you have, let's say, 50% of your money in equities, over the next few days to two weeks you should buy another 30% which would bring your allocation up to that 80% recommended level. Then, if things transpire the way I believe they will, we will deploy the other 10%-15% at a more opportune time. On the other hand, if you have 95% to 100% of your money in equities, you should either sell 10 – 15% of your portfolio over the next few days, or at least have tight stops on your positions.

Here is what I believe many people hear you say is:

I am a long term bull, but in the very short term the market is a bit long in the tooth. As such, if you currently have 0%, or 30% or 50% of your money in equities, sell them because I believe the market is going lower. Then, allocate 100% of your money into equities once my short term targets are reached. But in any event, do not invest any of your cash into equities at this time, regardless of your current stock/bond/cash allocation.

The reporting on your commentary must be very frustrating to you. If someone has none of their money in equities today, my belief is your recommendation would be to begin buying today as this may be the bottom for all eternity. But do it systematically as this also may be the top for the next few weeks.

I would also note that I doubt all that many folks are reading your missives every day and therefore only get a smattering of your thoughts, but lose the continuity they present on a daily basis. I am looking forward to hearing your thoughts on my understanding.
Subsequently, the S&P 500 (SPX/1859.45) broke out above its January 15, 2014 all-time high. But it wasn't just the SPX that made new highs, the NASDAQ Composite, the S&P MidCap, and the Russell 2000 all set new bull market highs. Also making new bull market highs were just about all of the Advance/Decline Lines I monitor, including the Operating Companies Only A/D Line. In fact, one has to look pretty hard to find something wrong with last week's upside breakout above the "no man's" land between 1813 and 1851 so often referenced in these missives. Looking at the few negatives one has to point to the D-J Industrials and D-J Transports, which still reside below their respective all-time highs. Of course if that is corrected this week it would be yet another Dow Theory "buy signal" like the dozen we have seen since the March 2009 lows. Also negative in the short-term is the fact that my internal energy indicators are out of energy and the overbought condition of the equity markets. However, in bull markets stocks can stay overbought for a very long period of time.
Nevertheless, given the equity markets' upside breakout in last Friday's Morning Tack I included a list of stocks that screen positively on my proprietary algorithms, and are positively rated by our fundamental analysts. I wrote:
They also play to some of the themes discussed in these reports. To wit, LKQ (LKQ/$27.89/Outperform) plays to our waste theme as the #1 supplier of wholesale recycled OEM replacement parts for the auto industry. Last week LKQ 'missed' its consensus earnings estimate and its shares were subsequently punished. Our analyst, Sam Darkatsh notes, 'we reiterate our Outperform rating on LKQ after having missed its 4Q13 earnings estimate, and January remained soft (albeit still up y/y), due to weather (inability to ship). However, that same weather should provide a boost to demand (via repairs of cars in accidents) and supply at auctions (helping LKQ's gross margin and fill rates).' Similarly, names like Swift Transportation (SWFT/$24.36/Strong Buy), Johnson & Johnson (JNJ/$92.12/Outperform), The Fresh Market (TFM/$33.50/Outperform), Weyerhaeuser (WY/$29.51/Strong Buy), The Williams Companies (WMB/$41.30/Outperform), United Healthcare (UNH/$77.27/Strong Buy), WCI Communities (WCIC/$20.18/Strong Buy), Verizon (VZ/$47.58/Outperform), which was unduly beaten up recently, and don't look now but eBay (EBAY/$58.77/Outperform) has broken out of a huge basing pattern in the charts. All of these names make sense for under-invested participants."
The call for this week: We are in Orlando at the Raymond James 35th Annual Institutional Investors Conference where roughly 350 companies will be presenting to some 700 portfolio managers and analysts. As always, we will be attending many of the presentations and will be talking about some of the better ideas we glean from those meetings in these missives. While our attention will be focused on the conference this week, Wall Street's focus is likely going to center on the 24 economic reports slated for release. The Street will also put on Rabbit ears for news out of Russia, and the Crimean peninsula, for various gleanings. The Ukraine's military is clearly not a match for Russia's, which has hemmed in Crimea. The West's limited options to punish Russia seem to be confined to NO military options, leaving only economic options, which appear to have a de minimis impact on everything. Russia clearly holds the upper hand, leaving Putin with the upper hand! And that is playing in spades this morning with the S&P 500 preopening futures off more than 20 points, making our cautious approach to the markets seem appropriate. Overnight, China's PMI was reported better than expected (50.2 vs. 50,0e), while Europe's manufacturing PMIs also came in better than expected. Today sees our ISM Manufacturing Index (51.9e) and Personal Income and Outlays (0.2%e), which will probably have no impact as they are overshadowed by news out of the Ukraine.
---
"The White Hurricane"

February 24, 2014
"Unseasonably mild and clearing" was the weather forecast going into the Ides of March back in the year of 1888. And it was true, as temperatures hovered in the 40s and 50s along the East Coast. However, torrential rains began falling, and on March 12th, the rain changed to heavy snow, temperatures plunged, and sustained winds of more than 50 miles per hour blew. The "Great White Hurricane" had begun! In the next 36 hours, some 50 inches of snow would blanket New York City, and the winds would whip that snow into 40- to 50-foot snowdrifts. Telegraph and telephone lines were snapped, fire stations were immobilized, New Yorkers could not get out of their homes, 200 ships were blown aground, and 400 people would die before the storm was over. The resulting transportation crisis led to the construction of New York's subway system.
"Make it STOP" ... was a phone call I got last week from a particularly frozen Midwesterner. It was one of many such calls I have received over the past few months. The phone call onslaught actually began in December, but seemed to hit its zenith the first week of January when more than 50 major cities recorded record low temperatures. Regrettably, there is yet another winter storm cranking up, which has lit up my phone with requests from my northern friends asking if they can "come on down and visit." The coldest U.S. winter in more than a decade has elicited mounting screams of "climate change!" So, before I get accused of not being an environmentalist, let me state that everyone is an environmentalist, but to differing degrees. For example, take Southern California where I was recently shocked to see the aqueducts completely dry and the lakes/reservoirs down 20+ feet. The situation is being blamed on "climate change," and at the margin there is likely some truth to that, but the drought has been exacerbated by extreme environmentalists bent on saving a fish. The fish, no bigger than a minnow, is called a "smelt" and was deemed by U.S. District Judge Oliver Wanger more important than food and water for humans. Using the Endangered Species Act, Judge Wanger ordered pumps watering the San Joaquin Valley from the Sacramento River turned off, lest the Delta smelt be disturbed, thus impacting 25 million people. But, I digress.
Speaking to the weird weather, extreme weather is fast becoming the "new normal" and there is scientific evidence we should expect this trend to continue. Indeed, the past few years have been record years for extreme weather (2014 may also be) with weather causing $170 billion in damages, yet many companies have not adapted their business strategies for this tectonic change. Tectonic change because by 2030 global food demand is estimated to increase by 50%, likewise energy use, and water usage by nearly that much. Given the interconnection of those assets, major decisions will have to be made on resource allocations and new business models will need to be adopted. A number of publicly traded companies that stand to benefit from these trends. A few of the names from Raymond James' research universe that are favorably rated by our fundamental analysts and screen positively on my proprietary algorithms are: salesforce.com (CRM/$63.59/Strong Buy); Pattern Energy (PEGI/$26.56/Outperform/covered by Raymond James Ltd.); and VMware (VMW/$96.41/Strong Buy). Three more names that are favorably rated by our research correspondents are: BorgWarner (BWA/$61.16); NextEra Energy (NEE/$92.56); and SunEdison (SUNE/$16.54). I suggest you put these names on your watch list.
Last week, however, investors were not focused on the weather, but whether the various indices could break out to new reaction highs. Most of the indices I follow failed to make new highs, although the Advance/Decline Line suggests they will in the weeks ahead. To be sure, the 10-day A/D Line moved up to its highest level since 1990, implying that while things may be overbought in the short-run, longer-term the primary trend of the stock market remains "up." That does not mean if we get an "upside failure" to make new highs there will not be another downside attempt. Manifestly, the D-J Industrials (INDU/16103.30) have valiantly attempted to cross back above their 50-day moving average (@16109.60); but as of yet have failed to do so, just like they have failed to make new reaction highs. Ditto the S&P 500 (SPX/1836.25) remains trapped in "no man's" land between 1813 and 1851. Meanwhile, the D-J Transportation Average (TRAN/73308.60) has given a bearish stochastic crossover signal, and may be tracing out a head-and-shoulders "top" formation, as identified by our technical analyst David Hydrick. Additionally, ALL of the indexes I monitor remain overbought in the short-term and are at/approaching major overhead resistance levels. Therefore, while none of the data is indicating extreme danger in 2014, like the fallacious 1929 comparison chart going viral on the internet, the weight of the evidence continues to counsel for caution in the near-term. That does not mean I am not willing to commit the cash raised in January to select situations because over the longer-term equities are undervalued with 6.6% forward earnings yield bases on the S&P's bottom up, operating, earnings estimate of ~$121. As well, I continue to think we are involved in a secular bull market that has years left to run.
Turning to commodities, we have been very underweight commodities save gold, natural gas, and crude oil. Last summer we stated natural gas was "washed out" and was likely to move higher. While that "call" was premature, it has certainly played in spades in the wicked winter of 2013/2014. Similarly, crude oil has moved higher, but not with as much gusto as natural gas. Unless there is an incident in the Middle East, both oil and natural gas are pretty extended, and except for special situations, I would be selective here. It is worth mentioning that likely due to the drought the PowerShares DB Multi-Sector Commodity Trust Agriculture Fund (DBA/$26.24) "gapped" significantly higher last week (see chart 1). Turning to gold, gold was recommended last December by me, as well as Andrew Adams, in various Morning Tacks. Hereto, that "call" was somewhat premature, but has proved profitable on a trading basis. Recently, gold crossed above its 200-DMA, raising "calls" the economy, equity markets, bond market, currency markets, et all, are in trouble. In my view, nothing is further from the truth. More to the point, earnings continue to come in better than estimated with 62% of reporting companies beating estimates and 64% bettering revenue expectations. As for profits, they have inked at roughly a +9% rate for 4Q13. It is worth mentioning that forward earnings/revenue guidance has been noticeably reduced, but I believe this is largely a function of the weather. On a sector basis, Information Technology had the highest "beat rate" with 70%, while the negative nabobs were shocked by the Consumer Discretionary' s beat rate of 64.5% (see chart 2) amid cries that the U.S. consumer is "tapped out."
The call for this week: Late last year I wrote about the Sun's impending "Polarity Flip," where the Sun's vast magnetic fields actually "flip." According to Todd Hoeksema of Stanford University, "This change will have ripple effects throughout the solar system." At the time certain seers suggested it could even affect the psychology of investors. Sticking with the "polarity" theme I subsequently discussed the Polar Vortex, which isn't a short-term phenomenon that causes a blast of cold air. It is a permanent condition circling the North Pole. It is the shape of the air flow, and position, that determines how much Arctic air moves away from the North Pole. This year's vortex is one of the coldest and potentially implies more to come in the years ahead. All of this is compounded by the shift in the Hadley Cell Winds, which is why extreme weather is fast becoming the "new normal" and there is scientific evidence we should expect this trend to continue. That's why companies need to change their business models to adapt for the weather, as well as why I mentioned some of the companies' that could help do just that in this report. There were also some weird occurrences on the Street of Dreams last week as the S&P 500 Equal Weighted Index, the S&P 400 Index, the NASDAQ Composite, the NASDAQ 100, the Advance/Decline Line, and others broke to new all-time highs on February 21st. So far, the S&P 500 (SPX/1836.25), the INDU, the TRAN, and others have not. Either they will follow the others to new all-time highs, or we will have a giant upside non-confirmation, setting the stage for another downside test. Therefore, as long as the SPX resides in "no man's land" between 1813 and 1851 I remain cautious, but still willing to buy select stocks like Williams Company (WMB/$42.06/Outperform) based on our fundamental energy team's recommendation. This week also ushers in some potentially market moving events with a number of Federal Reserve folks speaking punctuated by Janet Yellen's appearance at the Senate on Thursday, the 4Q estimate of GDP gets released, as does consumer confidence and sentiment figures, new homes sales are on tap, core PCE, and the Chicago PMI.
---
Additional information is available on request. This document may not be reprinted without permission.
Raymond James & Associates may make a market in stocks mentioned in this report and may have managed/co-managed a public/follow-on offering of these shares or otherwise provided investment banking services to companies mentioned in this report in the past three years.
RJ&A or its officers, employees, or affiliates may 1) currently own shares, options, rights or warrants and/or 2) execute transactions in the securities mentioned in this report that may or may not be consistent with this report's conclusions.
The opinions offered by Mr. Saut should be considered a part of your overall decision-making process. For more information about this report – to discuss how this outlook may affect your personal situation and/or to learn how this insight may be incorporated into your investment strategy – please contact your Raymond James Financial Advisor.
International securities involve additional risks such as currency fluctuations, differing financial accounting standards, and possible political and economic instability. These risks are greater in emerging markets.
Investors should consider the investment objectives, risks, and charges and expenses of mutual funds carefully before investing. The prospectus contains this and other information about mutual funds. The prospectus is available from your financial advisor and should be read carefully before investing.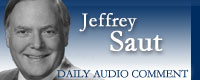 Jeff Saut's Daily Audio Comment is recorded every weekday, except Wednesday, at 9 a.m. ET. It is made available to the public on this Web page at approximately 1 p.m. ET.