Please make it stop!

December 15, 2014
He said: "Jeff, you sure were right in Thursday morning's verbal strategy comments when you said we should get a bounce following Wednesday's 90% Downside Day, but that that bounce should not hold and for the perfect set-up to occur for the Santa Rally would be to have the S&P 500 come back down and travel into the 2000 – 2010 level."
I said: "Sometimes you get lucky."
He said: "Do you still think the right level is 2000 – 2010?"
I said: "I do, or maybe even a little overshoot to the downside given today's action."
He said: "Well, the S&P is at 2012, is that close enough to buy?"
I said: "It's Friday, and while the markets can do anything, once they are into one of these downside skeins they rarely bottom on a Friday. I did see it happen once in the Bankers' Panic of 1907, but it is pretty rare."
He said: "Okay, I will wait until next week, but please 'make it stop'!"
That was a conversation I had with one of our financial advisors last Friday and I truly share his pain, especially in the energy space. Andrew Adams and I have written numerous times about rude crude and its nasty decline, as well as the reasons for it. I have scribed my thoughts about "oil as a weapon," actually I first heard that concept from Bob Hardy, but last week my friend Arthur Cashin included this quip from arguably the best strategic thinker on Wall Street, namely Don Coxe of Coxe Advisors:
"... By October, it was becoming clear to us and others that Saudi Arabia and its Gulf Emirate allies could not afford to continue petro-pricing business as usual with sectarian wars exploding out of control, threatening the entire region. In particular, they were infuriated that the Shia regime in Syria was being propped up by Iran and Russia. Moreover, Iran seemed to be getting closer to becoming a nuclear power with each month. Amid the chaos, the Islamic State terrorists had suddenly become a formidable challenge to the entire region, and they were getting increasing revenues from oil properties they had seized. The Saudis had long since concluded that U.S. President Barack Obama was a weak reed – at best. So, we believe they felt forced to stop the cash flows to Syria, Iran and the Islamic State and deter Russia.

They decided to keep pumping oil, allegedly to fight fracking, but also to weaken their regional foes. No one knows how long this strategy will continue. The Gulf States have trillions in sovereign wealth funds to back their budgets. Our pal Bob Hardy, who writes the invaluable Geostrat blog, has been talking about oil as a weapon for a longtime – going back to a meeting between Prince Bandar and President Putin late last year. While the meeting was private, sources say the meeting turned contentious when Putin refused to ease back on support for Syria and Iran in exchange for Saudi 'help' in maintaining or even boosting the oil price. The reason the Saudis didn't move earlier may have been 'market conditions'. They needed U.S. fracking supplies to build to a level that would make destabilizing the equilibrium very easy and not require a large and obvious production boost."
Obviously, oil is in the news and was the highlight of last week with a concurrent "hit" to our equity markets on news the International Energy Agency had reduced its oil demand outlook due to falling consumption. The highlight of my week, however, was spending three to four hours with Putnam portfolio manager (PM) Jerry Sullivan, who manages the Putnam Multi-Cap Core A Fund (PMYAX/$17.10), which I own. I like the fund because at $230 million it is small and nimble. However, Jerry also runs the much larger Putnam Investors A Fund (PINVX/$21.29). Having worked closely with Peter Lynch in an era gone by, Jerry employs many of the same tenets Peter used. Like Peter he keeps it pretty simple with three basic "buckets." First is the Legacy Bucket that uses large cap boring stocks that tend not to go down much over the long term. Bucket two is the Smart Money Bucket, where he tracks insider non-option buying/selling as reflected in SEC document Form 4. The third bucket is termed Special Situations, which needs no explanation. Other Putnam funds I have written about in the past, and that I own, include: Putnam Fund for Growth & Income (PGRWX/$20.95) PM Bob Ewing, Putnam Voyager Fund (PVOYX/$29.48) PM Nick Thakore, Putnam Capital Spectrum Fund (PVSAX/$38.09) PM David Glancy, and Putnam Diversified Income A Fund (PDINX/$7.53) PM Bill Kohli; and yes, I have personally met with all of these portfolio managers and like their investment styles.
As for the stock market, as most of you know I was looking for early month weakness to set up the Santa Rally, but I thought the weakness would begin the first week of December and I did not think it would be as severe as what we saw recently. Indeed, last week the equity markets suffered their worst point decline in three years with the D-J Industrials losing ~678, while the S&P 500 (SPX/2002.33) shed ~73 points, leaving the SPX about 2 points above its 50-day moving average of 2000.75. The dive took the SPX into the 2000 – 2010 zone I referenced in Thursday morning's comments and has left the McClellan Oscillator more oversold than it was at the October 15, 2014 "selling climax" low. I think the downside is mostly played out here and would look for some kind of trading low during the beginning of this week. The question then becomes, "Will that be the start of the Santa Rally into year-end?" To answer that question we will need to look at the quality/durability of any rally that develops, but at worst I believe the rally would play itself out in the 2030 – 2040 level and then come back down into the 1970 – 1980 zone before Santa arrives on Wall Street. In any event, we should know the answer to said question by the end of this week. Meanwhile, the economic reports continued to look good last week with 14 of the 17 economic reports coming in better than expected, Retail Sales topping estimates, the NFIB Small Business Optimism Index hitting its highest level in seven years, and the University of Michigan's Confidence Report at its best level since 2007. To be sure, things are getting better!
The call for this week: This week will determine when we will start the Santa Rally. As stated, I think the downside is mostly played out here and would look for some kind of trading low during the beginning of this week. The question then becomes, "Will that be the start of the Santa Rally into year-end?" To answer that question we will need to look at the quality/durability of any rally that develops, but at worst I believe the rally would play itself out in the 2030 – 2040 level and then come back down into the 1970 – 1980 zone before Santa arrives on Wall Street. Last week I took another shot at trying to pick the bottom of crude oil's decline when oil was testing its 15-year uptrend line at $60. Alas, that level did not hold either (strike 2). Over the weekend I came across an interesting oil to gold chart that suggests while we are not there yet, we are very close to a bottom (maybe third time is the charm?). Accordingly, I continue to think buying the midstream MLPs into year-end makes sense. I would also note that some of the names mentioned by our fundamental analyst on the midstream MLP conference call last week already look to have bottomed. Well, so much for "never on a Friday" as the S&P futures are better by 13.50 points at 6 a.m. on the passing of a budget. We will have to now see if the 2030 – 2040 level stops the "Budget Blast."
---
Quote of the week

December 8, 2014
"Think of it this way. Lower oil prices are to America what low labor prices were to the BRICs!"... Sara Eisen, CNBC
As most of you know I was in New York City most of last week seeing institutional accounts, doing media and speaking at various events. One of the media appearances was to co-host CNBC's "Closing Bell" on Tuesday, with the sagacious Sara Eisen, who unsurprisingly gave me the quote of the week. The quote was, "Think of it this way, lower oil prices are to America what lower labor costs were to the BRICs!" For the most part, the balance of the week was spent seeing institutional accounts where I was repeatedly asked about the declining oil prices and if that was going to kill the capital expenditure cycle along with the recent employment gains. My response was, "I don't believe it!" Our energy team, which I consider to be one of the best on the Street, came out with a MAJOR "call" a few weeks ago stating, "We think crude oil prices are in a bottoming phase." Plainly I agree, although oil prices have subsequently gone lower than I have been expecting. To this point, I spent a few nights last week at Bobby Van's across from the entrance to the New York Stock Exchange, where I tipped copious glasses of wine with the good folks of Friends of Fermentation (FOF). In attendance were CNBC's Bob Pisani and his new producer Jill, the always brilliant Arthur Cashin, a number of portfolio managers (PMs), prime/floor brokers, analysts, etc. I actually promised to send my friend Stan Salvigsen's treatise titled "The Inflation Handbook," written when Stan was at Cyrus Lawrence in the early 1980s, to Arthur. Nevertheless, the consensus of the good folks at FOF was that oil prices are indeed in a bottoming phase. If correct, this implies buying the Energy complex into year's end could prove to be the trade of the year for 2015.
In attendance at FOF was charter member Eric Kaufman, founder and portfolio manager of VE Capital, who knows more about the Master Limited Partnership space (MLPs) than anyone I know. Eric has been telling me for years to avoid the "upstream MLPs," and to invest in the "midstreams," and that advice has been spot on! Eric thinks that during tax-loss selling season we are going to get a sentinel chance to buy the high yielding "midstream MLPs" at bargain prices; and, I agree. Also in attendance at Thursday's FOF was the eagle-eyed economist Joe Brusuelas, who recently joined McGladrey as their Chief Economist after years at Bloomberg. I actually had a conversation with Michael Bloomberg when I was at Bloomberg last week to do some media, and as I understand it, the question du jour was, "Who is responsible for the departure of the best economist we have ever had?" Best economist indeed for at Thursday's FOF confab Joe told me his number for Friday's employment number was 320,000. To be sure, Friday's figures were hard to argue with regarding their strength. Such strong figures were not anticipated by me, although I continue to think the economy is stronger than the surface figures suggest.
Speaking to the employment numbers, the headline figure showed November payrolls increased by an eye-popping 321K versus the expectation of a +230K "print." Even considering the government's tweaking of the seasonal adjustments, it is hard to argue Friday's report was not strong. Moreover, the previous two months were revised upward by 44K. Also encouraging was that average hourly earnings rose by +0.4% (vs. the +0.2%E), and are now up +2.4% YoY, while the average work week expanded to 34.6 hours for the best reading since May 2008. There were some negative discussions from the talking heads about the continuing low workforce participation rate of 62.8%, but as I have said in past missives, I think this is a structural event and thereby nothing to worry about. To wit, there are somewhere between 10,000 and 15,000 baby boomers retiring daily, depending on whose figures you want to use, and that impacts the participation rate. There is also a continuing surge in the folks joining the disability rolls, and many of the millennials are self-employed, both of which negatively affect the participation rate. Further, 10 years ago if you committed a felony 30 years prior, nobody could find out about it. Well, they can find out about it now given the much more stringent background checks, and this too is negatively impacting the participation rate by keeping people off of the employment rolls. The bottom line is the slack in the workforce is dissipating and wage growth is likely to rise in the years ahead.
While I met with numerous institutional accounts, there were two that really stood out. The hour and a half I spent with my friend Phil Orlando at Federated was one of them. The Federated gang from Pittsburg and Boston were also dialed in for a two-way discussion that drew remarkably the same conclusions. Profits should strengthen in 2015, as should the capex cycle, and I believe Phil's boss (Stephen Auth) targeted 2350 for the S&P 500 (SPX/2075.37) for 2015, which would be consistent with my "up" 10% - 12% in 2015. Every year Mr. Auth's year-end target price for the SPX is higher than most and every year he seems to be right. It will be interesting to see if he uses that 2350 target in this year's "roundtable."
The other interesting meeting was with the folks at Prudential who manage their real estate assets. David Hunt is the CEO of Prudential Investment Management and Marc Halle is one of the portfolio managers. As readers know, our fundamental real estate team is fairly sanguine on the homebuilders currently, believing they have out-run their fundamentals. We are, however, continuing to play that space with the second derivative name Weyerhaeuser (WY/$35.53/Strong Buy). The REITs are another story. Pru's Marc Halle began by noting the REITs are probably in a sweet spot with commercial properties already contracted for years to come. He likened it to a bond where you look at duration. In a REIT, hotels, since they rent on a night-to-night basis, have a duration that is very short and can re-price quickly. Obviously office space, malls, etc. have a longer duration. He thinks REITs on average yield 4%, will get ~4% internal growth and achieve somewhere between 2% - 3% external growth. That implies a 10% - 12% total return, which is what I forecasted for the SPX this year and what I am looking for in 2015. Marc believes European real estate is expensive with "cap rates" below 5% and that there is no turnaround for France any time soon. He likes the East and West Coast properties in the U.S. and said that Middle America is his favorite Emerging Market (EM). Speaking to EMs, Marc favors Hong Kong and Japan with potential returns of 30% to 35%. Some of the names from our REIT Priority List that have Strong Buy ratings from our fundamental analysts are: American Residential Properties (ARPI/$17.59), Kite Realty (KRG/$27.34) and Sovran Self Storage (SSS/$85.54). Or, you can just buy Marc's mutual fund, the Prudential Global Real Estate Fund (PURAX/$24.76).
The call for this week: So far the early month weakness has failed to show up, which typically sets the stage for the Santa Clause rally. I have repeatedly stated that it is tough to sell stocks off in the ebullient time-frame between Thanksgiving and the New Year. It can happen, but it is pretty rare! As Joe Slavin, another FOF member, writes, "We have a large number of stocks breaking above past tops to new all-time highs. All-time highs leave just two types of sellers, shorts and profit takers [meaning] stocks can accelerate [on the upside]. These breakouts, and neutral trending bullish [trends] are not necessarily at buy junctures, however both patterns can drive the [equity] markets higher quickly. Add to this the number of bullish names versus bearish [names], and the odds favor we trade to the upside." Plainly, I agree! This morning, however, there is price weakness with the SPX preopening futures off 6 points at 6:00 a.m. as oil falls again, Italy is downgraded, China's November imports shrink, German industrial output falls short of expectations, Japan's economy softens, and the U.S. dollar trades higher. All of this caused one savvy seer to exclaim, "If Santa fails to call, the bear will roam on Broad and Wall."
---
2015?

December 1, 2014
Year-end letters are always difficult to write because there is a tendency to discuss the year gone by, or worse, try and predict what is going to happen in the New Year. I mean really, at this time last year who predicted Russia would invade Crimea, that ISIS would effectively take over a significant portion of Iraq, or the Republicans would sweep Congress. Actually I did get the last one right given my mantra that, "We are going to elect smarter policymakers and therefore get smarter policies." Coming into 2014, in all of my presentations I noted that despite the "tapering" announcement, the Fed's balance sheet was likely going to increase by 10% - 12% and the S&P 500's earnings were going to increase by roughly the same amount. I further opined there has been a fairly tight correlation between those data points and how much the S&P 500 (SPX/2067.56) gains during the year. Accordingly, my guess was that the SPX would gain somewhere between 10% and 12%. As of this writing that looks close enough for government work.
In retrospect one of my worse calls was to avoid Utilities because I thought interest rates were going to rise. With a nearly 20% gain YTD the Utility sector has been one of the best performing macro sectors, while obviously my interest rate call was equally as poor. However, I did get most of the other sectors generally correct. Also coming into 2014 I wrote:
The S&P 500 was better by 32.4% last year (2013), and up over 45% from the June 2012 low without any meaningful correction. The median historical drawdown following such a rally called for between a 5% and 7% decline in the first three months of this year and between a 10% and 12% pullback sometime during the year. But, such a drawdown/pullback should be viewed within the context of a secular bull market.
Well, we got the 5% - 7% pullback in the first three months of the year (6%), and I thought the 10% - 12% had commenced in July when we started experiencing various divergences. Recall the small/mid-capitalization stocks were declining while the large caps were hovering near their highs. Additionally, my Advance/Decline Line Indicator was not confirming the SPX's upside move and the U.S. Dollar Index was screaming higher. Subsequently I said that if you have stocks in your portfolio that have not performed over the past two years there is likely something wrong and you should sell them to raise some cash. Plainly that "call" proved premature, but came home in spades from mid-September into mid-October where the SPX lost 9.84% from intraday highs to intraday lows. On October 15, 2014 my colleague Andrew Adams and I did a special conference call on behalf of the Raymond James Investment Strategy Committee. Their concern was, "Should we sell stocks?" Our advice was a resounding NO! We stated the time to sell stocks, and raise some cash, was back in July and August, not after a nearly 10% decline that had left the equity markets as oversold as they have been since October 2011. In fact, we espoused that this is how bottoms are made; and while the bottoming process was not textbook, hereto it was close enough for government work.
So, here we are entering the month of December, which historically is a pretty strong month for the equity markets. According to "Moneychimp," since 1950 the SPX has been "up" during December 49 years and "down" 15 years with an average monthly gain of 1.62%. I would note that if there is going to be some pre-Santa rally weakness, it historically comes in the first two weeks of December. If those historical odds hold this year, it is going to put tremendous pressure on the 90% of money managers that are underperforming their respective benchmarks. Indeed, even from most financial advisors I get the question, "Would you please explain in one of your letters why our portfolios are underperforming the S&P 500." The answer to said question is pretty easy. You probably have too much cash and have too big a position in international investments. I would suggest advisors tell their clients just what their benchmark is. Additionally, if you are underperforming, but doing so with half of the S&P 500's "risk" (beta), then you are a "risk-adjusted" financial advisor and have nothing to apologize for to your clients.
Going into the new year presents some headwinds. My biggest concern lies with Washington, D.C. If our president continues to "dig in his heels," it could damage the economy. Exing that, earnings should continue to grow at a high single-digit pace and revenue growth should accelerate. While the impact of a stronger U.S. dollar, a gradual increase in wages, and higher interest rates will also represent headwinds, these should be more than offset by stronger GDP growth, better productivity, and continued elevated profit margins. Moreover, due to strong earnings growth valuations still look reasonable. Finally, in the U.S. investors are sitting on $11 trillion dollars in cash earning a zero return. As fears of the 2008 financial fiasco dissipate, this cash is likely going to find its way into stocks. Given these thoughts, I believe it is reasonable for the S&P 500 to achieve a total return in 2015 close to its historical (since 1921) 10.4% per annum return. The bulk of this return should come in the first half of 2015 and then grind higher in the second half as interest rates rise, causing P/E ratios to marginally contract. I think 2015 will be a year that favors cyclical stocks over the defensive names as the economy continues to strengthen. Large capitalization stocks have clearly outperformed the small/mid-cap complex, but I believe we are at the stage of the secular bull market where everything is going to work. I also think growth stocks look cheaper than value stocks.
As for the here and now, while the SPX grinded its way higher last week, the real show was in the crude oil futures market. By now everybody knows that OPEC did not cut production following Thursday's meeting and the result was a weekly wilt
(-13.72% spot oil) in crude oil prices. In fact, in the last 30 minutes of trading on Friday it was an oil "smack down" that had the feel of capitulation. Rude crude's slide of some 39% from its June high has had a devastating effect on the energy stocks, leaving the S&P Energy Sector off 9.45% last week. Consequently, it is the ONLY macro sector, at least by my work, that is currently oversold. Accordingly, I think some of the energy stocks are currently very attractive. If you are considering the Master Limited Partnership (MLP) space, the idea of averaging down in Yorkville's two ETFs makes sense to me. The two ETFs in question are 10.4%-yielding YMLP ($14.84) and 5.7%-yielding YMLI ($21.81). If you own these two in equal dollar amounts you own the entire MLP space. Further, they are structured as C-corps, meaning there is no K-1 to be filed. Moreover, much of the dividend distribution is classified as return-of-capital and are therefore tax deferred (for more tax info please consult your tax attorney). I continue to think crude oil is in a bottoming phase and would advise clients to purchase at least half positions in the energy space with the idea of completing the other half of those purchases during tax loss selling season in the weeks ahead because this is how bottoms are made!
The call for this week: As usual, I will be in NYC this week seeing portfolio managers, doing media, and speaking at a conference. If there is going to be any stock market weakness, at least on a trading basis, it should come this week into next week. From there the seasonality should have an upward bias buoyed by the "Santa Rally." As for oil, it is now quite apparent that Saudi Arabia is using it as a weapon for whatever reason. Many reasons have been offered in these missives over the past few months, but the Saudis' action last week, when they knew those actions would accelerate oil's price decline, makes it clear there are political reasons afoot. This morning Japan's debt is downgraded, Europe's factory output weakens, emerging markets get hammered, there is a Russian Rouble rout, October U.S. oil shale permits decline, Hong Kong warns protestors, and all of this has the preopening SPX futures down 9 points at 5:00 a.m. Indeed, if we are going to get weakness it should be in the first two weeks of December.
---
Additional information is available on request. This document may not be reprinted without permission.
Raymond James & Associates may make a market in stocks mentioned in this report and may have managed/co-managed a public/follow-on offering of these shares or otherwise provided investment banking services to companies mentioned in this report in the past three years.
RJ&A or its officers, employees, or affiliates may 1) currently own shares, options, rights or warrants and/or 2) execute transactions in the securities mentioned in this report that may or may not be consistent with this report's conclusions.
The opinions offered by Mr. Saut should be considered a part of your overall decision-making process. For more information about this report – to discuss how this outlook may affect your personal situation and/or to learn how this insight may be incorporated into your investment strategy – please contact your Raymond James Financial Advisor.
International securities involve additional risks such as currency fluctuations, differing financial accounting standards, and possible political and economic instability. These risks are greater in emerging markets.
Investors should consider the investment objectives, risks, and charges and expenses of mutual funds carefully before investing. The prospectus contains this and other information about mutual funds. The prospectus is available from your financial advisor and should be read carefully before investing.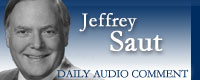 Jeff Saut's Daily Audio Comment is recorded every weekday, except Wednesday, at 9 a.m. ET. It is made available to the public on this Web page at approximately 1 p.m. ET.