Lucid Dreaming!

August 18, 2014
"Experts in the phenomenon known as lucid dreaming, where sleeping people are aware that they're in a dream, say dreamers should look for reality checks, or details that look different in dreams than in real life. . . . Some lucid dreamers are able to control elements of their dreams once they realize they're dreaming. They do what's impossible or unlikely in real life, like fly or meet famous people. ... Others use the technique to solve problems, spur creativity, overcome nightmares or practice physical skills, says Daniel Eracher, a professor at the University of Bern's Institute for Sport Science, who has conducted surveys of lucid dreamers. ... [Researchers] found that people with frequent lucid dreams are better at cognitive tasks that involve insight, like problem-solving. Other researchers have shown that people who dream of practicing a routine can improve their abilities in that activity in real life."

... The Wall Street Journal, by Shirley S. Wang (8-12-14)
Evidentially, the "lucid dreamers" on Wall Street practiced their skills two weeks ago as professional traders were sneaking large "buy orders" into the equity markets on the closing bell. Simultaneously, the Commitment of Traders' Report showed those same traders were dramatically reducing their "short sale" bets. At the time I was writing that the inference of such actions suggested the "pros" were betting the anticipated decline, which began in July, was going to be just another 5% - 7% pullback before the uptrend resumed. Last week, that strategy looked like the correct call with the S&P 500 (SPX/1955.06) having bottomed the previous week at a ~4.3% decline before accelerating to the upside last week. As written, I thought said acceleration was driven by the week's option expiration, which felt like an upside squeeze into Friday's "witch twitch." And, it looked like that was the way it was going to play, until Friday's Russian Roulette.
I warped in around 6:00 a.m. on Friday to find the alleged humanitarian aid convoy, of some 240 Russian trucks, had stopped short of the Ukrainian border, but 23 Russian military vehicles had snuck past the border guards during the night. Evidentially the equity markets thought nothing of such shenanigans as the preopening futures were printing higher with the "pros" still wanting to be "long" going into the afternoon option expiration. However, things changed dramatically at 10:30 a.m. when news stories swirled around the world's trading desks that the Ukrainian army had engaged the Russian convoy with shots being fired. At the time, nobody knew if body-bags were necessary, so equity markets swooned and bonds rallied. The Dow Dive typified the world's markets with the senior index losing ~138 points from the previous session's close, and an eye-popping 200-points from that session's intraday high. The consternations continued into the 2:30 p.m. "pivot." (The equity markets tend to have two pivot points. One occurs at 11:30 a.m., when traders "square" their positions and leave for lunch. The other is at 2:30 p.m. when again they square position going into the final hour of trading.) After Friday's 2:30 p.m. "pivot point," however, there was no second-shoe to fall on the Ukrainian/Russian situation and a rally attempt ensued into the close. In a pre-interview with my friend Susie Gharib, for last Friday's CNBC Nightly Business Report, she asked me, "What is going to happen in the markets next week?" I replied, "It all depends on geopolitical events over the weekend."
For the week the D-J Industrials (INDU/16662.91) gained 0.66%, the economically-sensitive D-J Transports (TRAN/8264.12) improved by 2.12%, the D-J Utilities (UTIL/548.81) were up 1.13%, but the big winner was the NASDAQ 100 (NDX/3987.51) at a +2.56% gain. The week's biggest winning sectors were Healthcare (+2.32%), Information Technology (+1.75%), and Consumer Staples (+1.41%), while by my work the only two sectors currently oversold are Energy and Industrials. On the commodity front, all of the ones I monitor were down for the week save Corn (+4.01%) and Palladium (+2.31%). Yet within the bookends of the week there were some pretty interesting events. Japan's economy contracted at an annualized 6.8% rate; the U.S. Treasury noted that our budget deficit was "only" $95 billion; the EPA intends to close another 200 coal-fired electricity generating facilities; Libya's recently-appointed leader (Col. Mohammed Suwasysi) was assassinated leaving effectively no government operating in Tripoli; in the course of the last six months more jobs have been created in the U.S. than at any time since 2006 (but while U.S. job creation has soared, pay is 23% less); German 2Q GDP fell 0.2% causing German Bunds to briefly travel below 1%; French 2Q GDP was flat leaving France teetering on recession, France's finance minister warned that his country would no longer attempt to meet EU deficit targets; U.S. new mortgage loans fell to their lowest level since 2000; U.S. 2Q preliminary figures suggest further decline in Personal Income Taxes; Saudi Arabia and the U.S. are using crude oil as a weapon; Bill Gross is reducing his holdings of U.S. Treasuries; Iraq's Maliki stepped down; the NFIB Small Business optimism index recorded its second highest reading of the economic recovery; there are only 11 countries in the world that do not have some form of conflict; and the list goes on.
Susie also asked me about the message from the T'bond market, "Does the bond market have it right (recession), or does the stock market have it right (economic expansion)?" I told her that IMO the rally in U.S. treasuries is a flight to quality, as well as a relative yield play with the German Bunds at 1% and the U.S. dollar improving against the world's currencies. The other thing I related was that with the European economy appearing to be "slipping," and with the euro weakening vis-a-vis the U.S. dollar, it should drive European investment dollars into U.S. equities for multiple reasons. As well, most European accounts remain massively under-invested in U.S. stocks given that the benchmark they are compared to, the MSCI All Country World Index, has about a 48% weighting in U.S. equities.
For whatever reason, the SPX finally broke out above its 1940 – 1950 overhead resistance zone that has served as a ceiling for the past few weeks. While it was not a decisive upside breakout, and it was reversed on Friday's geopolitical gottcha, a breakout is still a breakout and has tilted the weight of the evidence towards my sense that a sustainable low happened on August 7th. Moreover, a trader's "buy signal" was triggered last week when the 14-day Stochastic traveled above its moving average. Also of interest was that despite Friday's Fade, "they" could still not break the SPX back below 1940. Accordingly, as I told Susie, this week we will put "rabbit ears" on for the world's geopolitical events, as well as four different housing reports, the CPI, PMI, LEI, Philly Fed (see chart 1), and the all-important Jackson Hole confab where Ms. Yellen will discuss the employment situation.
Turning to earnings, with the earnings season almost over, it's proven again to be better than the bears have suggested with 58.6% of ALL reporting companies beating estimates, while 60.7% bettered revenues estimates. As for sectors, Technology fared the best with a 68.3% revenue beat and 66.7% earnings beat rate. Healthcare was a close second at 66.7% and 63.0%, respectively (see chart 2). Drilling down into the Raymond James' Research Universe saw five companies beat earnings/revenue estimates and guide forward earnings expectations higher. These five have positive ratings from our fundamental analysts and screen positively on my proprietary algorithms. We offer them for consideration on your "shopping lists." They are: Advance Auto Parts (AAP/$131.47/Strong Buy), AmerisourceBergen (ABC/$76.33/Outperform), Monolithic Power (MPWR/$44.06/Outperform), Skyworks (SWKS/$54.39/Strong Buy), and UnitedHealth (UNH/$81.47/Strong Buy).
The call for this week: I am in Boston seeing portfolio managers and speaking at a couple of events, as well as a national conference. If past is prelude, my Boston sojourn will see some kind of dramatic action in the equity markets. My hope is that a sustainable low has been achieved on 8-7-14 and the subsequent action will be on the upside. If so, the rally that began a week ago should gain "legs" from the option expiration upside "squeeze" and the de-escalation of the Ukraine situation. A decisive breakout above 1950 would suggest at least a test of the all-time highs and likely more.
---
A New York State of Mind

August 11, 2014
I was a kid, with only a few years of experience, in this business. My mentor was a savvy-seer with decades of experience on the floor of the New York Stock Exchange (NYSE) and was willing to share that knowledge as long as I was willing to buy him glasses of scotch. I learned a lot from him over the years, and many glasses of scotch, at Harry's Bar & Grill in New York City. I thought my business acumen was advancing pretty well, and when some particularly bad news arrived in 1963, I searched around quickly for a cheap "put" to buy, or a low priced stock to sell short. Later that day, I met my mentor at the bar. After buying him yet another scotch, I told him what I had done to take advantage of the negative news. His response was, "Kid, when the bad news hits you 'buy 'em, you don't 'sell 'em!" They don't teach things like that in college.

... Art Cashin, Director of Floor Operations for UBS
I met Arthur, as well as a host of other friends, last Thursday afternoon during my NYC sojourn to see institutional accounts and do media events. Over a scotch, he related the aforementioned story to me. The timing was propitious because another one of our friends had just telephoned to tell us the President was authorizing air strikes against ISIS. After a dinner at Mr. Chow's, I went back to my hotel to find the preopening S&P 500 futures printing down roughly 11 points. The next morning when I warped in at 5:30 a.m. the futures had pared those losses to a mere minus 3.60 points. Wow, I thought, how fortuitous was Art's story from the night before! Yet, that comment was to pale as rumors swirled down the canyons of Wall Street that Putin was deescalating the Ukrainian Uprising by withdrawing Russian troops from the border. By Friday's closing bell the senior index was up 185 points and the S&P 500 (SPX/1931.59) was sporting a 22-point gain. The set up for a rally attempt was certainly in place with the NYSE McClellan Oscillator oversold and with the SPX holding its 100-day moving average (DMA), a moving average that has proved to be support for the last few years. Bolstering the oversold condition, the SPX had traded into the bottom of its 3% trading envelope (see chart 1). Further, last Thursday I wrote about the mysterious on-the-close buy orders that were showing up in each of the week's sessions. Concurrently, the Commitment of Traders' report indicated a noticeable reduction in professional traders' short-sale positions, suggesting the pros were betting that this was just going to be another 5% - 7% pullback. And at its nadir, the D-J Industrials (INDU/16553.93) was down 4.5% from its recent high, while the SPX had lost 3.9%, in one of the most whipsaw two sessions in recent memory (see chart 2). Here, however, is the rub. The NYSE McClellan Oscillator is now fully overbought (see chart 3) and the SPX is within 9 points of its 1940 – 1950 overhead resistance zone often referenced in these reports. Accordingly, I continue to exercise the rarest commodity on Wall Street, patience!
While last Thursday with friends at Bobby Van's across from the NYSE was the highlight of the week for me, there were some other very cool high points. The week began with a presentation at the Piedmont Club in Spartanburg, South Carolina for our financial advisors. The next morning I had breakfast with some portfolio managers (PMs) followed by speaking at a lunch in Greenville, South Carolina's Thornblade Country Club. That night I did another well-attended presentation at the same club. I don't know how long ago, and who made the decisions for the city of Greenville, but those decisions have left Greenville as one of my favorite places to visit. The next morning at 6:00 a.m. I flew to NYC for a 10:00 a.m. meeting with a hedge fund. My next meeting was with the sagacious folks at Baron Capital. I always enjoy the company of Ron Baron, one of "The Street's best stock pickers, but on this visit I had the privilege of talking with his energy-centric PM, Jamie Stone. He began by saying oil prices are likely "range bound" for the foreseeable future, between a band of $80 - $85 and $105 - $110 per barrel. He explained that production costs are not going down, we are capacity constrained, there is an upward shift in capital intensity, and that the "majors" are outspending their cash flows; so, it's tough to see oil prices having a big decline. He also opined that the success of the U.S. oil shale bonanza is "pulling capital from the rest of the world." He added that shale has low resource risk (tons of shale oil), but high execution risk. He worries that the energy space is going to run out of skilled people because everyone is scrambling for labor. One of the names he liked from Raymond James' research universe was Concho Resources (CXO/$133.33/Outperform). He noted that Concho is drilling 600 wells per year, yet has some 20,000 resource prospects left to drill. The other name mentioned was Oasis Petroleum (OAS/$47.54/Strong Buy), which recently "missed" on two key volume metrics, but is trading at 5x cash flow and is growing production by 45% per year.
Next on the docket was Baron Capital's real estate PM, Jeff Kolitch. He began by noting the amount of houses that are selling per year is way below the country's population growth of 3 million folks per year. He also said that the commercial sector is clicking "across all sectors." Another very interesting data point came from the CEO of Hyatt (H/$56.57/Market Perform), when he said (as paraphrased) – I have been visiting our various properties around the country, and despite the fact we are near occupancy capacity without a bubbling economy, I don't see any new hotel construction around our properties – and that, ladies and gents, brings us to a stock mentioned by him. Starwood (HOT/$79.66/Outperform), he said, is moving toward an "asset light" business model. That would be shifting the company from total ownership of hotels to more of a management of hotels model. To wit, the company is selling roughly $2 billion worth of hotels, and using some of that money to buy back 10% of HOT's stock, and then probably returning excess cash to shareholders. That Baron's duo was followed by none other than Ron Baron, who while discussing favored positions like Iridium Communications (IRDM/$8.22/Strong Buy), which I own, and Tesla Motors (TSLA/$248.13), pronounced (again as paraphrased) – the stock market tends to grow at about 7% - 8% per year plus dividends, but we attempt to grow our accounts by 14% - 15% per year, and Baron Capital has the track record to prove it! Ron further offered-up that the value of the U.S. dollar falls by half every 20 years and that the stock market is a good hedge against that.
The rest of Wednesday was spent with the good folks at JP Morgan Asset Management, and two of its premier PMs, but I will have to continue this discussion in tomorrow's Morning Tack. Regrettably, Mary Edroes, the head of JP Morgan's asset management division, was in Brazil and therefore unavailable to meet with me this time, but I got a rain check.
The call for this week: Until Friday's Fling, the Russell 2000 (RUT/1131.35) outperformed the SPX every day last week. That was a distinct change of trend and is consequently worthy of note. It is also interesting that the RUT's PEG ratio (price to earnings growth) was below 1, which seldom happens, and implies that small caps are cheap. Last week the Street experienced record junk bond redemptions ($7.1 billion), as U.S. economic growth trumped the rest of the world. Also of interest is that Darrell Issa said more than 20 governmental officials lost/destroyed emails after Congress launched its investigation. This morning, however, all sins are forgiven as Iraq is close to naming a new Prime Minister, Russia has "stepped back" from the borders of the Ukraine, Ukrainian forces are about to recapture the city of Donetsk, and Israel agrees to a new cease fire with the Palestinians. Such events have the pre-opening SPX futures up 8 points at 6:00 a.m. That said, we will not be out of the woods until the SPX surmounts the 1940 – 1950 overhead resistance zone.
---
Always Wrong?!

August 4, 2014
Is the public always wrong?

This is probably the most frequently asked question about the Theory of Contrary Opinion. For a correct answer we need to change the words in the question. Let me put it this way: Is the public wrong all the time? The answer is decidedly, "No." The public is perhaps right more of the time than not. In stock-market parlance, the public is right during the trends but wrong at both ends! One can assert that the public is usually wrong at junctures of events and at terminals of trends. So, to be cynical, you might say, "Yes, the public is always wrong when it pays to be right – but is far from wrong in the meantime."

... It is to be noted that the use of contrary opinions will frequently result in one's being rather too far ahead of events. A contrary opinion will seldom "time" one's conclusions accurately. The "time element" is the most elusive factor in economics. . . . Therefore, when we adopt a contrary opinion, as a guide, we must recognize that we may be too far ahead of the crowd. This is because economic trends often are very slow in turning, or reversing. Frequently, opinions on a given situation will be so one-sided that a contrary opinion is obvious. However, it may be some weeks, or months, before the trend of the situation alters sufficiently to make the contrary conclusion the correct one.

It is probably safe to say, however, that it is wiser to be early than to be late-in most economic decisions. This does not apply only to the stock market. Not by any means. It applies as well to business policies and to other economic problems. In sum, the public is not wrong all the time-and a contrary opinion is usually ahead of time.

... The Art of Contrary Thinking by Humphrey B. Neill
I used the last paragraph from the aforementioned quip as a quote in last Friday's Morning Tack. This morning I had the space to include the entire quote. I suggest you read it, and then read it again, because its wisdom is just as relevant now as it was in 1954 when first published. Contrary thinking was just arriving on the Street of Dreams as a few pundits were starting to embrace the secular bull market thesis. Interestingly, that "secular bull" had begun amid disbelief on June 13, 1949 at a D-J Industrials' price of 161.60, and it would extend until 1964, or 1966, depending on your interpretation of Dow Theory. Still, in 1954 most doubted a bull market was afoot even though we were already five years into it. If that sounds familiar, it should! By the end of 1954, the senior index had gained 151% (without the inclusion of dividends) from the 1949 "low," yet few believed it would last. In 1954 the cold war was heating up with the launching of America's, and the world's, first atomic submarine. The Indochina war was in its final stages with the furious battle of Dien Bien Phu, while the communists were getting half of Vietnam in the Geneva truce agreement.
In 1955, the Dow trudged higher, despite two increases in margin account requirements, first to 60% and then to 70%. Not even President Eisenhower's heart attack "stumbled stocks" for long, although most individuals continued to not believe in the "bull." 1955 proved to be a consolidation year as Ford Motor came public, Elvis shocked the country, Egypt seized the Suez Canal, and Russian tanks rolled into Hungary. Likewise, 1956 was a year of consolidation, but McCarthyism erupted in 1957, and the U.S. was stunned by the launching of Russia's Sputnik I, leading to a sell-off that would see the Dow suffer a 20% decline between July and October, which actually triggered a false Dow Theory "sell signal" like the false sell-signal we got in the "flash crash" of May 2010 (both such signals were quickly reversed with buy-signals). In January of 1958 the first U.S. satellite (Explorer I) was launched into orbit and margin requirements were raised to 90%. Yet, the stock market continued to grind higher with the Dow rising from ~437 to 584 (+33.6%) over the course of the year.
The years 1959, 1960 and 1961 were again consolidation years amid news events like Castro taking over Cuba, the U-2 plane incident (Gary Powers), the Bay of Pigs invasion, the East German wall, and U.S. troops arriving in Vietnam. That upside consolidation ended with President Kennedy's "steel crisis" of 1962, where five steel companies (in aggregate) raised prices and the President bashed them. The result was nearly a 30% decline between April and June before the secular bull market resumed. Even President Kennedy's assassination in late 1963, and the Chinese nuclear bomb explosion in October 1964, didn't stop the "bull." In 1965 Fed head William Machesney Martin warned that the economy was overheating and raised the Discount Rate, all to no avail, as in early 1966 the D-J Industrials crossed above 1000. The actual date was January 18, 1966, and it was only a peek-a-boo "look" above 1000 on an intraday basis. And, that was it! On February 9th, at a closing price of 995.15 the great secular "Bull Market" of 1949 to 1966 came to an end.
I have spent a lot of time this morning chronicling many of the negative events that occurred during the secular bull market of 1949 – 1966 to demonstrate that what we have been through since the March 2009 low is not much different than the first five years of the 1949 – 1966 secular bull market. If I had the time, I could do the same from the bear market low at Dow 41.22 of June 1932. Interestingly, like back in 1954, after five years into this bull move many folks still do not believe we can be in a bull market given all the current consternations. So I will say it again, for the 1000th time, "The equity markets do not care about the absolutes of good or bad, but only if things are getting better or worse." I think things are getting better, and would note that while "easy money" has certainly helped, if next year's earnings estimates are anywhere near the mark, earnings will have almost tripled since 2008. As a sidebar, my friend Brian Belski (BMO's keen-sighted strategist) did a study based on the historical precedence that when stocks emerge from a very long sideways consolidation (1966 – 1982 or 2000 – 2013) they tend to be in a new secular bull market. Again, based on history, he concludes it is not unreasonable to assume there are 10 years left in this current "bull run," with a price objective of more than 4200 on the SPX.
Now such "bullish ballyhoos" may sound foolish given last week's action, but said action was not unanticipated on a near-term basis. I am not going to rehash the reasons for my caution since the S&P 500 (SPX/1925.15) traveled into my envisioned target zone of 1950 – 1975 during the first week of July. I am also going to admit that right now I have no clue as to if this is the 10% - 12% pullback the historical odds imply should occur sometime this year, although as of now it has the feel of it. To this point, I harken back to the July – August swoon of 2011 that lopped some 18% off of the SPX. When studying that decline on a daily/weekly basis, it looks pretty easy to trade it as a "waterfall decline" (see chart 1). On the other hand, when breaking it down on a 15-minutes trading basis (chart 2), it shows all of the counter-trend bounces that caused traders to attempt to "catch a falling knife," something I caution against here. Hence, I continue to embrace the rarest commodity on Wall Street – patience!
The call for this week: The public is right much more than wrong. They do tend to be wrong at major inflection points like 2000 and 2009 (too bullish then too bearish), as Humphrey Neill states, "Yes, the public is always wrong when it pays to be right – but is far from wrong in the meantime." As stated, "It is wiser to be early than to be late-in most economic decisions." Speaking of being early, I am leaving early today for one of my favorite towns, Greenville, South Carolina. On Monday and Tuesday I will be seeing our advisors and presenting at events. Early Wednesday, I jet to NYC to see portfolio managers at institutional accounts like Baron Capital, JP Morgan, Goldman Sachs, etc. Of interest, Ron Baron owns a large position in Iridium (IRDM/$8.24/Strong Buy), a stock I own as well. Last week IRDM "inked" a very good earnings report and traded higher despite the stock market's late-week carnage. For more details, please see our Satellite & Space analyst Chris Quilty's company comment dated August 1, 2014. This morning the world's markets are celebrating the $6.6 billion rescue of Portugal's banking system, leaving the SPX futures better by more than 7 points. Alas, I wish it was just that simple ...
---
Additional information is available on request. This document may not be reprinted without permission.
Raymond James & Associates may make a market in stocks mentioned in this report and may have managed/co-managed a public/follow-on offering of these shares or otherwise provided investment banking services to companies mentioned in this report in the past three years.
RJ&A or its officers, employees, or affiliates may 1) currently own shares, options, rights or warrants and/or 2) execute transactions in the securities mentioned in this report that may or may not be consistent with this report's conclusions.
The opinions offered by Mr. Saut should be considered a part of your overall decision-making process. For more information about this report – to discuss how this outlook may affect your personal situation and/or to learn how this insight may be incorporated into your investment strategy – please contact your Raymond James Financial Advisor.
International securities involve additional risks such as currency fluctuations, differing financial accounting standards, and possible political and economic instability. These risks are greater in emerging markets.
Investors should consider the investment objectives, risks, and charges and expenses of mutual funds carefully before investing. The prospectus contains this and other information about mutual funds. The prospectus is available from your financial advisor and should be read carefully before investing.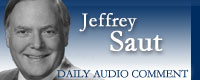 Jeff Saut's Daily Audio Comment is recorded every weekday, except Wednesday, at 9 a.m. ET. It is made available to the public on this Web page at approximately 1 p.m. ET.