Who We Are
Our approach is highly complex.
Yet our promise is simple: "We do what we say."
---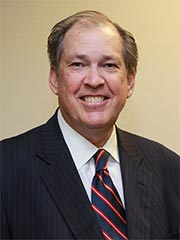 James.Schmidt@RaymondJames.com
Phone: 804-418-7264
James A. Schmidt
Senior Vice President, Investments
Jim is a native New Yorker whose financial services career took shape on Wall Street. There, Jim gained a first-hand understanding of the real-world factors and intangible influences that drive market performance. Working first at EF Hutton in 1984, then at Prudential Securities, Jim has served as a discretionary portfolio manager since 1996. More than 95% of clients followed Jim down I-95 to Richmond to Wachovia (which became Wells Fargo). In 2011, Jim's team (and again, more than 95% of the team's clients) moved to Raymond James. Not surprisingly, "95" is one of Jim's favorite numbers.
"Clients came with us, as fast as we came here. We chose Raymond James for easy access to its top investment analysts and leading research. Our process is clearly enhanced by this partnership of skills. Today, we enjoy the freedom, flexibility and financial independence to more precisely serve client needs with less red tape than I've encountered elsewhere. I strongly believe – as our team does – that Raymond James is the premier alternative to Wall Street and a leader in research and financial planning." – Jim Schmidt
Jim earned a Bachelor's degree from The State University of New York (SUNY) New Paltz. For those acquainted with New York geography, Jim actually grew up in Westchester County, in the city of Rye. Jim and his wife, Rachel, moved to Virginia in 1996 with their two young children, who, according to the happy couple, are now grown and have provided an empty nest. When Jim is not scrutinizing market data or visiting with clients, he enjoys golf and traveling with Rachel. Giving back to the community that's given him so much, Jim has long participated with various local organizations. His most cherished efforts were dedicated to CASA in Henrico County, for more than seven years. He and his family also host inner-city children from New York City in their home, through their support of The Fresh Air Fund.
---

Bernice.Murff@RaymondJames.com
Phone: 804-418-7263
Bernice "Bernie" Murff
Associate Vice President of Investments
In 1994, Bernie began earning her "financial services stripes" at the regional securities firm, Scott & Stringfellow. Focusing first on mutual funds and annuities, Bernie ran Morningstar reports, analyses and presentations for mutual funds. Later, she hired investment managers and helped initiate and develop the SMA (Separately Managed Account) and Broker Managed Platforms. By the time Bernie left Scott & Stringfellow in 2004 for Wachovia, she was Vice President of Managed Accounts – handling portfolio construction, pricing and, most important to Bernie, working directly with clients. She was also a member of IMCA (Investment Management Consulting Association) and sat on a Regional Fee-Based Roundtable. At Wachovia (later Wells Fargo Advisors), Bernie was Vice President of the Consulting Services Group – where she guided more than 12,000 financial advisors on manager selection, asset allocation and pricing. Joining Jim and his team in 2006 at Wells Fargo – and making the move to Raymond James in 2011 – Bernie feels privileged to assist clients with all aspects of wealth management planning (including saving for college, retirement planning, borrowing and long-term-care considerations). She is also the group's business manager and director of all fee-based accounts.
Bernie graduated from Randolph-Macon College in 1991, with a Bachelor's degree in Business and Economics. A native of Poquoson, Virginia, Bernie and her husband, Eric, are active and engaged with their two sons' lacrosse, volleyball, football and soccer schedules. Away from the office and the sidelines, Bernie enjoys traveling, the beach, watching professional football and volunteering at her sons' middle school and high school.
---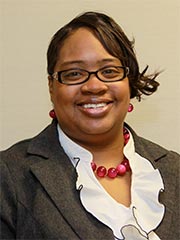 Tameika.Aldridge@RaymondJames.com
Phone: 804-418-7272
Tameika Jenkins Aldridge
Senior Client Associate
A lifelong resident of the Greater Richmond area, Tameika is the "go-to resource" for Jim and Bernie – and especially, clients who value her "never-say-never" attitude. Whether she's handling clients' transactional or administrative needs, she is driven to enhance and streamline each client's experience. Tameika embodies the team's commitment to client satisfaction and has earned the respect of clients and colleagues alike, for her in-service knowledge, energy and perseverance.
After beginning her financial services career in 2003 at Wachovia (later Wells Fargo Advisors), Tameika joined Jim and Bernie there in 2008. Three years later, she moved with the team to Raymond James. Tameika holds an undergraduate degree in Business Administration from Strayer University in Richmond. To "relax," Tameika enjoys life with her husband, Wallace Sr., their four children, as well as reading and traveling.