A message from Paul: Raymond James to direct up to $1 million to relief efforts in Israel and Gaza
October 17, 2023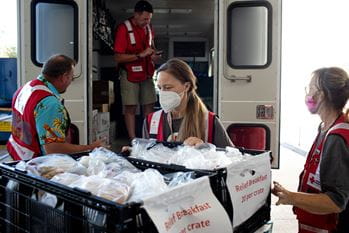 Like all of you, I have spent the past week watching with horror and anguish as Hamas terrorists brutally attacked and murdered over 1,300 innocent people in Israel and kidnapped almost 200. As difficult as the news stories have been, I've heard from many of you over the past few days whose loved ones have been directly impacted by the horrific events, including some who have lost friends and family members. The ensuing conflict has led to a humanitarian crisis for both Israelis and Palestinians that will only grow in the coming weeks.
As we committed last week, in response to the growing crisis and need, Raymond James is seeking to direct up to $1 million to relief efforts. We are committing $500,000, along with pledging to match an additional $250,000 in associate and advisor donations through our long-term partner, the American Red Cross. Funds will be directed to provide critical medical supplies; ensure access to essential services such as household items, food and clean water for affected individuals; searching for missing persons; and facilitating contact between those detained and their families.
As the heart-wrenching images and stories continue to surface, when we witness the demonstrations expressing antisemitism and hatred, I want to reinforce that Raymond James will always be a safe community, intolerant of hatred or discrimination of any kind.
Our deepest sympathies will continue to be with everyone – within the Raymond James family and beyond – affected by what we know will be a long and painful conflict.
Sincerely,
Paul C. Reilly
Chair and CEO
Raymond James Financial