Building a forever home
Learn about one family's journey toward home ownership in the midst of the COVID-19 pandemic.
On August 7th, Priscilla Trauger and her daughters, Sammi and Jacki, gathered among a small group of family and community members for the dedication of their new home. After completing more than 350 hours of sweat equity on their house and others, Priscilla and her daughters will move into a community with 15 other Habitat for Humanity homeowners and a goal of many more to come. Habitat for Humanity of Pinellas and West Pasco has built more than 630 homes in Pinellas and West Pasco counties in partnership with hundreds of families like the Traugers, who purchased their home with an affordable mortgage through Habitat for Humanity.

"We have partnered with Habitat for Humanity for the last 20 years," shared Chris Majeski, senior vice president at Raymond James. "This is the 10th home we've sponsored in Pinellas county and, for us it's not just about the sponsorship. It's about all the people who have helped make this your forever home. The community leaders, the crew of volunteers, the staff at Habitat and, most importantly, it's about you and the sacrifice you made for your daughters."

Family means everything to the Trauger family. "My daughters are my life. What I look forward to the most is spending time with them. We've learned so much from this new experience," said Priscilla.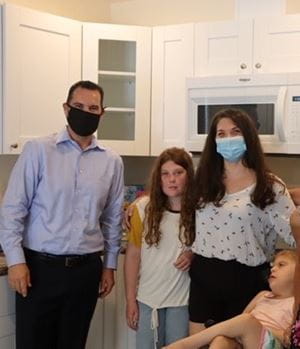 When the COVID-19 pandemic hit, Priscilla was furloughed from her job in the hospitality industry for two months. "I had a false sense of security. Restaurants are always open, so I thought I would be fine forever. I had no idea how long we would be closed." Through all of the challenges, Priscilla worked with Habitat to keep her house on track while she got back to work with extra precautions being taken. "Through all of the uncertainty, I at least knew that my family was safe. It has been a tremendously bumpy road, but I knew all along that it would be worth it. I've worked so hard for everything my entire life, and I knew that the reward for this would be so much sweeter than anything I've had before. Now that we're at the end of our journey, I see this as less of a completed project, and more of a new beginning. Our home will be a safe place that we can love, care for, and upkeep the way we want to. It can be a place of sanctuary and security for a lifetime, and it will give me something to pass along to my children. We can have our big family dinners, and a place to make so many memories. A forever home."

On the morning of the dedication ceremony, as he handed over the keys to their new home, Chris reiterated the importance of the community that has been with the Trauger family along the way, "This is a symbol of all the people who are part of your story," he said. "Every time you use those keys, you know that there is a community of people in your corner."
Raymond James Cares
Together, we make a difference to build, strengthen and grow our communities. To learn more about the firm's corporate philanthropy, click here.
To see how associates give back all year long, follow Raymond James on Facebook, Twitter, LinkedIn and Instagram.