Our giving in review: Here's how we made a difference throughout 2018
Since our founding in 1962, Raymond James has been committed to 'giving back to the communities in which we live and work' – and 2018 was no exception.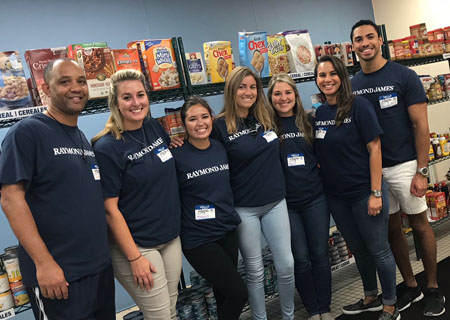 Raymond James is a leader in philanthropy because our associates and advisors are leaders in their communities. We make a difference to build, strengthen and grow our communities. And we do so, together.
Caring for our communities
All across the firm, you'll see us giving back to others in countless ways, supporting the arts, the United Way, and a host of educational, civic, social and philanthropic endeavors.
Charitable Giving
Together in 2018, Raymond James, associates and advisors support 500+ organizations annually.
Collectively, we donated more than $56.4 million to charitable organizations, including nearly $6.25 million to the United Way and its partner agencies through our corporate match program.
Raymond James supports many of these organizations through sponsorships, including Raymond James Stadium, American Stage Theatre Company at Raymond James Theatre, the Raymond James Gasparilla Festival of the Arts and more.
Volunteerism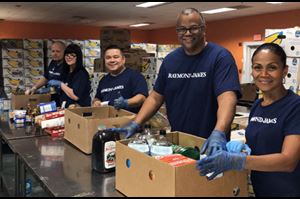 Last year, we recorded more than 164,000 total volunteer hours to organizations near and dear to our hearts.
While Raymond James Cares is a yearlong community involvement initiative, one month each year is officially designated "Raymond James Cares Month" – when our advisors and associates team up to give back to their communities.
Last August during Raymond James Cares Month, we reached recording-breaking results: More than 3,000 professionals hosted over 200 volunteer projects across 142 local communities in 30 U.S. states, five Canadian provinces and the United Kingdom, contributing more than 10,000 hours to benefit 272 nonprofit organizations.
Influencing positive change
Raymond James, associates and advisors are invested in long-standing community endeavors and partnerships. See a sample below of how, together, we're making an impact.
American Heart Association
For the ninth consecutive year, Raymond James and associates participated in the Tampa Bay Heart Walk, earning us the distinction of the No. 1 fundraising company in Florida and the No. 5 fundraising company in the nation.
Collectively, we raised nearly $350,000 for the American Heart Association and touted nearly 60 teams and 500 walkers and fundraisers. Our very-own Kristie Kindstrom, vice president of wealth solutions, received the American Heart Association's "Company Leader of the Year" award for her leadership on the campaign.
Financial Literacy
Nearly 400 advisors and associates across the firm gave back through financial education in the classroom last year, partnering with national organizations like Junior Achievement and the SIFMA Foundation, and spearheading local efforts of their own. To name a few:
Advisor Sacha Millstone serves as the board chair and "champion" for Funding the Future, an innovative musician-led financial literacy program that has performed for more than 125,000 students in 33 states and Canada. She recently won the 2018 Invest in Others Volunteer of the Year award for her contributions to the organization.
Advisor Todd Sanford works alongside his alma mater, Western Michigan University, and faculty to improve financial literacy across the university and the nation. Last October, they created the Sanford Center for Financial Planning and Wellness, which celebrated it's grand opening in January 2019.
Habitat for Humanity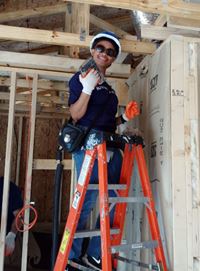 Since 2005, Raymond James has fully sponsored nine Habitat for Humanity builds in Pinellas County, Florida, with associates doing the work from start to finish – donating more than 5,800 volunteer hours for local families in need. In 2018 alone, more than 200 associates volunteered over 1,500 hours on a home for a well-deserving family. Watch the video and hear the family's story.
Disaster Relief
In the fall of 2018, Raymond James responded to a need for disaster relief, offering aid to areas in the Carolinas, Florida Panhandle, and southern Georgia and Alabama struck by powerful hurricanes, as well as regions in California devastated by wildfires. To help rebuild our communities, the firm donated $400,000 and associates raised $12,880.
Associate-led Charity Funds
Throughout the year, Information Technology (IT) teams in St. Petersburg, Memphis and Southfield, Michigan, head up local charity funds, snack rooms and stores to benefit their communities. To highlight a few:
Over the holidays in St. Petersburg, associates provided gifts for 260 children across Pinellas County through the IT Charity Fund, which over the past 30 years has spread holiday joy to more than 2,100 children. Read more.
In Memphis last June, the fund granted a wish for six-year-old Lydia, who lives with cystic fibrosis. By raising money through their local charity store, Memphis associates sent Lydia and her family to Hawaii through the Make-A-Wish Foundation. Watch the video on Facebook.
Many More
To learn more about how we collectively give back to their communities, read featured stories throughout this site.
Raymond James Cares
Together, we make a difference to build, strengthen and grow our communities. To learn more about the firm's corporate philanthropy, click here.
To see how associates give back all year long, follow Raymond James on Facebook, Twitter, LinkedIn and Instagram.