How we help build homes … and dreams
Discover how associates teamed up to make one family's dream home a reality.
For more than 20 years, Raymond James has volunteered with Habitat for Humanity chapters across the country to help more than 40 families have a house to call a home.
The build
In 2018, we celebrated our eighth firm-sponsored build with Habitat for Humanity Pinellas.
Over seven weeks, more than 200 volunteers put in nearly 1,500 hours to carry out tasks like laying foundation and flooring, building walls, installing windows and cabinets, landscaping, and more. And they did so with the Umberger family in mind.
"It's a safe place to call home," said Marissa Umberger, single mother of three. Watch the video below to hear her story, and see how our associates rooted for them along the way.
Habitat for Humanity 2018
The dedication ceremony
On Saturday, May 19, Raymond James associates, Habitat for Humanity partners and community leaders joined together to welcome the Umberger family "home" at their dedication ceremony.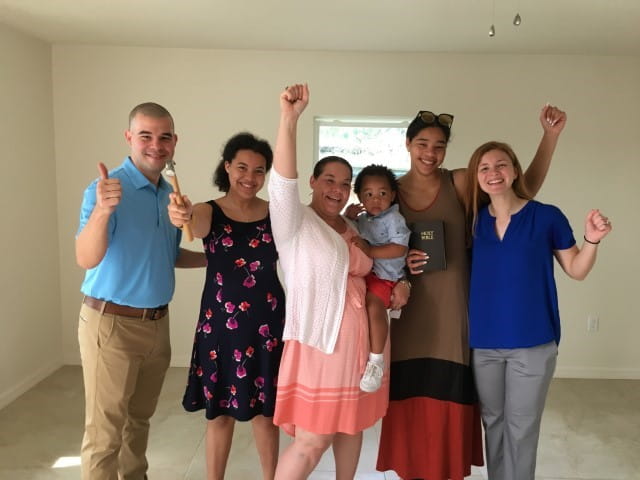 Bobby Colon, far left, and Allie Tucker, far right, with the Umberger family.
Raymond James and Habitat for Humanity
For more than 20 years, Raymond James and its associates have helped Habitat for Humanity build homes across the country, assisting with 35+ builds.
This spring marks the firm's eighth sponsored, full build in Pinellas County, with associates doing the work from start to finish.
Raymond James Cares
Together, we make a difference to build, strengthen and grow our communities. To learn more about the firm's corporate philanthropy, click here.
To see how associates give back all year long, follow Raymond James on Facebook, Twitter, LinkedIn and Instagram.