Girls into Women: A spotlight on the Rhonda Walker Foundation
Associates and advisors are serving this Detroit-area nonprofit through mentorship, education and fundraising. Get to know the organization.
"If you want to feel good about giving your time, here's a place to consider." –Renato Jamett, Raymond James Branch Manager, Dearborn, MI
As part of our pledge to the Black community, Raymond James committed $1.5 million to support racial equality, financial literacy and empowerment, and volunteerism opportunities across the country. The firm selected 12 organizations across 10 U.S. markets to receive funding from the pledge – among them, the Rhonda Walker Foundation.
"The energy is contagious," Jamett says. "The staff, leadership and volunteers are so dedicated to the young women they serve."
About the Rhonda Walker Foundation
Founded in 2003 by WDIV-TV 4 broadcast journalist Rhonda Walker, the Rhonda Walker Foundation (RWF) seeks to empower and mentor inner city teen girls in Detroit. Girls are nominated for admission into the award-winning five-year comprehensive Girls into Women Program by one of five Detroit partner schools the spring before they enter the eighth grade. The Girls into Women Program is built on six program pillars: College Prep, Personal Development, Career Development, Health and Wellness, Community Outreach, and Cultural Awareness and Mentoring.
"The Rhonda Walker Foundation is here as a beacon of hope," CEO Ruselda Johnson says. "We instill confidence in our girls and we empower them to become future leaders."
By the numbers:
The five-year Girls into Women program boasts a 100% high school graduation rate among its participants.
125 girls have graduated from the program thus far.
100% of graduating RWF teens enroll in college.
95% of college-bound RWF teens graduate with an associate degree or higher.
The Rhonda Walker Foundation and Raymond James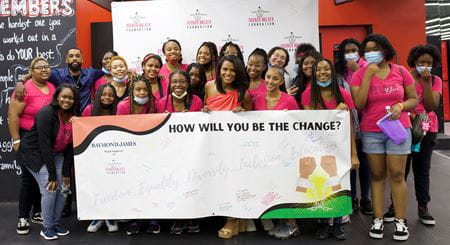 The firm and the Rhonda Walker Foundation kicked off our new partnership with a Juneteenth day of celebration and education. Guests were joined by keynote speaker Jamon Jordan – a Detroit educator, writer and historian – who spoke on the history of Juneteenth and Detroit's significant role in the historical event. Later, RWF girls participated in lunchtime table talks and focused discussions on topics like economic empowerment, racial equity in education, and equity for African Americans in the workplace.
"The Raymond James partnership has taken us to a whole new level," Johnson says. "We can serve more girls, introduce new programs … what we thought might not have been possible is now possible."
Later in June, Raymond James associates and advisors joined RWF for a day of speed mentoring. Volunteers from across the firm rotated between tables of teens to answer questions, discuss career opportunities and give advice on achieving professional success.
"The young women that are impacted by this organization are so incredible," Jamett says. "They are sponges – they want to learn. They want to become business leaders, community leaders, civic leaders … they want to give back because they feel like the Rhonda Walker Foundation has given them so much."
An expanding impact
"Our dream is to multiply our reach and eventually expand our program to cities across the country," Johnson says. "With the help of volunteers and companies like Raymond James, we can create more positive change where it's needed most."
Learn more about the Rhonda Walker Foundation at rhondawalkerfoundation.org.
Rhonda Walker Foundation Juneteenth celebration
Raymond James Cares
Together, we make a difference to build, strengthen and grow our communities. To learn more about the firm's corporate philanthropy, click here.
To see how associates give back all year long, follow Raymond James on Facebook, Twitter, LinkedIn and Instagram.