This snack room spreads joy to hundreds each holiday season
Discover how Raymond James technology associates share joy around the holidays.
For nearly 30 years, the information technology (IT) associates at Raymond James have used their charity fund to spread joy to more than 2,100 children across Pinellas County during the holidays.
How did it all begin? Well, would you believe us if we told you it all started with a 12-pack of soda, a table-top refrigerator and a small cup to collect change?
The history of the snack room
In 1989, a few IT associates brainstormed ideas to raise funds for their holiday gift drive. It was then that the "IT Charity Fund" and their iconic snack room – with one case of soda – was formed.
The concept was simple: The committee would support the snacks and refreshments, and associates would purchase items in support of charitable fundraising. That year, the committee raised $25 for Toys for Tots.
Over the next three years, the selection grew, and they raised $825 for holiday adoptions. By 2007, the IT Charity Fund broke its all-time fundraising record, raising $27,000 through snack room donations and other activities like a fall festival dunk tank, Easter Peep decorating contest and more.
What started as a small fundraising effort now continues to be a cultural keepsake among both IT and other departments alike, and has since spread to the firm's Memphis and Southfield locations as well.
Breaking a new record
At the beginning of this 2018 holiday season, the St. Petersburg IT Charity Fund set out to support 176 children through its annual adoption drive, hoping to set a new record over the 153 children supported in 2017.
However, the demand quickly grew in three short weeks, and at the end, associates provided gifts for 260 children in a partnership between Raymond James and the Guardian ad Litem Foundation, Pinellas County Sheriff's Victims' Advocacy Unit and two local elementary schools.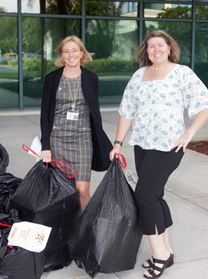 "They send us families who have the most need," said Karen Chappel, who's run the program the last 10 years. "Most of the kids just want a winter jacket, a warm blanket or fluffy pillow. Others ask for everyday items, like school supplies or soap. It's both heartbreaking and heartwarming that we can make a difference."
"Our associates are so generous," said Karen. "Many go far beyond the $75-150 budget, too. They even wrap the presents or put on beautiful bows and tags. These people have a big heart, and you can see it in the smallest details."
Outside of the drive, the IT Charity Fund also supports families and classrooms in need, and throughout the holiday season, uses the snack room donations to go above and beyond in a special way for some of the families.
"If we know there's a particular need, we'll do more," said Karen. "This year, we sponsored two children who needed eye exams and glasses, and bought gift cards for hungry families."
This type of care for others doesn't happen on its own, and it takes a small "village" to achieve this kind of success.
"We couldn't do it without the departments and countless associates who volunteer to donate or pack for the drive," said Karen. "And of course, we have all-star committee members, like Joy Jones and Linda Johnson, who help with the coordination of it all."
Setting sights for next season
This year marks the 30th anniversary of the IT Charity Fund and snack room, and the committee is setting the bar high for the next holiday season.
"We've had an overwhelming response this year, and I can't wait to see what we do in 2019," said Karen. "It's rewarding to know that – at least for a little bit – these families can experience joy and comfort, all because we care."
Raymond James Cares
Together, we make a difference to build, strengthen and grow our communities. To learn more about the firm's corporate philanthropy, click here.
To see how associates give back all year long, follow Raymond James on Facebook, Twitter, LinkedIn and Instagram.