How one conversation can change a life
Learn how volunteers make a difference through Lunch Pals.
This article was adapted from AARP's publication "Where We Live," which highlights inspiring examples from local leaders.
How it all began
Ron Diner's first lunch pal was a 7-year-old named Tommy, who lived in a Salvation Army group home. The two met for lunch in a school library, where in the beginning, Tommy liked to sit with his favorite "I Spy" puzzle book across a table from Ron.
"After a number of weeks, he moved to my side of the table and put his arm around me, and we did the book together," Ron recalls. "Was this kid missing somebody? And did he find somebody in me?"
In 2018, Lunch Pals celebrated 1,000 Pinellas County students who now have somebody on their side through the Lunch Pals program, which Ron, former head of Raymond James Tax Credit Funds, helped start in 2013 with Pinellas County Schools. The aim was to create an experience that was easy and obstacle-free for participating adults.
"Too many people say to themselves, 'I can't be a mentor!'" says Ron. "But anybody can do this. It's just a couple of pals having lunch for a half hour a week."
The program grew out of a partnership between Raymond James and a single elementary school in the Tampa Bay area.
"I met with the principal and asked her, 'What are your challenges? What can I do for you?'" recalls Ron. "She told me, 'I have kids who are homeless. I have kids who live in motels. I have kids from group homes, lots of single parents.' She said to me, 'We need mentors.' I said, 'We have 3,000 people at Raymond James. I think I can find some for you.'"
That year, Ron recruited 87 Raymond James volunteers to become Lunch Pals.
How it's grown
Since then the program has expanded every year, and Lunch Pals now has partnerships with more than 65 companies, churches and local government offices across Pinellas County, resulting in more than 1,000 volunteers. And now more than 160 Raymond James associates are paired with a child through the Lunch Pals program.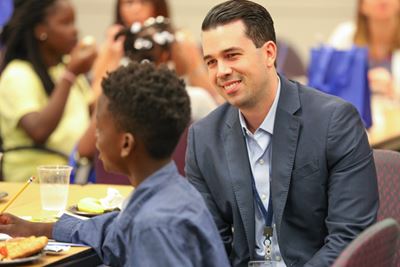 "People tell me it's the best 30 minutes of their week," says Ron.
Ron sets aside time to lunch with his two lunch pals at each child's school. Recently he asked one of them, "If you could have lunch with anybody in the world, who would it be?"
"I was expecting to hear a famous football player's name, but you know who he said?" Ron recalls with delight. "He said me! I couldn't believe it."
How to get involved
You, too, can make a difference in the life of a child. To learn more about the program, visit www.lunchpals.org.
Raymond James Cares
Together, we make a difference to build, strengthen and grow our communities. To learn more about the firm's corporate philanthropy, click here.
To see how associates give back all year long, follow Raymond James on Facebook, Twitter, LinkedIn and Instagram.