Giving back goes full throttle during Raymond James Cares Month
Together, we made a difference during our official month of giving.
2018 Results
2018 was the most impactful year yet for Raymond James Cares Month, and it's thanks to our firm leaders, advisors and associates leading the way to give back to our communities.
During our official month of giving, we saw more than 2,500 professionals host over 200 volunteer projects across 112 local communities, 30 U.S. states and the United Kingdom, contributing more than 7,250 hours to benefit 172 nonprofit organizations.
Since our official month of giving began in 2012, our associates, advisors and their clients have volunteered more than 36,800 hours.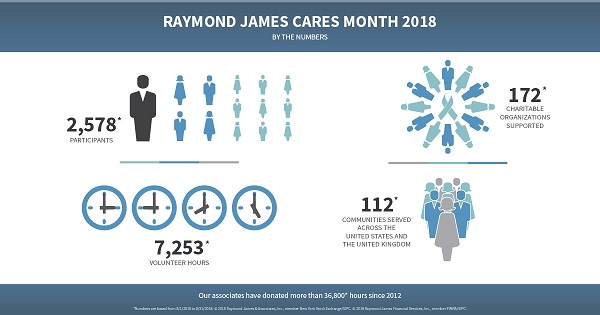 Volunteerism snapshots
Here are some examples of the impact made by Raymond James Cares Month 2018:
The Los Angeles Complex cleaned a 6,000-square-foot transitional house through Hope of the Valley Rescue Mission, just in time for new families to move in.
Associates at KWD Wealth Management packed 15,120 meals in two hours – enough to feed 41 malnourished kids for an entire year through Feed My Starving Children.
In the UK, Raymond James Investment Services hosted seven volunteer projects and fundraisers across London, including painting a recovery center for those overcoming addiction.
Raymond James Bank collected over 200 pounds of trash during a beach cleanup.
In Boston, Alex. Brown, a division of Raymond James, organized booklets for the annual American Red Cross Day of Remembrance blood drive, honoring those who lost their lives on 9/11.
Leaders and associates of the Raymond James Investment Advisors Division collected hundreds of pounds of food, treats, cat litter, toys and other items for the Humane Society.
In Southfield, Michigan, branch associates collected over 1,000 books for Rx for Reading Detroit.
Technology associates from the home office served 120 meals across two days for families staying at the Ronald McDonald House of Tampa Bay.
The South Florida Complex of Raymond James created 100 stuffed monkeys and hospital activity kits for the "little superheroes" at Palm Beach Children's Hospital.
Raymond James Cares Month moves to May
In 2019, our annual Raymond James Cares Month will move to May, and we'll join forces with Raymond James Limited in Canada and Raymond James Investment Services in London to make an even bigger impact across our communities in North America, Europe and beyond.
Click on the video below, and join us as we give back.
Get ready for Raymond James Cares Month
Raymond James Cares
Together, we make a difference to build, strengthen and grow our communities. To learn more about the firm's corporate philanthropy, click here.
To see how associates give back all year long, follow Raymond James on Facebook, Twitter, LinkedIn and Instagram.