Raymond James celebrates 50 years of giving with United Way
Charitable giving is one way Raymond James and its associates work for people and communities.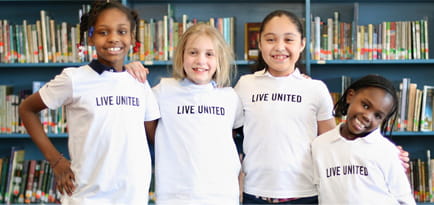 Raymond James and United Way are celebrating their golden anniversary this year – half a century of building up our communities and putting people first.
In 1970, Raymond James was a small firm with a big belief in giving, and United Way helped the firm's charitable contributions reach the places they could do the most good. Five decades later, our partnership remains strong as Raymond James has grown into a diverse, international financial services firm and the United Way continues to be a leader in rigorously identifying worthwhile philanthropic organizations.
"We wanted our people to get involved with charities on an individual basis," Chairman Emeritus Tom James said, "but they were all over the country. United Way makes it so you can be confident you can direct money to their chapters and it will make a difference. It's worked out very well, I can tell you. I think it also acculturated our people to the art of giving."
The worldwide United Way network has helped Raymond James make a meaningful difference in communities across the U.S. having contributed more than $58 million over the last two decades of the campaign alone.
While Tom and CEO Paul Reilly lead Raymond James' annual giving campaigns, other members of the leadership team also play active roles with the organization. Throughout the year, Private Client Group President Scott Curtis serves on the Suncoast United Way board of directors and Eagle Asset Management Managing Director James Camp serves on the Tampa Bay Area board.
"This firm has such a deep history of giving – a tradition started by Tom and his father, Bob – and it is a real cultural force here today," Paul said. "With their generosity and volunteerism, our advisors and associates set an example for community-minded leadership."
In this year of such profound need, the partnership between Raymond James and United Way is more important than ever. The pandemic, the fight for equality, and disruptions to our bedrock local institutions like schools and businesses have touched every life.
To help with this need, Raymond James is matching advisor and associate individual donations up to $10,000 each.
"Last year we raised $3.5 million, and in this challenging year, our goal is to maintain this peak level of support. Charitable giving is a major part of who we are as a firm, along with many events we host through the year to help build up people and our communities," said Director of Corporate Responsibility Andrea Masterson. Proving once again that giving back is woven into our culture, Raymond James associates pushed past that goal, raising a record $3.57 million for the United Way –$6.68 million total including the firm's match.
A major lesson Raymond James Founder Bob James taught his son was that you can't have a thriving business without thriving communities. Doing your part isn't just the right thing to do, it's the smart thing to do.
"My father would always say it's all about people, it's about all the people," Tom said. "I can tell you that makes such a big difference, and engaging in the community is an important element that has made us successful. I'm very proud, that all over the United States now, in every city we live and work, we take that idea very seriously."
Raymond James Cares
Together, we make a difference to build, strengthen and grow our communities. To learn more about the firm's corporate philanthropy, click here.
To see how associates give back all year long, follow Raymond James on Facebook, Twitter, LinkedIn and Instagram.