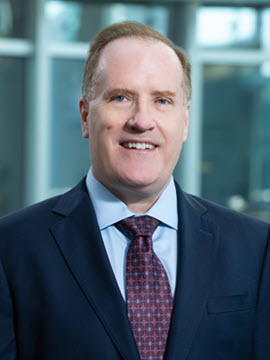 Jeffrey A. Dowdle
Chief Operating Officer
Serving as the chief operating officer of Raymond James Financial, Inc., Jeff Dowdle oversees the firm's investment management subsidiaries and several of the firm's corporate administrative departments. A 28-year veteran of Raymond James, Mr. Dowdle was previously chief administrative officer and president of the firm's Asset Management Group.
In 1987, Mr. Dowdle entered the financial services industry as a financial analyst for Simmons & Company International in Houston, Texas. He began his association with Raymond James in 1991 working for Tom James as assistant to the chairman. Mr. Dowdle joined the Asset Management Services division in 1993 and assumed management responsibility in 1999. He has served on the Raymond James Executive Committee since 2012. He served as a member of the Raymond James & Associates Executive Council from 1999 to 2001 and again from 2015 to 2017. He also served as a director of the Award Asset Management subsidiary from 2001 to 2006. Outside of Raymond James, Mr. Dowdle serves on the Board of Governors of the Money Management Institute and on the Board of Trustees of Academy Prep Center of Tampa.
Mr. Dowdle graduated summa cum laude in 1987 from Rice University with a bachelor's degree in economics and mathematical sciences, and was also inducted as a Phi Beta Kappa member that year. In 1990, he earned his MBA with distinction in finance from the Wharton School of Business at the University of Pennsylvania. He graduated from the Securities Industry Institute at the Wharton School of Business in 1999 and earned his Certified Investment Management AnalystSM designation in 2004.
Mr. Dowdle and his wife, Jeanne, enjoy traveling and spending time with their seven children (including two by marriage).
Investments & Wealth Institute™ (The Institute) is the owner of the certification marks "CIMA," and "Certified Investment Management Analyst." Use of CIMA, and/or Certified Investment Management Analyst signifies that the user has successfully completed The Institute's initial and ongoing credentialing requirements for investment management professionals.