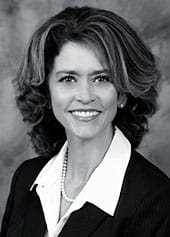 Aimee L. Boggs
Senior Vice President, Investments
Florida
Aimee Boggs began her career as a CPA with Ernst and Whinney in Jacksonville, Florida. While this background gave her great exposure to several industries and a disciplined work ethic, she sought a more meaningful work experience. Knowing that Aimee was looking to make a career move, a friend encouraged her to meet with a well-established female financial advisor. Instantly, Aimee felt that this could be a fit for her abilities and aspirations. She built her practice educating women by creatively pairing financial topics with other topics; all working to create greater overall health and wellbeing. Additionally, she leveraged her CPA connections to develop strong centers of influence and dynamic referral opportunities.
In 2013 after 17 years as a sole practitioner, Aimee worked closely with an outside coach to evaluate her practice and ultimately join in partnership with Dave Huffman to create the Boggs-Huffman Wealth Management Group. It was during that same year that together they moved their practice to Raymond James.
Aimee is originally from Mt. Lebanon, Pennsylvania. Today, she resides in Ponte Vedra Beach with her husband, Dane. Active in the community, she has served on several boards including The North Florida Land Trust, The Ponte Vedra Cultural Center, and the North Florida Chapter of the Multiple Sclerosis Society where she was the first woman to serve in the role of board chair. For six years she was president of the Florida Lyme Disease Association, a nonprofit that she co-founded with her husband. Aimee strives to have a healthy work-life balance and is an avid cyclist, skier and recently became a certified yoga instructor. From a young age she has studied classical piano and enjoys the opportunity to perform with other musicians and vocalists.