Campus Recruiting
Raymond James Supports the USF Muma College of Business Personal Financial Planning Program
January 24, 2018
Raymond James recently made a gift to support the University of South Florida's Muma College of Business new personal financial planning program, which began offering courses in the fall.

"Investing in the next generation of advisors is a significant focus for our firm," said Chief Operating Officer Dennis Zank. "Now more than ever, it's important to educate and mentor students at the university level, sharing professional best practices and helping them navigate the complexities of sophisticated advice and financial planning. Supporting USF's financial planning program is another step we're taking to serve clients now and well into the future."

In recognition of the gift, the college has named the program director Laura Mattia's position the "Raymond James Financial Director."

"We are so grateful to the many supporters of the personal financial planning program, and particularly Raymond James' generosity and commitment to see that the program is a success," Mattia said. "This commitment is what distinguishes this program for its unique community and business engagement with the financial services industry as we strive to meet the demand for services for both individuals and communities."

A formal announcement of the gift was made on January 18 at the "Personal Financial Planning Day" event at the Muma College of Business, and was attended by nearly 200 students, faculty and community business leaders.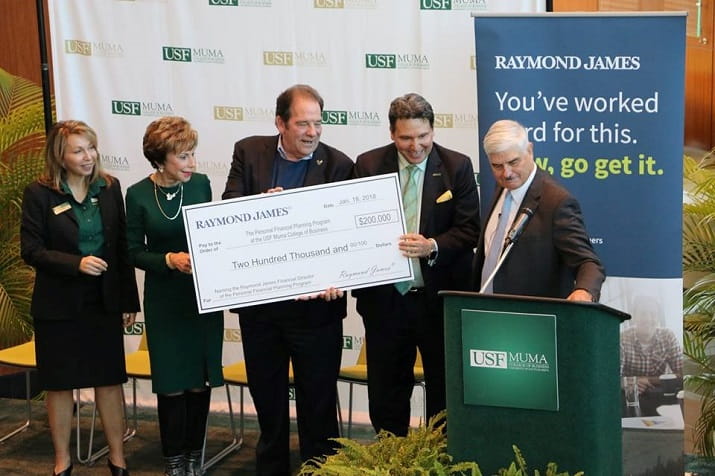 Article Source: In partnership with USF Muma College of Business
More About the Program
The USF Personal Financial Planning Program offers a chance for finance majors to break into a field in which their services are in growing demand and starting salaries are relatively high. Industry observers say a large number of personal financial planning professionals are nearing retirement, while not enough young professionals are starting personal financial planning careers. Graduates will be able to step into that void providing financial advice to help clients secure their financial future.

Read more on the USF Muma College of Business website.