Campus Recruiting
Cornell Women in Investing (WIN) Conference
October 5-6, 2017
The Raymond James Equity Research & Campus Recruiting teams were proud to be a corporate sponsor for the Undergraduate Women in Investing (WIN) Conference in Boston, MA.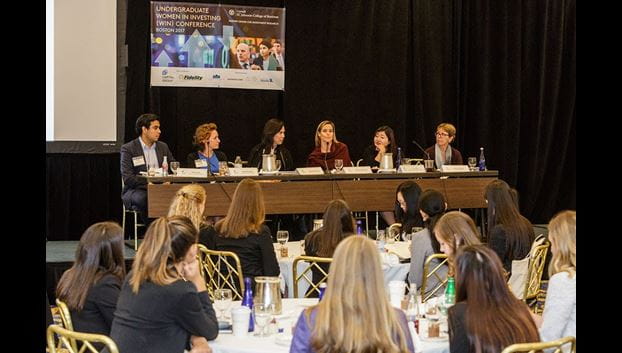 Undergraduate WIN Conference
While the Graduate WIN Conference has been successful for many years, the Undergraduate WIN conference is off to a great start for the second year in a row. The conference was a joint endeavor, hosted by the Parker Center for Investment Research at the SC Johnson College of Business, Cornell University, and Raymond James was proud to be a sponsor along with several other corporations.
The conference is designed to educate undergraduate women about the multitude of career opportunities in investment management and provide valuable networking opportunities for students to connect with employers.
This year, 53 students from several top-tier universities participated, including:
Cornell University
Columbia University
Harvard University
University of Pennsylvania
Massachusetts Institute of Technology (MIT)
College of William & Mary
Wellesley College
Princeton University
Swarthmore College
Brown University
Williams College
University of Connecticut
The conference kicked off with an evening networking reception on October 5. On October 6, students participated in a Stock Pitch Challenge, and employers were able to provide feedback. Raymond James Managing Director of Equity Research, Mercedes Sanchez van Woerkom, helped students refine their stock pitches by providing real-time feedback as one of the corporate judges. She also provided advice as a panelist on the "What Makes a Great Investment Pitch" session.
In the afternoon, Director of Campus Recruiting & Pipeline Development, Tarah Harkins, shared her tips on the panel dedicated to "How to Recruit Successfully in Research/Investment Management."
The Raymond James team ended the evening with a special networking reception for hand-selected students to discuss specific opportunities at Raymond James.
If you're an undergraduate student looking for opportunities across any discipline in the financial services industry, we would love to hear from you. Take your next step and search our openings for Students & Recent Grads opportunities.