Culture & Diversity
The 2018 BISA Diversity Award
March 9, 2018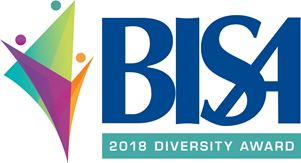 Raymond James received the 2018 BISA (Bank Insurance & Securities Association) Diversity Award, which annually recognizes successful diversity efforts of organizations from the financial industry. We are proud to be recognized for demonstrating outstanding leadership, innovation and results in diversity management. The award helps promote the sharing of effective diversity strategies and tactics that create an impact within the industry and encourages active participation by senior management in diversity efforts.
"I am honored and excited that we received recognition from BISA for the firm's efforts around diversity and inclusion," said Tim Killgoar, senior vice president and head of the Financial Institutions Division at Raymond James. "It is inspiring to see commitment to this topic at the most senior levels of the firm, including the Board of Directors and the appointment of Anne Gates. This commitment is beginning to permeate through the organization."
"Our progress and success is directly correlated to the commitment and combined efforts of our leaders, says Michele Reeves, director, Diversity & Inclusion. "Together, we create a synergy that helps us see our vision to intentionally nurture an inclusive and diverse culture where everyone feels welcomed, respected, valued and free to bring their whole selves to work - unleashing the power of perspectives and unique talents to drive growth, improvement and exceptional results."
The BISA board has a strong commitment to assist member firms in their efforts around diversity – specifically helping them attract, develop, and retain diverse talent. Through the BISA Diversity Committee, there are ongoing efforts to increase awareness of the importance of diversity in the financial services industry, educational resources provided on the latest trends, issues, and best practices, and networking opportunities available via the annual convention and Rising Star program.
"This is an incredibly important issue to address that is not only the right thing to do for our associates and clients, but also is proven to drive business results," Tim said. "As the firm continues to grow, I am excited to be a part of the continued evolution toward an increasingly diverse and inclusive environment at Raymond James. This is just another way that Raymond James can demonstrate leadership in the industry and set itself apart from its peer firms."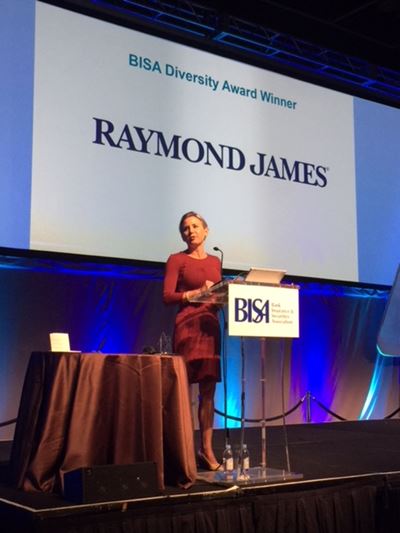 Jamie Kosharek, Director of Strategy and Operations for Raymond James' Financial Institutions Division and member of the firm's Diversity and Inclusion Advisory Council, accepted the award on our behalf.