Our Service 1st culture: Recognizing those who go above and beyond
Named after our firm's founder, the Robert A. James Award of Service Excellence (ASE) program recognizes associates who embody our Service 1st culture and live our core values of putting client first, acting with integrity, thinking long term and valuing independence.

Congratulations to the following associates and teams who were recently recognized for their exemplary service in the second quarter of fiscal year 2023.
Yvonne Silcox | Senior Program Coordinator | ICD Management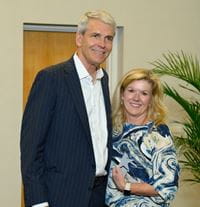 Commitment to service: Yvonne (pictured here with Chair and CEO Paul Reilly) is an exemplary team member who consistently goes above and beyond when working with prospects, seamlessly incorporating these attributes into her daily work life.
Taking action: Yvonne not only raises the bar for exceptional customer service but also inspires colleagues to strive for excellence, making her an invaluable asset to our team.
Making an impact: Yvonne's client-centric approach and dedication to providing a personalized and memorable experience for our prospects have played a crucial role.
"Yvonne makes everyone around her better and is a big part of demonstrating the Raymond James culture. In part because of her efforts, we've continued to have great recruiting results, allowing the firm to grow."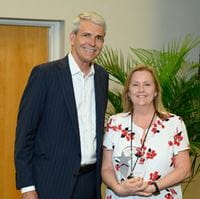 Sandy Volpe, director, and James Webb, supervisor II | AMS Advisor Services Restructuring Project Team | Operations-Product Centers Asset Management Services
Commitment to service: Sandy (pictured left) and James (pictured below) worked on improving the client experience through the entire initial stages of the project. They always put our client, the field, first. They are still working on the project, but we have already seen the benefits.
Taking action: James and Sandy acted with integrity by jumping into the problem with the team and taking calls daily right side along with them. This allowed the field to have a better overall experience.
Making an impact: James and Sandy implemented changes that thought of the long term and not just the now. Strategic moves were made to better position the team as a whole and in the future to come. ​
"Through education, they empowered the callers to understand more of the Asset Management Services and Raymond James picture as a whole so they could answer questions more quickly."
Jamie Rancel | Engineer, IT Security | IT IAM Security
Commitment to service: Jamie consistently brings a Service 1st attitude into the workplace. Every single week, Jamie goes significantly out of her way, on multiple occasions, to ensure customers are serviced and that critical projects are successful.
Taking action: Jamie's commitment to customers on a daily basis is the embodiment of the Service 1st culture of Raymond James and has been critical in delivering our Integration Projects.
Making an impact: Jamie has been essential for the delivery of the Raymond James Ltd. (RJL) Integration project. One RJL associate provided the following feedback on Jamie's impact: "I sincerely believe I wouldn't have been able to get up to speed and deliver the work I've done in the DI project, Active Directory (rjf.com) and Azure without her."
"Jamie has always been available for us and never rejected any question we had. Her collaboration style is an example for all of us."
Houdah Zaghir | Senior Custody Associate | Custody
Commitment to service: Houdah uses her outstanding customer skills to ensure that our clients feel as though they are the only contact that Houdah has that day and that her focus is 100% on them – while behind the scenes she is juggling multiple client requests on top of daily assigned functions.
Taking action: Houdah was presented with an opportunity within Operations to gather a handful of associates to assist Branch Services with the rollout of the Enhanced Savings Program. Houdah underwent a month of training to learn how the program operates and to understand the requirements. The program rolled out, and in the first two months, 10 emails directly from branches were praising Houdah for her service.
Making an impact: Houdah has impacted every client who she has been in contact with for a highly sought out program.
"[Houdah] is continuously looking for constructive feedback in order to keep growing professionally. She is the first person to raise her hand and volunteer, no matter what the task may be. She does not shy away from challenges but instead welcomes them."
Brenda Conti | Analyst, Systems Administration | Digital Workplace Collab
Commitment to service: Through Brenda's thorough preparation and attention to detail, Brenda made a very complex IT upgrade project seem simple.
Taking action: Brenda was incredibly prepared and did all of the background analysis before she even contacted us. And by the time we got involved, she had figured out where all our challenges would be.
Making an impact: Brenda's hard work resulted in a very successful upgrade, with zero downtime. Our department didn't miss a beat.
"Over the course of the project, Brenda was available and answered our emails on nights and weekends to make sure that we would have a flawless rollout on Monday morning."
About the Robert A. James Award of Service Excellence
The Robert A. James Award of Service Excellence is an internal Raymond James recognition delivered to individual employees or teams. Established in 2014, The Robert A. James Award of Service Excellence recognizes associates who embody the Raymond James values and uphold our commitment to service through their exemplary actions. Nominations are accepted on a rolling basis and the nomination committee composed of 11 firm leaders awards the distinction quarterly. This may not be representative of any one client's experience, it's not an endorsement and is not indicative of future performance. No fee was paid in exchange for this award/rating.
Thank you to our dedicated associates for their continued Service 1st commitment!