Raymond James hosts the 24th annual Associate and Affiliate Art Show at the St. Petersburg headquarters
Raymond James continues to be the home of renowned art pieces alongside some pieces of its own associates.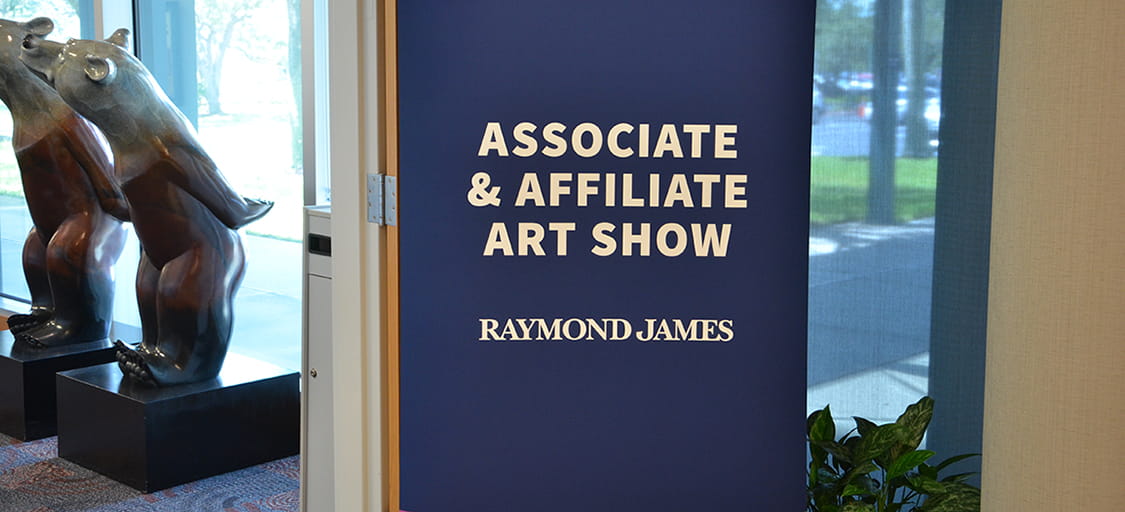 This colorful watercolor piece was created on rice paper in the style of Chinoiserie/Chinese Gonbi. There are roughly nine layers of watercolor applied.

Art continues to play a significant role in defining who Raymond James is as a wealth management firm. Chairman Emeritus Tom James and his wife, Mary, believe art was made to be on display to provide tales of history, the world and creativity that connect people and their communities.
In alignment with this belief, Raymond James hosts an annual art show where associates and affiliates of the firm can submit pieces of their own to be displayed at a week-long art show.
The Raymond James art department welcomes the annual associate-built art exhibition
The 24th annual Associate and Affiliate Art Show took place during the first week of August at the Raymond James headquarters in St. Petersburg, Florida. The event is put on annually by the art department to showcase associate talent and continue the firm's mission to bring art to the masses.
Four categories of art styles were accepted for this year's show, including two-dimensional art, photography level 1 and level 2, fine craft and sustainable art. Two-dimensional art exhibited more traditional pieces, such as senior engineer Terri Clermont's "Song in the Key of Pink," a watercolor and ground ink piece that received an honorable mention.

Jacobsen's hand-painted ceramic take out box was
accompanied by suspended wooden chopsticks.
The art department divided the photography category into two levels based on experience. While level 1 aimed more at photographers with minimal training, level 2 required submissions to come from photographers who used intermediate or advanced techniques to capture images. Under both categories, associates were able to submit film or digital photos.
Fine art included submissions from Project Management Supervisor Grace Jacobsen, who received an award for her "Lo-Mein-tenance dinner" clay and ceramic piece, and Tiana Henika, complex administrative manager, who spent over two years piecing together a fiber quilt called "Beautiful birds," which also received recognition.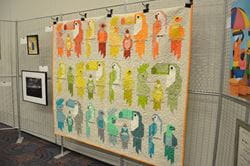 Henika's quilt took over two years to complete.
Like previous years, the final category of art featured in the show was sustainable art. These pieces were required to be made from at least 80% recycled or upcycled materials. Leslie Stair, director of account services, who was recognized for her jewelry piece "Hook, Line, and Sinker," retrieved all her recycled materials from her coral restoration diving trips in the Florida Keys.
Recognizing associates for their passions outside of the office
Starting on August 1, visitors were invited to visit the associate-produced art gallery which featured over 100 pieces, including oil paintings, sculptures, photography and more. Given the firm's widespread associate population, those who could not visit the exhibit in person were invited to view the different pieces via an online exhibition.

This jewelry was created using fishing line, fishing beads, fishing swivels, weathered "river" glass, recycled beads, shark teeth and sea shells found at the bottom of the ocean.
Those who visited the exhibit were encouraged to cast their vote for their favorite pieces before the awards ceremony on August 3. Community guest judge Brenda Gregory, an artist and educator, was invited to decide the recipients of honorable mentions, awards of merit and awards of excellence.
The show closed with a memorable awards ceremony honoring each artist who contributed to the exhibition, which held a record number of pieces. Ten pieces were given honorable mentions, while five artists were recipients of the Award of Merit. Eight artists received the Award of Excellence. Kellee Leandre received the prestige "Best in Show," which she was awarded for her oil painting "Saint of Wisdom."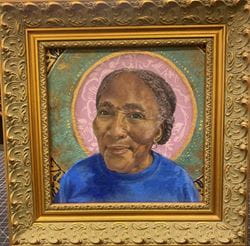 Leandre used acrylic and oil paints to create her best in show piece.
Keeping art at the center of our culture
The art that fills the hallways at Raymond James headquarters is a significant part of the firm's growth. Tom James and his wife, Mary James, built Raymond James knowing that art would be at the forefront of the associate experience to provide reflections of history, present time and the future. To learn more about their collection and the significant role it plays at the firm, click here.