Our Firm
September 29, 2017
Vin Campagnoli Named 2017 Public Firm CIO of the Year
Vin Campagnoli was named as the 2017 Public Firm CIO of the Year by the Tampa Bay Business Journal.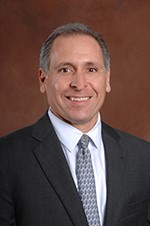 Raymond James' Chief Information Officer (CIO) Vin Campagnoli was recognized as CIO of the Year in the public firm category at the 2017 CIO of the Year event, hosted by the Tampa Bay Business Journal on September 26.

The award recognizes CIOs for their innovation in strategy and implementation of enterprise-wide technology systems as well as overall leadership style and increased business value created as a direct result of IT operations. Nominees were also evaluated on their community involvement in the industry, philanthropy outside their organization and contributions to the Tampa Bay IT community.

Vin is responsible for managing all aspects of technology across Raymond James' businesses including the close to 1,100 associates and 500 contractors. Under his leadership, the firm has received the Bank Insurance and Securities Association 2016 Technology Innovation Award, which recognized the firm's commitment to technology-based solutions.

Raymond James is proud of our IT team and Vin's strong leadership. We're always looking for top talent to join our firm. If you are interested in a career with Raymond James IT, search for available opportunities on our careers page.

Our IT team is not only talented, but also loves to have fun and engage with our community. Check out the Cyber Capture the Flag tournament our IT and HR teams hosted for university students from eight schools across the country.

Read more about the recognition from the Tampa Bay Business Journal.