Preparing for the Next Disruption
Business Ownership
August 07, 2020
How business owners can better plan for the unplannable.
The global pandemic was termed a black swan – an event or occurrence that deviates beyond what is normally expected of a situation and extremely difficult to predict. They can create business challenges along the lines of economic recession, unemployment, reduced customer confidence and demand, severe supply chain disruptions, regulatory modifications and increased uncertainty.
No one knows where or when the next black swan event will occur, or whether it will be triggered by an economic, environmental, technological, political or societal factor. What we do know is that it can have major repercussions for your business – and that early preparation is essential.
Never too early
Whether the COVID-19 pandemic truly will go down in history as a black swan event may not matter much. What matters is what business owners like you can do now to prepare for any unexpected event – black swan or not – and how you can adapt if and when your business is disrupted.
Let's start with a safety net. Just like you need a personal emergency fund, your business needs one, too. Contingency planning – one that puts an emphasis on resiliency – should be an ongoing priority of your organization's financial and risk management. Having at least six months of emergency cash on hand and a line of credit for your business is a good start. Your advisor can help support and coordinate your efforts to open a line of credit and secure insurance coverage.
You should devote time and energy to developing recovery strategies for dealing with the economic factors that affect your business by conducting worst-case scenario planning, stress testing and supply chain risk analysis.
Crisis-proofing your organization
It's time to apply the invaluable lessons we've all learned from the pandemic to protect your employees and your business against future events going forward.
Business owners can help crisis-proof their companies by brainstorming new ways to connect, innovating to find faster and more cost-efficient ways to operate, and laying the groundwork for a more flexible workforce.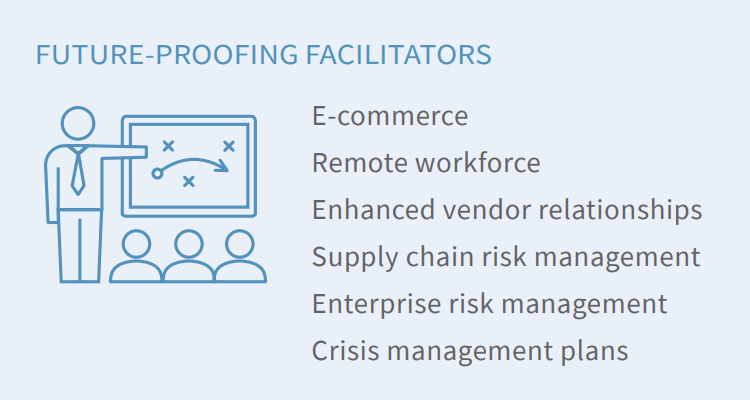 Take time to re-evaluate your workplace. If your business has an open office floor plan, consider modifications that allow for more social distancing, and expand your ability to replace in-person meetings with online conferences. Allow employees to work remotely when possible and support them with the technology they need to do so efficiently.
You, as well as your employees, may be under stress during uncertain times. Cultivating a positive work environment can help support clear thinking and better focus.
Consider assembling a crisis management team and give each member a defined role and responsibility. Determine and prioritize what services absolutely must continue and what disruptions can be tolerated.
Your partners and providers
Focus on the resilience of your key systems and processes, and the interconnected nature of your business and its suppliers, partners and customers. For example, if your business relies on supply lines, another path to resiliency is to diversify where you get your goods from, both internationally and domestically. Consider using alternate locations, suppliers or distribution channels.
Communicate with your insurance carriers and implement prefunding arrangements. It's also important to remain attentive and flexible during the rebound period to help your business. It's about safeguarding your legacy, your retirement and the future of your company.
While the economic realities that often accompany black swan events may make it difficult for business owners to invest in the changes required to increase resilience, it is important to do so – even if it means revising your business model. Build backup plans and expand work-at-home capabilities where possible, incorporate new resiliency measures and rebalance priorities.
According to a survey by the global insurance broker Willis Towers Watson, only 5% of respondents felt that their boards pay significant attention to black swan risks, yet over 30% thought their company was vulnerable to severe impact from such events. Those are eye-opening statistics that should be fair warning: Don't allow your business to be among those that are unprepared.
Market awareness
Business owners who learn to adapt can successfully navigate their way through these disruptive events. You must be agile and prepared to capitalize on opportunities. While you should keep a close eye on unexpected costs and logistics disruptions, you'll also want to take advantage of pent-up consumer demand that competitors might be overlooking.
It may also make sense to solidify your existing customer relationships and explore new ways to meet and exceed their expectations. In addition, work on new ways to make your business operate more efficiently such as employing digital technology, e-commerce software and video conferencing.
Perhaps it's hard to even contemplate another black swan event, but the fact is nobody knows how to predict the unpredictable. Our best chance is to learn lessons from what we've experienced and use that knowledge to strengthen and safeguard our businesses come what may.
Next steps
To prepare for the unexpected:
Set up a crisis management team
Prepare a response plan
Create remote work options
Expand online resources