Institutional Investment
In 1969, Tom James completed the company's first deal of this kind in Marin County, California. Fast forward to today, and Raymond James-sponsored funds have provided more than $8 billion dollars* of equity to revitalize communities across the United States.
A proven, experienced fiduciary for client tax credit investments, Raymond James Tax Credit Funds (RJTCF) is also a successful tax credit fund asset manager. Through a combination of quality development partners, conservative underwriting and proactive asset management systems, RJTCF has posted a long-term track record of no credit recapture.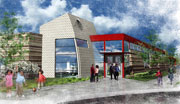 *As of September 2017
Community Reinvestment Act (CRA) Investments
Partnering with many top financial institutions, we help meet their investment goals under the Community Reinvestment Act. Over the past decade, our team has syndicated more than $1 billion of CRA-specific allocations to its bank-based investors, and can structure CRA-related investments in both single and multi-investor funds.
Click here to learn more about investment opportunities.
Low-income Housing Tax Credit (LIHTC) Program
Since its inception in 1986, this program has proved to be the most effective vehicle for raising private-sector community investments. Approximately $100 billion of investor equity has been put to work in the development of more than 2.5 million affordable housing units in the United States since the program began.
Here's how the program generally works: Each state's housing agency allocates tax credits based on a qualified application process. Real estate developers are awarded tax credits to build affordable housing communities, and private equity is used to acquire interests in these properties in exchange for a stream of tax benefits. LIHTC equity contributions enable the properties to operate with lower debt and rents than conventional apartments.
Some benefits of investing in LIHTC include:
Excellent risk-adjusted returns
Lowest default rate of all real-estate-related asset classes
Predictable 10- to 15-year benefit stream
Dollar-for-dollar tax credit benefits (also deductible against AMT)
High-impact socially responsible investment
Regulatory (CRA) credit for community development
Credits and passive losses can be carried back one year or forward up to 20 years
Click here to learn more about investment opportunities.