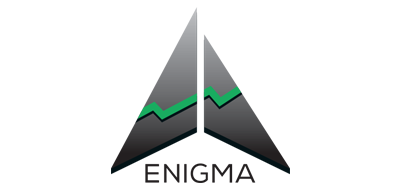 Our Product
ENIGMA is a discretionary investment strategy based on an Index rotation strategy, which utilizes the Exchange-Traded Funds, or ETFs, that represent major indices of the U.S. market: DJIA, S & P 500, and NASDAQ. We seek ETFs in the strategy that carry a dividend yield.
ENIGMA uses a proprietary algorithm to data-log each individual trade from these specific ETFs by a direct feed from the exchange. The trades are then analyzed to determine the most technically opportunistic ETF.
ENIGMA can be weighted up to 100% in any one of the selected ETFs, at any given time. The strategy monitors the investment climate and can issue a signal to sell ETFs and move into a defensive cash position. Historically speaking, the average turnover shows to be a trade approximately every four days.
ENIGMA is a discretionary managed account offered exclusively by ERWIN WRIGHT, where all assets are held through Raymond James. Raymond James is responsible for all account record keeping, trade execution, and tax reporting documents. This strategy allows the investor to make contributions or distributions at any time.
Clients utilizing ENIGMA will be charged an annual asset-based fee which is laid out in the discretionary client agreement. This annual fee, which is paid quarterly, is based on assets held in each individual ENIGMA account.
The ENIGMA strategy organizes investments with monthly statements and reporting tools to help track progress. These statements and confirms, provided by Raymond James as Custodian, can be received electronically by logging on to Client Access at www.RaymondJames.com.
We take a team approach to financial planning, offering our clients a broader scope of expertise than found in any one person. You are our main priority, which is why we work to understand your unique circumstance and ultimately create a distinctive plan that provides a unique road map for your financial journey. By relying on the expertise of our team, we will help you take a conservative approach to helping you grow and preserve your wealth.
Any opinions are those of the Investment Manager(s) and Erwin Wright and not necessarily those of Raymond James. Opinions are subject to change at any time without notice. Content provided herein is for informational purposes only and should not be used or construed as investment advice or a recommendation regarding the purchase or sale of any security outside of a managed account. This should not be considered forward looking, and it does not guarantee the future performance of any investment.
All investments are subject to risk, including loss. This is no assurance that any investment strategy will be successful. Asset allocation and diversification does not ensure a profit or protect against a loss. It is important to review the investment objectives, risk tolerance, tax objectives and liquidity needs before choosing an investment style or manager. Past performance may not be indicative of future results. No one particular investment style or manager is suitable for all types of investors. Raymond James and its advisors do not offer tax or legal advice. You should discuss any tax or legal matters with the appropriate professional.
The strategies mentioned above may contain Exchange Traded Funds (ETF) and/or Mutual Funds. Investors should carefully consider the ETF and mutual fund investment objectives, risks, charges, and expenses before investing. The prospectus contains this and other information and can be obtained from the ETF or Mutual Fund sponsor as well as from your financial advisor. The prospectus should be read carefully before investing.
Consider Specific Investment Needs: This Fact Sheet is not intended to be a client-specific suitability analysis or recommendation. Do not use this as the sole basis for investment decisions. Do not select an investment strategy based on performance alone. Consider all relevant information, including your existing portfolio, investment objectives, risk tolerance, liquidity needs and investment time horizon. Raymond James investment advisory programs may require a minimum asset level and, depending on your specific investment objectives and financial position, may not be suitable for you.
In a fee-based account, clients pay a quarterly fee, based on the level of assets in the account, for the services of a financial advisor as part of an advisory relationship. In deciding to pay a fee rather than commissions, clients should understand that the fee may be higher than a commission alternative during periods of lower trading. Advisory fees are in addition to the internal expenses charged by mutual funds and other investment company securities. To the extent that clients intend to hold these securities, the internal expenses should be included when evaluating the costs of a fee-based account. Clients should periodically re-evaluate whether the use of an asset-based fee continues to be appropriate in servicing their needs. A list of additional considerations, as well as the fee schedule, is available in the firm's Form ADV Part II as well as the client agreement.
ASSET CLASS RISK CONSIDERATIONS
ETF shareholders should be aware that the general level of stock or bond prices may decline, thus affecting the value of an exchange-traded fund. Although exchange-traded funds are designed to provide investment results that generally correspond to the price and yield performance of their respective underlying indexes, the funds may not be able to exactly replicate the performance of the indexes because of fund expenses and other factors.
The S&P 500 is an unmanaged index of 500 widely held stocks that is generally considered representative of the U.S. stock market. The NASDAQ composite is an unmanaged index of securities traded on the NASDAQ system. The Dow Jones Industrial Average (DJIA), commonly known as "The Dow" is an index representing 30 stock of companies maintained and reviewed by the editors of the Wall Street Journal. Indices are not available for direct investment. Any investor who attempts to mimic the performance of an index would incur fees and expenses which would reduce returns.
Securities offered through Raymond James Financial Services, Inc., member FINRA/SIPC. Investment advisory services are offered through Raymond James Financial Services Advisors, Inc. Erwin Wright is not a registered broker/dealer and is independent of Raymond James Financial Services.