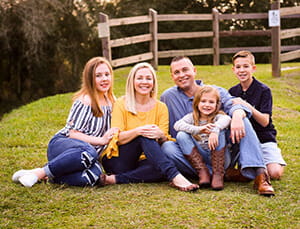 After graduating from the University of South Florida in 2002 with a bachelor's degree in economics, John went on to work for a large company in the sales and marketing department. The nearly 12 years spent in the industry provided invaluable knowledge and expertise as to the inner-workings of corporate America. This experience shaped his business acumen and brought to light his passion for working with people and building mutually beneficial relationships.
Once John and his family were relocated back to Florida, his desire to join the family business at Four Pillars was finally realized. He and his family have long been deep rooted in the Englewood and Venice community and are overjoyed to be back in the area they call home. The career change quickly confirmed his passion for the financial industry and helping people achieve their long-term goals.
He lives in Venice with his wife, Kristal (who is also part of the Four Pillars team), and their three children, Haylie, Colin and Kinley. He has always been very active coaching his kids' youth sports teams. In his free time, he enjoys spending time with family, fishing and playing golf.