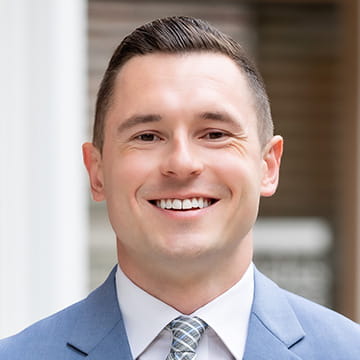 Dustin
Haraway
Managing Member, FSG
Financial Advisor, RJFS
Dustin began his financial planning career as a territory consultant with Nationwide Financial. He came to Financial Strategies Group to launch his own advisory practice, pursuing his calling to help families experience financial peace in their lives. Dustin truly enjoys the relationships he has formed with his clients over the years. He gets a great sense of fulfillment and joy in helping his clients make wise and informed financial decisions. In addition, his process helps people tune out the noise from external forces and focus in on what they can control in their life.
Speaking of process, Dustin and his team have developed and refined a process designed to provide clarity for your family's future and help you reach your unique life goals. From the outset, he will spend time learning about you and your family both as people and as investors. He will listen intently to develop a complete understanding of what matters most to you in life.
He primarily serves the families of a select group of very successful professionals, many of whom are accumulating for retirement and are ready to go deeper into holistic financial planning with a professional advisor. In addition, he's a SmartVestor Pro, serving clients in the Dave Ramsey community. In terms of his approach to the relationship, his philosophy is entirely centered around stewardship, and he will always approach your situation with the highest level of care.
Dustin is a former college athlete, playing five years of football at Georgetown College in Georgetown, Kentucky. In his time there, he was a 3-time All-Conference Honoree and a 3-time Academic All-American. He graduated from Georgetown with a degree in Economics.
Aside from financial planning, Dustin is most passionate about the game of football. He currently serves as a coach for The Field Football Academy, teaching middle & high school athletes fundamentals of the game. His brother, Dylan, is a high school football coach at Hewitt-Trussville down in the Birmingham area.
Additionally, Dustin has a heart to help those struggling with mental health conditions, leaning on his own experience in which he battled major depression and ultimately overcame it. He shares his personal story with students across Huntsville and the surrounding area. Further serving his community, he leads Financial Peace University small groups every fall, a nine-week program created by Dave Ramsey. Outside of the office, he enjoys weightlifting as he regularly trains for and competes in powerlifting competitions. He's also a huge college football fan, Atlanta Braves fan and Indianapolis Colts fan.
Raymond James is not affiliated with the above organizations and/or charitable causes.
* "SmartVestor™" is an advertising service for investing professionals. Advertising fees are not connected to any commission, portfolio, service, product, or other service offered or rendered by any SmartVestor Pros. SmartVestor Pros are subject to initial vetting by Ramsey Solutions and they affirm a Code of Conduct. SmartVestor Pros are not employees or agents of Ramsey Solutions. Neither Ramsey Solutions nor its affiliates are engaged in rendering investing or other professional advice. Ramsey Solutions does not receive, control, access or monitor client funds, accounts or portfolios. Ramsey Solutions does not warrant any services of SmartVestor Pros and makes no claim or promise of any result or success of retaining a SmartVestor Pro. Your use of SmartVestor, including the decision to retain the services of any SmartVestor Pro, is at your sole discretion and risk. Any services rendered by SmartVestor Pros you contact are solely that of the SmartVestor Pro. Raymond James Financial Services does not endorse and is not associated with Dave Ramsey or the SmartVestor program.