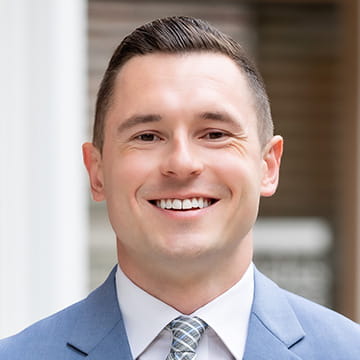 Dustin
Haraway
Financial Advisor, RJFS
Dustin began his wealth management career as a territory consultant with Nationwide Financial. He came to Financial Strategies Group in April of 2019 to launch his own advisory practice, pursuing his passion to help families experience financial peace through a strategic and well-organized financial plan. He primarily serves the families of a select group of federal government employees, sales professionals and engineers. His clients, among other things, aspire to a 'work optional' lifestyle, a level of financial independence to which they have the freedom to work if they desire but not because they necessarily need to.
From the outset, he and his team will walk with you through their 4-D Client Experience Process: Discovery; Design; Discussion; Deployment. Dustin will spend a considerable amount of time learning about you and your family both as people and as investors. He will listen intently to develop a comprehensive understanding of what you want to accomplish financially.
Dustin's proven, trusted process will help provide clarity for your family's future and ensure critical steps in your plan are completed along the way. To help ensure all moving parts in your plan are working in tandem, Dustin may look to collaborate with your other professional advisors such as your accountant and attorney.
Dustin is a former college athlete, playing five years of football at Georgetown College in Georgetown, KY. In his time there, Dustin was a 3-time All-Conference Honoree and a 3-time Academic All-American. He graduated from Georgetown with a Bachelor of Arts in Economics.
Aside from financial planning, Dustin is most passionate about the game of football. He currently serves as a coach for 'The Field' Football Academy, teaching middle & high school athletes fundamentals of the game. Outside of the office, Dustin enjoys deer hunting, watching his favorite sports team & weightlifting, regularly training for and competing in powerlifting competitions. He is also a member of the Rotary Club of Madison, often donating time to service projects around the community.
Additionally, Dustin is active within his church family, leading Dave Ramsey's Financial Peace University class each fall. Passionate about making a difference in the lives of those struggling with mental health conditions, Dustin presents on mental health to high school and middle school students across Huntsville and the surrounding area, sharing his own story about overcoming a personal battle with depression.
The projections or other information generated by MoneyGuidePro® regarding the likelihood of various investment outcomes are hypothetical in nature, do not reflect actual investment results and are not guarantees of future results. MoneyGuidePro® results may vary with each use and over time.
Raymond James is not affiliated with the above organizations and/or charitable causes.