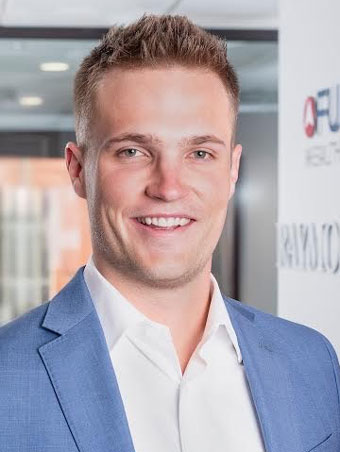 Cord
Waymire
Practice Marketing Associate
You might expect, given his responsibility for leading Fulcrum Wealth Consulting's marketing efforts, that Cord Waymire spends most of his day looking outside the practice to bring in more business. But that's not the Fulcrum way – the strength of our brand has always been the strength of our relationships with our clients. In proving our commitment to their lives, families, businesses and goals, we have earned their trust and their willingness to tell others about us. Word of mouth is, by far, the most important avenue of success for our enterprise.
Cord's first role, as with the other members of the Fulcrum team, is to serve clients' needs responsively and thoroughly. Cord helps us regularly connect with our clients and introduce them to ways we can support their business goals in addition to their personal financial goals. A natural people person and problem solver, Cord is an effective communicator and ambassador for our brand of holistic, detail-oriented financial, business and investment planning.
Cord is a graduate of Colorado State University where he earned a bachelor's degree in marketing with a minor in entrepreneurship. Additionally, he gained a supplemental education in his role as assistant manager for Dutch Brothers Coffee, a company whose success in a highly competitive market was a product of its remarkable commitment to client service. Those lessons have continued to resonate as Cord has joined the Fulcrum team.
When he's not devising the next great communications strategy, you may find Cord cheering his favorite teams, particularly the Avalanche, or taking advantage of Colorado's environment while hiking, snowboarding, or taking walks with his Berne doodle.