Christine manages business operations and industry compliance for our team, and looks for ways to continually improve efficiencies and systems. She is also intricately involved in preparation for all client meetings and most reviews, creating agendas, goal-planning projections and other analyses.
Christine aims to be conscientious and deliberate, carefully thinking through and researching each issue before arriving at a decision and taking action. "I want to continue to improve what we do on every level, particularly from our clients' perspective," Christine says. "It's important to me that our clients feel that the services and guidance provided by our team are top-notch."
As a Certified Financial Planner™ professional, Christine has attained the prestigious CFP® certification, one of the most respected financial planning credentials and the recognized standard of excellence in personal financial planning. She helps with essential financial matters such as cash flow management, tax mitigation strategies and estate plans. "We strive to provide our clients with a complete picture of their financial lives and look for ways to help them or improve their situation that others may miss," Christine says.
Christine has been with the Henderson Hutter Group since 2014, first at Merrill Lynch and then at Raymond James, when the team transitioned in 2019. "I was able to accompany Lee and George to visit the Raymond James home office before we joined the firm, and on top of their impressive resources to help serve our clients, I immediately felt comfortable and welcomed – it was obvious this was a place that aligned with our team culture," Christine says.
Earlier in her career, Christine practiced law after obtaining her Juris Doctor from the Loyola University of New Orleans College of Law. She earned her undergraduate degree in mass communications from Louisiana State University with a minor in business administration.
Christine grew up in Covington, Louisiana, where she lives today with her husband, Reid; their daughter, Keller; and their dog, Tupelo, a Catahoula (the Louisiana state dog). "I did a stint in Baton Rouge for college, lived in New Orleans for law school and newlywed life, but by the time we were ready to settle down, there was no question that we wanted to raise our family in Covington. My daughter now goes to the same elementary school that I went to," Christine says.
In her free time, Christine enjoys all things outdoors, especially when water is involved, such as paddle boarding and boating on the river near her home. Christine and her family also like hiking, visiting parks, riding bikes, and supporting local restaurants. She is also a member of the Krewe of Muses, the first all-female Mardi Gras krewe to parade at night in New Orleans, known for throwing their beloved, custom-glittered shoes.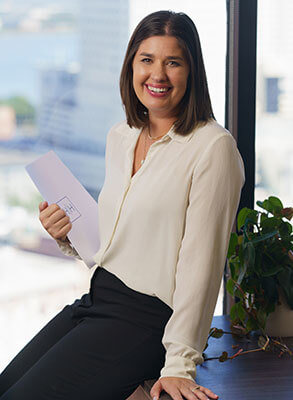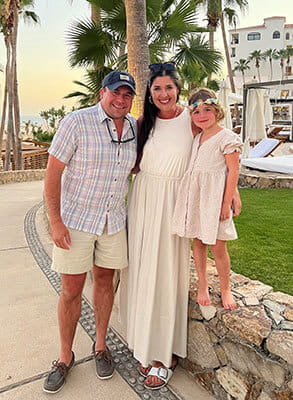 Q&A: Personally speaking
Q. If you weren't doing what you do today, what other job would you have?
I'd love to have my own coffee shop and be the roastmaster. When I was in college, I worked at a local coffee shop and along with being a barista, I had the opportunity to learn how to roast coffee beans. I loved working on that team and playing an integral part in creating a product that made people's day – the same reasons I am grateful to be a part of the Henderson Hutter Group. Now, when I visit somewhere new one of my favorite things to do is to find the best spot for coffee and exploring the different shops.
Q. What's the one thing you couldn't live without?
Obvious answer of family aside, I'd say text messaging. I love that it's a quick and easy way to connect with others. You can let someone know you're thinking of them, make someone laugh or make someone's day just with a simple message.
Q. How do you define success?
Finding the joy in all that I do, even the hard and challenging things.
Certified Financial Planner Board of Standards Inc. owns the certification marks CFP®, Certified Financial Planner™,

and
in the U.S., which it awards to individuals who successfully complete CFP Board's initial and ongoing certification requirements.
Raymond James and its advisors do not offer tax or legal advice. You should discuss any tax or legal matters with the appropriate professional.