As managing partner, Lee has many responsibilities – from discussing portfolio ideas with the investment committee, to coaching team members, to mapping out the firm's vision – but, above all, he puts his clients first. With great care and precision, he applies his goals-based wealth planning to address the needs, goals and priorities of each client he serves.
Driven by a mission to improve the lives of everyone he serves, Lee extends dedicated, compassionate service rooted in humility to each of his clients. This commitment to the greater good is a core tenant of Lee's team, one that continually inspires them to help improve the lives of others – from his clients' to his community to his teammates' and their families'.
Drawing from over 20 years of financial services experience, Lee helps clients strategically address every aspect of their financial lives. He spends his days discussing investment strategies with his team's investment committee, coaching team members and, most importantly, connecting with clients.
As a Chartered Retirement Plans SpecialistTM, Lee is highly skilled and experienced in the design, implementation and management of company retirement plans. He is intimately familiar with the benefit programs and plans of many energy industry companies in the area. It enables him to offer specific guidance to many oil and gas industry executives as they prepare for retirement.
In 2019, Lee was instrumental in moving the Henderson Hutter Group to Raymond James. Previously in his career, Lee spent 10 years as a financial advisor and senior vice president at Merrill Lynch and eight years at Smith Barney, which later became Morgan Stanley. He is a graduate of Tulane University, where he earned a Bachelor of Science degree in mathematical economics.
Lee is an active member of his community who proudly supports an array of organizations, including Pontchartrain Conservancy, where he serves on their finance committee, committed to driving environmental sustainability; Friends of Lafitte Greenway, dedicated to ensuring high-quality programming, advocacy and improvements for the areas near New Orleans' Lafitte Greenway; and LearnToLive, which helps communities prosper through access to healthcare, health education and clean water.
Lee is from Dallas, Texas, by way of Buffalo, New York, and today lives in New Orleans with his wife, Angie, their daughter, Sasha, and the family dog, Sammy, who Lee describes as "the best thing to come out of the pandemic." Away from the office, Lee can be found spending time with his beautiful family, golfing or doing just about anything that involves being outdoors, particularly on the water.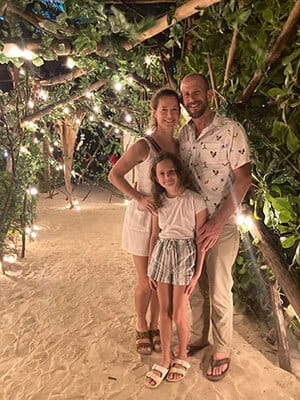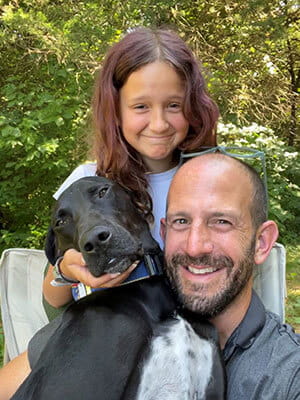 Q&A: Personally speaking
Q. If you weren't doing what you do today, what other job would you have?
I'd most likely be a high school math teacher. All through school, math always made sense to me and was something I enjoyed. I often would help my friends and other classmates, which led me to think I could do it as a job someday. So many people write off math as something they're "not good at" or "don't understand," when in fact, they might not have been taught the subject in a way that makes sense to them.
Q. If you could spend a week anywhere in the world, where would it be?
Tough call as I love to travel and like variety, but without question, it would involve water, whether that meant a river, lake, ocean or even a stream just near or along the water. If you really had to pin me down, I'd probably say the island of Nevis in the Caribbean. It is a fine little island with surprisingly good food and culture, one golf course and a mountain to hike. Not overdeveloped at all and not easy to get to ... it's the perfect place to spend a week!
Q. How do you define success?
To be growing in all aspects of life. Of course, as a business owner, growth is important. But for me, it's more than just growing the top-line number. It's growing what we do for our existing clients and how we can improve their lives. Outside of work, I try to grow and become a better husband and father. It's very important that I do more than talk about that with my daughter but live it and set an example. Throughout my life, growth is always my focus – including, but not limited to, my golf game (growing my skill, not the number of strokes), our plants, the impact we can have on our community, and the number of people I can help.
*The Forbes ranking of Best-In-State Wealth Advisors, developed by SHOOK Research, is based on an algorithm of qualitative criteria, mostly gained through telephone and in-person due diligence interviews, and quantitative data. Those advisors who are considered have a minimum of seven years of experience, and the algorithm weights factors like revenue trends, assets under management, compliance records, industry experience and those who encompass best practices in their practices and approach to working with clients. Portfolio performance is not a criterion due to varying client objectives and lack of audited data. Out of approximately 32,000 nominations, more than 4,000 advisors received the award. This ranking is not indicative of an advisor's future performance, is not an endorsement and may not be representative of an individual client's experience. Neither Raymond James nor any of its financial advisors or RIA firms pay a fee in exchange for this award/rating. Raymond James is not affiliated with Forbes or SHOOK Research, LLC. Please visit forbes.com/best-in-state-wealth-advisors for more info.
Raymond James is not affiliated with the above organizations and/or charitable causes.