Brooke is often the first person our clients speak with or see when walking into our office. Brooke handles our group's day-to-day operations with professionalism and care. She processes many of the money movement requests our clients have, sets expectations of the timeline for transferring the funds to their accounts, and provides documentation for our team. She also manages any lending and line of credit requests, including applications and maintenance.
She is dedicated to providing a client experience that brings comfort and ease into clients' lives. Whenever a client has a request or need, they become a top priority for Brooke. She asks questions, seeks to understand any urgency and communicates what they can expect from her and our team. She looks for ways to get ahead of potential issues and always follows up to ensure a successful outcome. She enjoys getting to know our clients and finding commonalities. "I always try to touch on some aspect of their life, whether it's about a new grandchild or hearing about their hobbies," Brooke says.
Brooke maintains the upkeep of our beautiful office by coordinating with building maintenance, ensuring that our 76 office plants are thriving, keeping the refrigerator and cabinets stocked, and overseeing office improvements, such as sourcing new artwork.
Brooke also collaborates with Lee Henderson to implement the vision of our community engagement program – building relationships with local nonprofits, coordinating financial support, filtering requests for funding, maintaining the annual budget and arranging volunteer days for our team.
Brooke joined our team in 2020. "I was ready to make a career change, and my interest was piqued, having spent the previous few years developing my own financial literacy," Brooke says. "My good friend, Alli, suggested I apply for her job since she was leaving. On our team, we joke that my predecessor hand-picked me. Alli also trained me personally."
Previously, Brooke spent 10 years as a store manager and regional trainer for lululemon, managing teams, inventory, marketing strategy and operations. She graduated from San Diego State University with a bachelor's degree in communications.
Brooke was born and raised in Irvine, California, and moved to New Orleans in 2012. She lives in the Mid-City neighborhood with her cat, Kitty. In her free time, she enjoys traveling to cities around the world and learning their history while making new friends.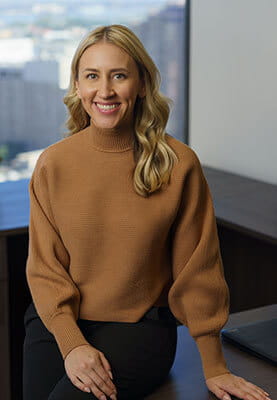 Q&A: Personally speaking
Q. What is your favorite kind of trip? Why?
Exploring historic cities on foot. I'll often walk 10 or more miles a day. I love to see the mix of old and new architecture and learn how a city evolved to become its modern-day version. My favorite city is London, which I've visited five times.
Q. If you weren't doing what you do today, what other job would you have?
I would be a professional plant stylist. I have more than 70 houseplants at home. They're living, breathing art in my house! I enjoy learning about the care and attention required for each plant. My favorite plant is the neon philodendron.
Q. If you could spend a week anywhere in the world, where would it be?
Island hopping the Cyclades Islands in Greece