In the business of people
Giving back is one of our firm's favorite traditions.
Alana Scott understood the value of financial literacy at an early age – a benefit of growing up with a mother who stressed the importance of being debt-free and saving for the future. She also saw compassion in action.
"When I was in elementary school, our neighbors lost their business and were on the brink of losing their home," remembers Alana. "Instead of simply consoling them, my mom – a special education teacher – took action, working extra hours during summer school to help make their mortgage payments."
Alana never forgot the look of gratitude on the family's faces. "I knew from that moment on, I wanted to make a lasting impact on others, just like my mom."
It's not surprising then that Alana found a passion and career in financial advising, which led her to co-found her practice – Lattig Scott Wealth Management Group of Raymond James – in 2017 after nearly 10 years in the business. It's also not surprising that she wanted to do more.
To that end, Alana founded the Women's Education and Leadership League, also known as WELL, to help women develop financial literacy. It's grown into much more, now offering a multifaceted curriculum to help women establish well-being and confidence to flourish in their lives, businesses and communities and, in turn, give back.
As Alana likes to say, "WELL women don't just help themselves. They turn around and help others."
Alana's story is just one brilliant example of how advisors at Raymond James are "giving back in the communities in which we live and work" – an integral part of the firm's mission since the very beginning.
That comes to life in myriad ways, from our almost 50-year partnership with the United Way, to department-based charity funds – including a snack room run by the St. Petersburg Information Technology group that's been going for over three decades, with profits purchasing more than 2,100 holiday presents for children – to a separate nonprofit called Friends of Raymond James that provides financial assistance to associates and advisors who have experienced some type of catastrophe or tragedy in their lives.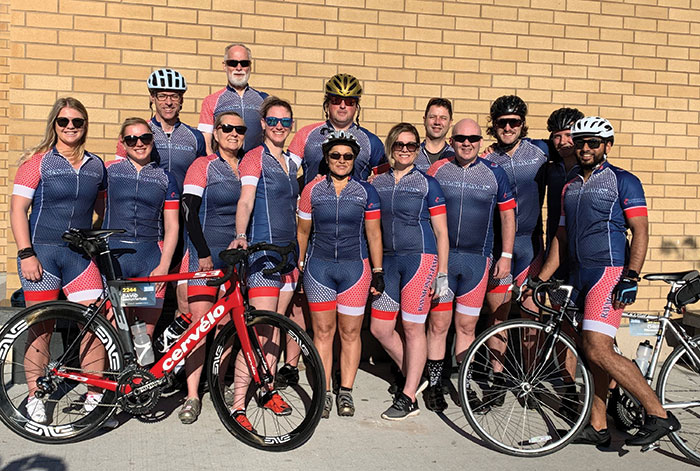 As part of The Ride to Conquer Cancer, the Toronto team from Raymond James devoted countless hours to training and fundraising, ultimately donating more than CA$51,000 in support of the Princess Margaret Cancer Centre. Their efforts are just one example of the good work being done by Raymond James Ltd. associates throughout their communities – work the Raymond James Canada Foundation was established to build upon. Since 2012, the foundation has facilitated grants of more than CA$7.8 million to more than 1,000 charities across the country, and has frequently offered disaster relief both at home and abroad.
It also is on full display each May, when associates and affiliates are encouraged to team up for community service projects to celebrate and amplify giving. In 2019 alone, more than 3,000 volunteers participated in projects ranging from coastal cleanups and home builds to food drives and student mentorship opportunities.
Raymond James prides itself on being in the business of people, whether that means helping families and individuals plan for their futures or leveraging our strength in numbers as a firm to support the communities around us. Giving back has always been an important part of our story because – put simply – we believe it's the right thing to do.
Raymond James Cares 2019

7,088
Associate Volunteers
7,429
Nonprofit Board Members
139,631
Volunteer Hours
$42 Million
Total Given
United States, Canada, United Kingdom
---
#5 Fundraiser
in the Nation for the American Heart Association $6.2 million
Raised for the United Way
United States only