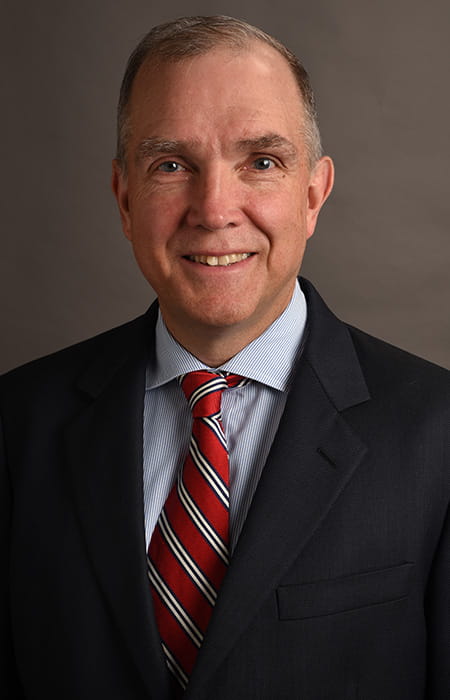 Christopher
J.
Mahoney,
CIMA®
Managing Director
Team Leader, The Mahoney Group

845-512-1110
---
I have a strong work ethic and I get personal satisfaction from a job well done. I love my job, I like working with clients and I have found a lot of satisfaction building our team. I enjoy our clients' success and am very proud of the professional growth of my teammates and this unique team.
As the managing director and team leader of The Mahoney Group, Chris is the visionary who guides the continual evolution of the practice, uncovering new and better ways to serve our clients and provide our team with the tools and technology they need.
He has more than 35 years of experience in the financial services industry and brings much knowledge and insight to essential areas such as retirement planning, estate planning, wealth transfer, asset/liability modeling, portfolio construction and investment management. He is responsible for the management of the team, oversight of the investment portfolio, and the value proposition they provide to their wealth management and institutional clients.
Chris was named to the Barron's Top 1,200 Advisors list in 2014 and 2015* and the Barron's Top 1,000 Advisors list in 2010, 2011, 2012 and 2013.** He is a Certified Investment Management Analyst and member of the Investment Management Consultants Association.
Prior to joining Raymond James in 2015, Chris spent his entire career at Merrill Lynch. He earned a bachelor's degree in finance from Iona College. Throughout his career, Chris has been active in serving the community. Positions he has held include former trustee of Our Lady of Sacred Heart, board member of the Epilepsy Society of Southern New York; and executive committee member, fiscal committee chair and trustee of Dominican College.
A native of New York City, Chris lives in Orangeburg with his wife, Kelly. They have four daughters, Kate, Megan, Aileen and Mary. In his free time, Chris enjoys reading, running, swimming and working out at the gym. An avid sports fan, he roots for the New York Giants, New York Yankees, Navy Football and local college basketball teams. He and his wife also enjoy watching their daughters' dance and sports competitions. He is a member of Our Lady of Sacred Heart Church in Tappan, New York.
Certified Investment Management Analysts® (CIMA®) are dedicated to elevating their practice through education, experience, examination and the highest standards of ethics. CIMA® professionals have the advanced investment management knowledge necessary to truly – fully – serve affluent clients, and they use that in-depth knowledge to analyze and hand-select the investment products that make the most sense for your circumstances.

Earning a CIMA® designation requires three years of broad experience in investment management consulting and completion of the demanding educational program put forth by the CIMA® board. To maintain this designation, CIMA® professionals are required to adhere to a rigorous code of professional responsibility and complete 40 hours of continuing education every two years.

But what does this designation mean for you? It means that when you work with an investment consultant who has taken the time to become CIMA® certified, you're working with someone who understands the financial complexities and risks that come with being in the highest tax bracket, is well-versed in modern concepts of investment advice, and, perhaps most important, is educated enough to understand how your individual investments are being managed and how they work together – no matter how complex it may be. These skills, along with a commitment to advanced education, enable them to provide you with the kind of service that you not only want, but deserve.
**Barron's annual ranking of the nation's "Top 1,000 Financial Advisors" (changed to 1200 Advisors in 2014). Source: Barron's "Top 1,000 Financial Advisors," DATE, 2010, 2011, 2012 and 2013. Barron's is a registered trademark of Dow Jones & Company, L.P. All rights reserved. The rankings are based on data provided by over 4,000 individual advisors and their firms and include qualitative and quantitative criteria. Data points that relate to quality of practice include professionals with a minimum of 7 years financial services experience, acceptable compliance records, client retention reports, charitable and philanthropic work, quality of practice, designations held, offering services beyond investments offered including estates and trusts, and more. Financial Advisors are quantitatively rated based on varying types of revenues produced and assets under management by the financial professional, with weightings associated for each. Investment performance is not an explicit component because not all advisors have audited results and because performance figures often are influenced more by clients' risk tolerance than by an advisor's investment picking abilities.
These rankings may not be representative of any one client's experience, are not an endorsement, and are not indicative of advisor's future performance. Neither Raymond James nor any of its Financial Advisors pay a fee in exchange for these awards/ratings. Barron's is not affiliated with Raymond James.
Investments & Wealth Institute™ (The Institute) is the owner of the certification marks "CIMA®" and "Certified Investment Management Analyst®." Use of CIMA® or Certified Investment Management Analyst® signifies that the user has successfully completed IMCA's initial and ongoing credentialing requirements for investment management consultants.