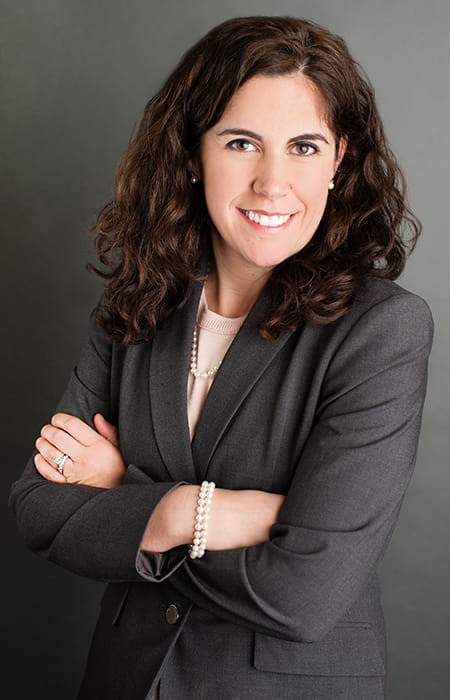 Kristen
M.
Koluch,
CFA®, AIFA® CFP®
SENIOR VICE PRESIDENT, INVESTMENTS
845-512-1114
---
As a financial advisor, we educate our clients to pave a solid financial future for themselves and their families. There is no one-size-fits-all investment solution or strategy – thoughtfulness is a requirement in all aspects of my life, professionally and personally.
Kristen's primary role on our team is analytics. Whether it is analyzing the investment menu of a pension plan client or evaluating asset allocation scenarios for a client's portfolio, she draws upon her investment management experience to respond to our clients' financial needs.
Her mantra is to under-promise and over-deliver. Whether it is preparing for a meeting or analyzing a solution to a family's problem, she knows the expectations she would have from a professional advisor, and always holds herself to that standard.
She appreciates that financial decisions can be emotional, complicating the decision-making process, and feels that maintaining a relationship with a trusted advisor is the key to having the confidence to pursue your financial goals.
She also leads the Women & Investing initiative of The Mahoney Group. She understands that female investors often face a complicated financial situation, balancing the roles of mother, daughter, wife, grandmother, colleague and friend – while putting their own needs last. As part of this initiative, she plans and hosts educational events for our female clients and prospective clients.
As a Chartered Financial Analyst®, Kristen holds one of the world's most respected and recognized investment designations, giving her the skills needed for high-level, specialized asset-management responsibilities, including security analysis, portfolio management and business reporting. As an Accredited Investment Fiduciary Analyst, she has detailed knowledge in both a prudent investment process and assessment principles, qualifications desired by both the industry and regulators. In 2020, Kristen obtained her CERTIFIED FINANCIAL PLANNERTM certification, demonstrating her commitment to her profession.
She joined The Mahoney Group on a full-time basis in 2003, but has worked with the group as an intern dating back to 1996. She specialized in investment policy development and execution for both wealth management and corporate clients. She joined Raymond James in 2015 when The Mahoney Group became part of the Raymond James family.
Earlier in her career, she was an investment banking analyst at Barclays Capital, where she supported senior bankers in advising large companies on their corporate capital structure and financing options, and prepared analyses and recommendations for the credit team in evaluating the risks and rewards of specific lending opportunities. She graduated magna cum laude from Georgetown University.
Originally from New City, New York, Kristen lives in Congers, New York, with her husband, Nicholas, and children, Nicky, Ryan and Kelly. When not helping clients, Kristen volunteers at her children's schools and local church. She is an avid reader and loves the beach. Her day is not complete without challenging herself with some type of physical activity, whether it is running, biking or attending an exercise class.
Certified Financial Planner Boards of Standards, Inc. (CFP Board) owns the certification marks CFP®, CERTIFIED FINANCIAL PLANNERTM, and CFP ® (with plaque design) in the United States, which it authorizes use of by individuals who successfully complete CFP Board's initial and ongoing certification requirements.
CFA® and Chartered Financial Analyst® are registered trademarks owned by CFA institute.