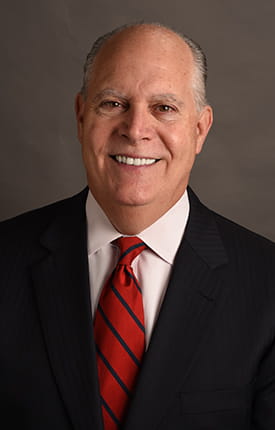 Mark
C.
Marotta,
CIMA®
Managing Director
845-512-1112
---
Advisors earn their clients' trust over time through innumerable small encounters and exchanges. I work hard to be my clients' trusted advisor. I genuinely care about our clients, and they know it.
Mark is a Certified Investment Management Analyst and has more than 40 years of experience in the financial services industry. His areas of focus include retirement planning, wealth transfer, portfolio design, income strategies and wealth management. In addition, he is responsible for the marketing and client communication initiatives of The Mahoney Group.
Mark co-founded The Mahoney Group with Chris Mahoney and Kevin Mahoney in 1996 while at Merrill Lynch, and transitioned to Raymond James in 2015. Earlier in his career, Mark worked for several financial firms in New York City. He earned a bachelor's degree in political science with a minor in business administration from the State University of New York.
Mark has also been recognized for his contributions to the charitable endeavors and scholarship fundraising activities of the Sons of Italy in America. He participates in the annual Thanksgiving food drive in conjunction with the Sons of Italy.
He has been highly involved in youth baseball and basketball in his community. He has served as a board member, director of basketball, basketball coach and baseball coach for the Ho-Ho-Kus/Saddle River Recreation, and has played in the Ho-Ho-Kus Men's Softball League.
Originally from Pearl River, New York, Mark now lives in Ho-Ho-Kus, New Jersey, with his wife, Diane. They have two children, Christian and Caroline. In his free time, Mark enjoys reading, writing, music, films, weight training, playing the drums and cooking. He is a member of Sons of Italy, Vincent Linguanti Lodge in Suffern, New York; and a parishioner at Saint Luke's Church in Ho-Ho-Kus, New Jersey.
Certified Investment Management Analysts® (CIMA®) are dedicated to elevating their practice through education, experience, examination and the highest standards of ethics. CIMA® professionals have the advanced investment management knowledge necessary to truly – fully – serve affluent clients, and they use that in-depth knowledge to analyze and hand-select the investment products that make the most sense for your circumstances.

Earning a CIMA® designation requires three years of broad experience in investment management consulting and completion of the demanding educational program put forth by the CIMA® board. To maintain this designation, CIMA® professionals are required to adhere to a rigorous code of professional responsibility and complete 40 hours of continuing education every two years.

But what does this designation mean for you? It means that when you work with an investment consultant who has taken the time to become CIMA® certified, you're working with someone who understands the financial complexities and risks that come with being in the highest tax bracket, is well-versed in modern concepts of investment advice, and, perhaps most important, is educated enough to understand how your individual investments are being managed and how they work together – no matter how complex it may be. These skills, along with a commitment to advanced education, enable them to provide you with the kind of service that you not only want, but deserve.
-->