Patrick Varney is the Branch Manager and Financial Advisor at Bank of Colorado Investment Services. As a veteran Financial Advisor, he has participated in the best and worst the economy can offer. He has the knowledge, skill and experience to lead with vision and clarity through all types of markets. Pat works with individuals and high net-worth families to develop solutions to complex financial situations. He partners with his clients to help build a future based on their individual situations including wants, needs, and dreams. His process of understanding, designing, implementing, and reviewing each plan helps his clients have the vision and confidence to enjoy life and retirement.
Pat's approach to investment management is straightforward. As he and his clients work together, he thoroughly explains to them the investment solutions and planning strategies recommended so that they are comfortable with the plan implemented. He is committed to telling his clients the truth, even when they may be uncomfortable hearing it. Pat takes great pride in the families that have hired him to be their personal wealth manager. He has been a member of Raymond James Financial Services Chairman's Council for 2023, 2022, 2021, 2020, 2019, 2018, 2016, 2015 and the Leaders Council for 2017, 2014, and 2013.*
Pat was born in Nebraska and moved to Colorado at the age of eight. He graduated from the University of Northern Colorado with a degree in Business Administration with an emphasis in Finance. He currently lives in Windsor with his wife and three boys with whom he enjoys spending quality time. He is a dedicated sports fan and avid sportsman. He enjoys coaching youth sports, exercising, golf, and hunting upland game and waterfowl.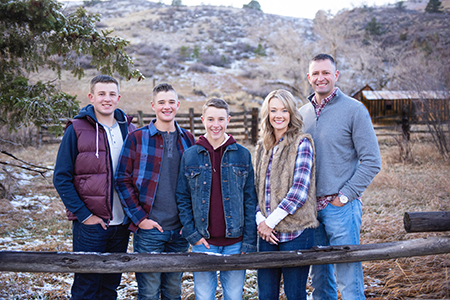 Pat is actively involved in his church, community, and professional organizations. He continues to give back to his Alma Mater and shares his ideas on the industry with graduating finance students at the University of Northern Colorado, Monfort College of Business in Greeley, CO.
Membership is based on prior fiscal year production. Re-qualification is required annually. The ranking may not be representative of any one client's experience, is not an endorsement, and is not indicative of an advisor's future performance. No fee is paid in exchange for this award/rating.
Bank of Colorado and Bank of Colorado Investment Services are not registered broker/dealers and are independent of Raymond James Financial Services, Inc. Investment advisory services offered through Raymond James Financial Services Advisors, Inc.
Securities offered through Raymond James Financial Services, Inc. Member FINRA/SIPC. Securities are not insured by bank insurance, the FDIC or any other government agency, are not deposits or obligations of the bank, are not guaranteed by the bank and are subject to risk, including loss of principle.