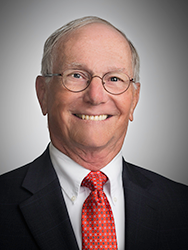 Edgar S. Guthrie
Senior Vice President, Investments
Steve Guthrie is driven, both professionally and personally, by a deep concern for his clients' welfare. He wants to see each of them reach their goals and, ultimately, enjoy comfortable retirements.
As a founding member of the Portland Harbor Group of Raymond James, Steve focuses primarily on retirement planning and portfolio management. Prior to joining Raymond James with his partners in 2013, he built his career at Morgan Stanley and E.F. Hutton. He earned a Bachelor of Arts degree in economics from Dartmouth College.
A Maine native, Steve currently lives in Scarborough with his wife, Gail. The couple has two grown daughters, Lisa and Cheryl, and seven grandchildren. In his free time, he enjoys playing tennis, skiing and watching his grandchildren's games.