In keeping with the principles of value investing, I believe in viewing the investment performance with a long-term perspective, not simply quarter-to-quarter or month-to-month. I believe in viewing the investment performance with a long-term perspective, not simply quarter-to-quarter or month-to-month. This approach is characterized by discipline and an ability to monitor market trends without getting consumed by the ever-changing landscape of the market. I consistently emphasize three critical components of wealth management:
Asset Allocation. Implement an investment strategy that seeks to reduce investment risk, while maintaining a desired rates of return, by spreading investments over a number of asset types.
Comprehensive Planning. For individuals, families, businesses and institutions alike, I work with the client to develop a comprehensive, objective financial plan tailored to your financial goals.
Objective Decision Making. I help my clients remove the element of emotion from investment decision-making, focusing instead on long-term goals and investment value.
Throughout the course of my relationships with clients, I maintain focus on their specific needs, goals, risk tolerance, tax exposure, preferred time frames and other factors. Should any of these elements change over time, we can work together to adjust the investment portfolio accordingly.
The process for designing your financial plan is as individually tailored as all other aspects of our service. But regardless of the ultimate direction of the plan, the process always begins with us getting to know each other, so that we can become true partners in building your financial future. I want to gain a complete understanding of your:
Attitudes about risk and return
Family dynamics
Hopes, fears and concerns about your financial future
Income requirements
Preferred investment time frames
Overall goals and objectives
Tax liabilities
The personalized financial plan designed for you will be rooted in sound investment principles and practices.
Your plan will also reflect the importance of avoiding emotional influences: overreacting to market volatility; making decisions based on fear or uncertainty; and being influenced by the media's focus on short-term trends. Combining this objectivity with the principles of value investing produces a well-informed plan tailored to your needs and goals. As needed, I will join forces with your accountant, attorney or other advisors to carry out your plan in a cohesive way.
As the plan progresses, we will monitor its progress carefully and provide clear, informative reports. We will also communicate with you regularly to keep you up to date and educated about your investments, encouraging you to stay focused on your goals and maintain a long-term view. And because of my commitment to customer service, I am always available to address your questions and concerns.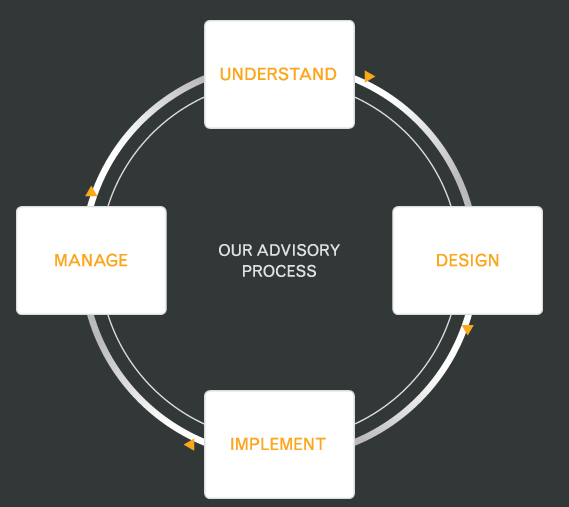 UNDERSTAND Using a variety of tools including questionnaires and interviews, I can gain a complete picture of your personal goals, current financial situation, investment experience and risk tolerance. In this step, I make you fully aware of our capabilities and provide educational support to assist my clients in understanding the scope of services we offer to help you meet your objectives.
DESIGN I analyzes the information you share with me and design solutions intended to help you reach your objectives. This step may involve collaboration with other specialists or your existing professionals. I present recommendations to you, answer your questions, consider alternatives and outline the steps we need to take to implement your plan.
IMPLEMENT In this step, a customized strategy is tailored for you through the extensive tools available at Raymond James. This involves the selection of specific account types, investment products and optional services; we then complete the necessary paperwork in a coordinated approach to implement your financial plan.
MANAGE Once implemented, I continually monitor the progress of the recommendations relative to your defined objectives and suggest changes where needed. A key to this step is your involvement in the process and communication of any significant changes in your life. I accomplish this by providing ongoing reporting of your account activity and by conducting periodic reviews.
Diversification and strategic asset allocation do not ensure a profit or protect against a loss. Investments are subject to market risk, including possible loss of principal. The process of rebalancing may carry tax consequences.
While we are familiar with the tax provisions of the issues presented herein, as Financial Advisors of Raymond James & Associates we are not qualified to render advice on tax or legal matters