Working in my clients' best interest, I can help provide a single point of contact for the full array of financial services you need. I provide a single point of contact for the full array of financial services you need – from investments to day-to-day banking. By encompassing all of these services, client's no longer have to deal with multiple banks, brokers, money managers or other financial service providers.
In this comprehensive role, I can play an important part in every aspect of your financial picture. Most importantly, maintaining a clear focus on building and preserving your wealth, both now and in the future. Having choices is paramount in investment and financial planning. I believe my clients' plans should change as their lifestyles and needs do. Often, these changes mean implementing different investment strategies and I am here to help clients select the most appropriate options for their individual needs. I also believe in diversification as a sound strategy designed to mitigate the inherent risk of investing. This allows me to offer my clients an extensive array of investment alternatives and services, including:
Asset allocation
Cash flow planning
Corporate executive services

Exercise of stock options
Margin lending

Education funding
Estate planning

Estate plan design
Recommendations and assistance with wealth transfer
Charitable giving
Family gifting strategies
Insurance, trusts and annuities
Coordination with other client advisors such as attorneys and accountants

Family goal-setting
Insurance
Life Insurance
Disability Insurance
Long-Term Care
Lending Solutions
Securities based line of credit
Margin
Corporate and Real Estate Banking
LGBT planning
Traditional IRAs
Roth IRAs
Simple IRAs
SEP IRAs
Qualified retirement plans
Company retirement plan rollovers
Retirement planning
Succession Planning
Buy/Sell Agreement
Sale to Family Member, Employee(s) or Outside Buyer
Investment Banking Advisory Service
Review individual retirement objectives
Outline your tolerance for risk
Determine your time horizon
Protecting Against Inflation
By combining with the resources of Raymond James, I am able to offer a comprehensive range of services to address all your financial management needs. Furthermore, I offer those services in an environment of trust and objectivity. As your advisor, I will provide well-informed, unbiased advice, free from quotas or proprietary products typically found with some of the larger investment firms. Over time, you will find I become more than your investment advisor; we become partners in building financial well-being.
Another important aspect is client education. My clients represent many different levels of investment experience and expertise. I encourage and support you in broadening your financial knowledge so you can make objective, informed decisions about your financial life.
I truly believe that superior personalized service is one of the key factors that differentiates my practice from others. My commitment to providing that level of service – responsive, friendly, professional and knowledgeable – never wavers.
Life Events
Significant wealth events can take many forms: the sale of a business, the sale of real estate or other family asset, a capital markets transaction such as an initial public offering, a substantial inheritance, a lump-sum retirement payout, a divorce, a legal settlement, an exercise of stock options or simply an unexpected financial windfall. Regardless of the form, the financial challenge is generally the same: The substantial amount of money must be managed carefully to help you preserve your wealth, provide income for your lifestyle and achieve your legacy planning objectives. Managing the challenges of wealth should not be done alone. It's critical that you assemble a team of professionals, who can manage all the "moving parts" in addressing the financial, legal and tax consequences of new wealth.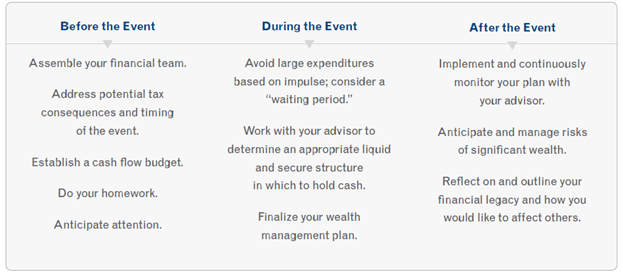 It is important to remember that investing involves risk and you may incur a profit or loss regardless of strategy selected. Diversification and asset allocation do not ensure a profit or protect against a loss. Raymond James does not provide tax or legal services. You should discuss these matters with the appropriate professional.