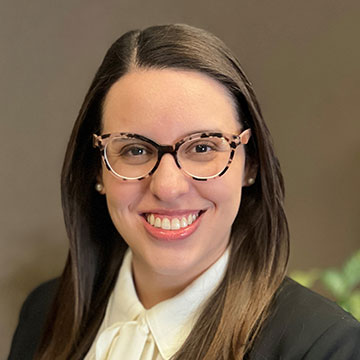 Megan
H.
Martinez
Financial Advisor, AAMS™
AAMS™
Megan is a Financial Advisor. Originally attracted to the investment services field for the opportunity to be of service, provide long-term guidance, and to make a difference in the lives of others, she began with Raymond James in 2021 as an intern before joining the Advisor Mastery Program (AMP), a two-year program dedicated to helping new financial advisors become licensed, preparing trainees to build connections, and build other necessary skills.
A native El Pasoan, Megan is an alumna of Loretto Academy. After graduating with a Bachelor of Arts in English from the University of Texas at Austin, Megan earned her Master of Journalism from the University of North Texas. Having studied literature and writing, Megan strives to employ these communication and analytical skills to provide a high level of client service.
In her free time, Megan enjoys spending time with her family and watching classic movies. She is a member of the El Paso Chamber, Toastmasters, and the El Paso Pro Musica Guild.