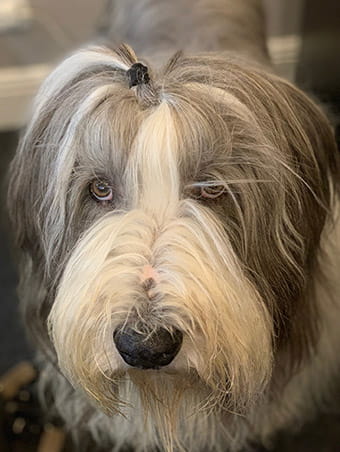 Snoopy The Office Dog
Chief Stress Manager
Snoopy is a very important member of our team and knows how to make everyone smile wherever he goes!
Born in 2010, Snoopy is a Bearded Collie, which is a herding dog originating from Scotland. Although he's never herded any actual sheep, he likes to practice this skill on children and other humans whenever the opportunity arises. His father was a champion show dog, but Snoopy wasn't really cut out for the show ring. He always seemed more interested in making the audience laugh rather than winning any prizes!
Snoopy has his own "dog blog" and written a book sharing some of the mischief he's mastered over the years. He's also visited senior centers and college campuses as a therapy dog, where he loves to have his fur braided or just roll around on the floor and make everyone laugh. He thinks he's still a 2-year-old pup and certainly has the "Beardie Bounce." All that energy serves him well when out running with Annette each morning.
Snoopy loves welcoming clients to the office but is strictly "by appointment only," so please call ahead to check his schedule. You can keep up with his latest adventures on our Facebook page and LinkedIn.
Click here to watch my many videos and follow along on my latest adventures