A Guide to Your Raymond James Trade Confirmation
The Raymond James trade confirmation offers valuable details pertaining to securities transactions in your accounts in an easy-to-read – and understand – format. Included in your trade confirmations are trade specific details along with important account and product disclosure related information. This information, along with conversations with your financial advisor, will aid you in your financial planning efforts.
This guide is designed to help you get the most out of your Raymond James trade confirmations by highlighting some of the enhanced features.
If you have any questions, please call your financial advisor or Client Services at 800.647.SERV (7378).
A Guide To Your Trade Confirmation (PDF)
---
Linked account mail packets
Clients with multiple accounts can take advantage of mail packet linking to help reduce mailings. In the same manner as client statements, the mail packet linking service allows you to receive account information for multiple linked accounts in one mailing, keeping all your pertinent transaction information together. For example, confirmations for trades made within any of your linked accounts on the same day will be sent in the same envelope. The trade confirmations will be separated by account and will clearly identify the number of trades and pages associated with that account.
Trade confirmation format
The illustration below provides more details on the format of the trade confirmation.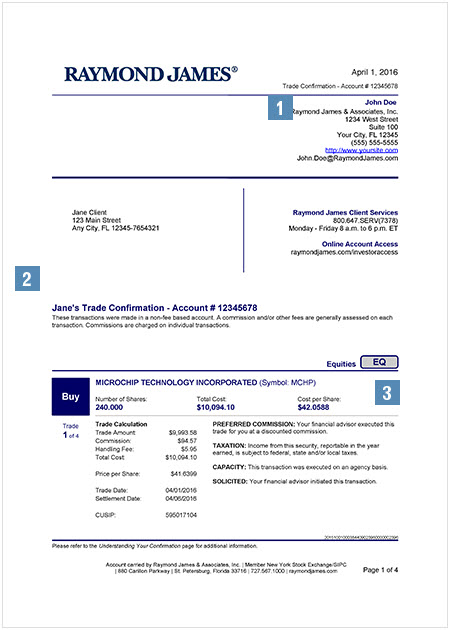 1. The upper-right corner provides important contact information to help you easily contact your advisor or client services with any questions or concerns.
2. The Account number and Account Description appear in the middle of the page to help you identify the account in which the trade(s) took place.
3. The summary box provides an overview of each transaction, clearly identifying the type of trade by buy or sell and highlighting pertinent data about the security involved, including security description, number of shares, amount or cost per share and net or total amount.
---
Multiple trade confirmation
Multiple trades in the same account on the same day will appear together in one trade confirmation. The document is organized so it is easy to find and understand the pertinent details about each trade, as well as other relevant information about the affected security.
Trade confirmations with multiple trades will be organized by security type (e.g. equities and mutual funds) and the trades will then appear in each section in alphabetical order based on security description.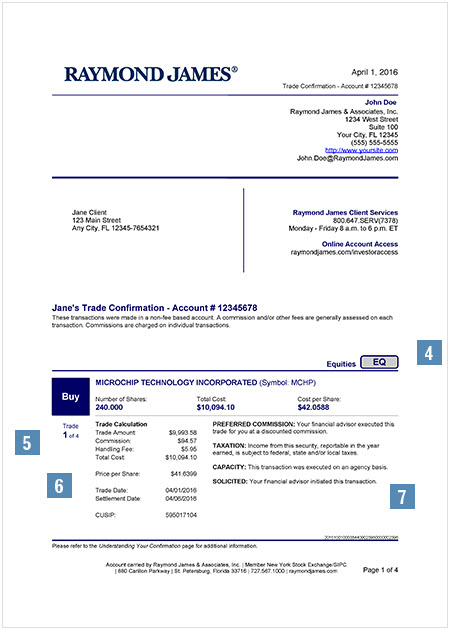 4. Trades are classified by product type (e.g., equities and mutual funds) and appear in alphabetical order.
5. This area helps you identify how many trades took place for the given account (e.g., 1 of 4).
6. Additional transaction data is available below the summary box in the left column.
7. The right column below the summary box details other relevant information about the transaction or security.
---
Multiple trade confirmation continued
Multiple trades done within the same day will be available in one document. Page numbers help you identify how many pages are included in your trade confirmation.
8. A footnote at the end of each security type section lets you know that there is additional disclosure related to those trades at the end of the confirm document.
9. Page numbers help you identify how many pages are included in your trade confirmation.
---
Understanding your confirmation
The understanding your confirmation page includes several reference sections that will help you gain a better grasp of the transaction information presented throughout the document.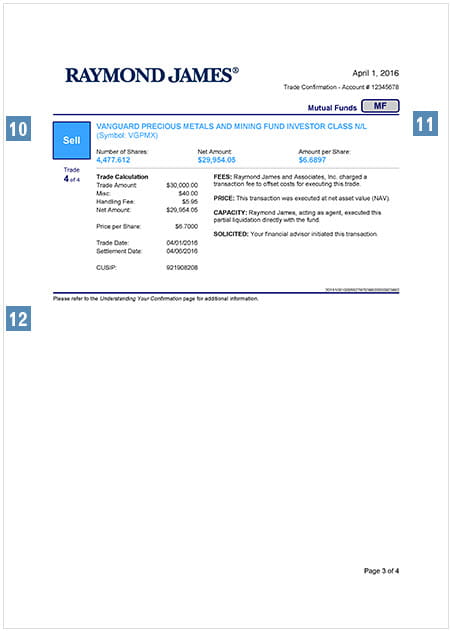 10. Included instructions encourage you to thoroughly review your confirmation and let you know how to obtain additional information, if available.
11. The "Please Remember" section highlights important information about your account or transactions that you should take into consideration.
12. The reference section contains a glossary to explain financial terms and attributes associated with each security and/or transaction, when applicable.
---
Go paperless.
To further simplify your life, all your Raymond James account information appears online as soon as it becomes available. That means you have the option to reduce clutter by ending delivery of paper account statements, trade confirmations and other client communications.
If you already use Client Access to access your accounts online, log in and go to Account Services > Statement and Trade Confirmation Delivery Options to update your preferences.
To sign up for Client Access, simply visit https://clientaccess.rjf.com/ and click on Enroll in Client Access in the left-hand column.
Call your financial advisor or Client Services at 800.647.SERV (7378) to learn more.