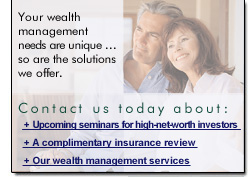 Your success has brought with it significant wealth … as well as unique wealth management challenges. Substantial means often require more extensive investments and services, our team offers specialized solutions to meet those needs.
As with all our clients, we take the time to understand your goals and overall attitudes about how you would like to allocate your resources. After getting to know you and your specific objectives, we can then recommend a range of options to help manage your wealth.
Among the services our team offers to higher-net-worth clients are:
Alternative investments
To help you meet the more extensive portfolio diversification needs that arise from substantial assets, we offer access to a variety of investments that have historically demonstrated lower correlation to standard market indices, including hedge funds, fund of funds, managed futures, private equity and real estate, as well as equity exchange funds for large, concentrated equity positions and similar opportunities.*
Estate planning services
Reducing your tax obligation now and ensuring efficient transfer of assets and protection for your family in the future are likely among your personal objectives. Using the vast resources offered by Raymond James – including the specialized services provided by the Raymond James Trust Companies and insurance provider Planning Corporation of America – and working in conjunction with your other professional advisors, we can address your concerns and develop strategies that incorporate estate, trust and insurance solutions into your financial plan.
Planned giving assistance
Giving to organizations you believe in is an altruistic gesture that positively impacts the lives of others. But it can also be a beneficial part of your overall financial strategy. Our relationship with the Raymond James Trust Companies also provides access to simplified planned giving through the Raymond James Charitable Endowment Fund, an alternative that can enhance your ability to provide much-needed assistance to worthy causes while decreasing the work involved.
Our commitment is to help you manage your wealth in a way that will meet your specific objectives now while ensuring you can leave a legacy to the people you love and the causes in which you believe. We look forward to finding the best solutions for your distinctive needs.

* Alternative investments are available only to those who meet specific suitability requirements, including minimum net worth tests. Please review any offering materials carefully, and consult with your tax advisor or accountant prior to investing. There are special risks involved with alternative investments, including liquidity constraints, tax considerations, fee structures, potentially speculative investment strategies, and different regulatory and reporting requirements. There can be no assurance that any investment will meet its performance objectives.