Retirement Plan & Institutional Advisory Council
About RIAC
RIAC is a dedicated group of financial advisors who establish and uphold a fiduciary standard of care for serving both retirement plans and plan sponsors, as well as, foundations, endowments and other nonprofit institutions. RIAC advisors consult nationwide and make retirement plans and other nonprofit clients their primary focus, which accounts for less than 1% of all Raymond James advisors. RIAC adheres to fiduciary best practices as outlined under ERISA for the qualified plan industry and UPMIFA for the institutional sector in order to help fiduciaries meet their obligations to their participants and organizations.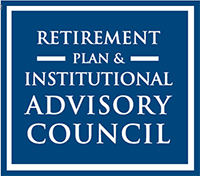 The RIAC Advantage
RIAC advisors assist companies in evaluating alternatives and coordinating the different components of the 401(k) process on an ongoing basis. RIAC advisors are free to serve as consultants with a wide array of available solutions including a Raymond James 3(38) Advisory Plan Solution.
RIAC advisors act with care, prudence and diligence. We acknowledge a fiduciary standard of care with regard to investment recommendations and monitoring of plan investments. In addition, we understand the challenges that plan sponsors face as plan fiduciaries. Under the Employee Retirement Income Security Act of 1974 (ERISA), a plan fiduciary must act solely in the interest of the plan participants and their beneficiaries.
Finally, we understand how important it is for you as plan sponsors to attract and retain quality employees through value-added programs like retirement plans. We are committed to the success of your plan and the retirement readiness of your employees. Our goal is to build and foster long-term relationships with you and your company.
* Raymond James' Retirement Plan & Institutional Advisory Council membership is based on assets under management, number of qualified group retirement plans, designations obtained, and compliance record. Membership is not an endorsement, is not representative of any one client's experience, and is not indicative of future performance. No fee is paid in exchange for this membership.