The Early Years. Fisette Financial Services, the precursor to Fisette & Kim Financial Services, was formed in February 2010 by the father-daughter team of Michael and Erica Fisette. Prior to that from 2003 – 2010, Michael and Erica were Financial Advisor partners at Banc of America Investment Services, Inc., which later merged with Merrill Lynch. From humble beginnings, they began their careers sharing a very cozy cubicle at Bank of America's Eastgate Banking Center in Bellevue, WA.
In 2010, Michael and Erica realized it was time for them to venture out on their own, so they formed Fisette Financial Services, LLC. After interviewing several broker-dealers, Raymond James was the standout winner. They moved just a few miles east down I-90, and hung their shingle at Lake Place Office Center in Issaquah, WA. After quickly outgrowing their new office in just 3 years, they subsequently moved to Issaquah Highlands in 2013.
The Middle Years. In 2019, having experienced significant growth and wanting to ensure sufficient staff to continue providing quality service, they brought aboard another financial advisor, Greg Leonard, who was previously with Fidelity Investments in Bellevue, WA.
After working side-by-side for 17 years, Erica chose to leave the business in early 2020. Shortly thereafter, Michael hired his first summer intern, Brady Jowell, who had just completed his Junior year at Central Washington University, and would graduate with a bachelor's degree in Personal Financial Planning. Brady made such an impression that Michael agreed to keep him on a part-time basis through his Senior year, with the hope that Brady would accept a full-time position when he graduated in June of 2021.
During their tenure with Banc of America Investment Services, Inc., Michael and Erica formed a mentorship relationship with Ethan Kim in January of 2007, who at the time was a newly-minted Financial Advisor with Banc of America Investment Services, Inc. Over the years, they developed a deep personal and professional relationship that helped Ethan realize the same goal and vision of launching his own business. During Ethan's career from 2007 - 2020, he assembled an impressive clientele on his own at Bank of America-Merrill Lynch, and later at Key Investment Services. In January 2018, Ethan brought on Scott Milam as a partner at Key Investment Services. Interestingly, Scott always shared the same goal and vision, and they worked towards that goal over the years.
Evolution to Fisette & Kim. In 2020, Ethan & Scott decided that it was time to start their own investment advisory practice. Contemporaneously, Fisette Financial Services experienced Erica's departure. With the genesis of one company, and a significant change for another, Michael and Ethan decided that working together would create a meaningful synergy that would enable a more profound experience and advice for their clients, rather than operating as separate teams.
So, on September 10, 2020, Ethan and Scott left Key Investment Services to join Raymond James Financial Services, and formed their own practice, Embark Financial Services, LLC. In November 2020, Michael formed a new practice, Fisette & Kim Financial Services, to reflect this new reality. While Ethan and Scott's practice legal name is Embark Financial Services, LLC, they do business as Fisette & Kim Financial Services, LLC. The expectation is that, in 2026, they will merge with the Fisette & Kim Financial Services, LLC legal entity.
2022 and Beyond. 2022 was a defining year for Fisette & Kim Financial Services. after several years of study, Ethan and Brady earned their CERTIFIED FINANCIAL PLANNER® practitioner designations. Greg and Scott are currently pursuing the CERTIFIED FINANCIAL PLANNER® course of study.
Michael is careful to stay fit and healthy, but he knows all-too-well how life changes at a moment's notice. Because nobody goes on forever, Michael knew it would be wise to collaborate closely with someone with years of industry experience, while thoughtfully involving the entire team to ensure continuity. Thus, in late 2022, Michael and Ethan decided it was time to co-advise clients, for whom Michael is their primary Financial Advisor. Meanwhile, Scott and Ethan will continue to jointly advise their clients with the same dedication and care they've demonstrated over the years. Scott, Greg, and Brady will support these joint efforts, to ensure quality advice and service are provided to their clients from all members of Fisette & Kim Financial Services.
In July 2025, Michael plans to scale back his hours, and reduce the number of families he advises, but hopes to continue in the business he enjoys, and profoundly impact people's lives.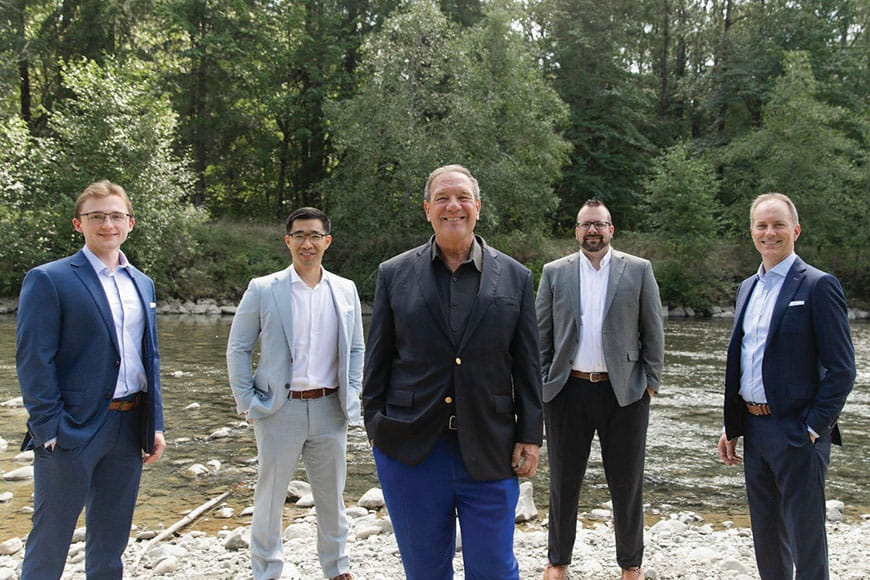 Brady Jowell, CFP®, Ethan Kim, CFP®, Michael Fisette, CFP®, Scott Milam, Greg Leonard