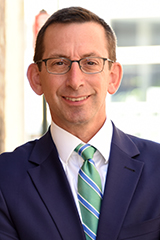 For more than 20 years, David has helped business owners, professionals, retirees and widows to realistically define their goals in order to create financial plans for the pursuit of both short- and long-term objectives. The problem-solving aspects of his practice are both challenging and rewarding for David. Whether he is preparing a portfolio for a client from the ground up or providing a full financial review, he helps clients identify risks and find how best to address them. This covers everything from estate tax mitigation strategies to identifying specific investment options.
In 1993, David began working with his father, John "Jack" Farley, a partner at Roney & Company, which merged with Raymond James & Associates in 1999. In 2001, Jack retired after 50 years with Roney/Raymond James. After his father's retirement, David partnered with Balky Grannis, who was hired by Jack Farley in 1974, until Balky's retirement in 2014. Today, David strives to adhere to the high professional standards set by his talented mentors.
David graduated from the University of North Dakota in Grand Forks. After graduation, he returned to Petoskey where he is a member of the Kiwanis Club of Petoskey and served as past president. He also serves as a youth soccer coach for the city of Petoskey, is active in the Boy Scouts of America at the district level and as a Pack and Troop leader, and serves on the Emmanuel Episcopal Church of Petoskey's Board of Directors. In the past, David has served as the president and on the board of directors for Camp Daggett and Petoskey Montessori Children's House and Elementary School and served on the Parks and Recreation Board for the City of Petoskey.
David and his wife, Carrie, have four children. David also enjoys running, which he has done for 30 years. He has completed 11 marathons and an Ironman triathlon. David also enjoys biking, swimming, and nordic and downhill skiing.