Becoming Sir John
---
Stop us if you've heard the one about the merchant marine turned ice cream factory builder turned financial advisor who would eventually become a foreign consul and be knighted by the royal family of Denmark.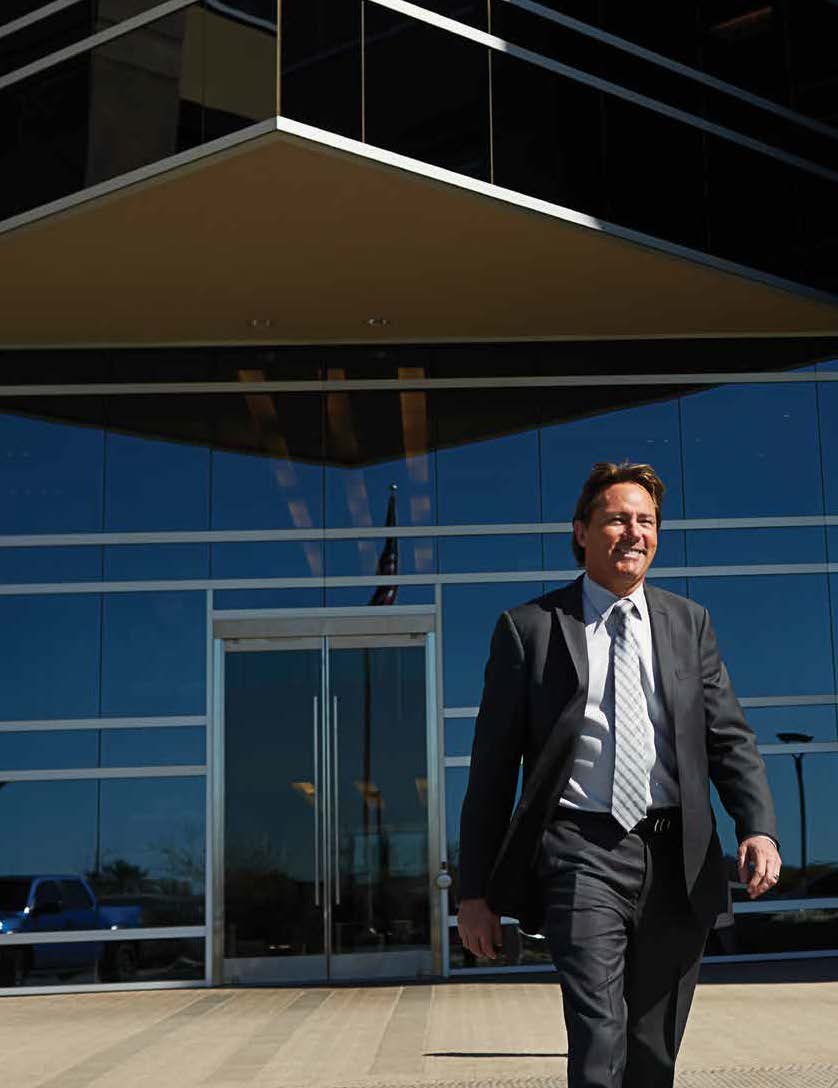 WELL, EVEN IF YOU DO KNOW SCOTTSDALE-BASED ADVISOR JOHN LARSEN – AND IF YOU ARE A DANE LIVING IN THE GREATER PHOENIX METROPOLITAN AREA YOU PROBABLY DO – IT BEARS HEARING AGAIN, BECAUSE HOW OFTEN DO YOU GET TO HEAR A STORY ABOUT DANISH NOBILITY NOT CALLED HAMLET?
KOMMER TIL AMERIKA (ENG: COMING TO AMERICA)
If there is one thing you can learn from John's career and life, it's the importance of staying close to your roots. John grew up in the town of Skodstrup in Denmark. After completing his engineering degree, he landed his first job as a merchant marine engineer for the shipping giant Maersk. He spent a year at sea as a 2nd engineer before settling in San Francisco, where he was recruited to a Danish Wisconsinbased company called OG Hoyer and, against all logic, drove east to join the company that builds ice cream factories for the likes of Häagen Dazs and Ben & Jerry's. What, you may ask, compelled him to embark on this second career?
Well, it turns out that most ice cream-making equipment in America comes from Denmark, so a Danish-bred engineer with a strong command of the English language and no family was a perfect fit for a job that required traveling around the U.S. and Canada installing really big ice cream makers. In 1994, on one of his many trips, John was on a flight from L.A. to Chicago sitting next to, as fate would have it, another Dane, by the name of Skip Christensen. Skip was an advisor with Edward Jones. "That was how I was kind of introduced to the concept of financial planning and how it works in the U.S.," says John, a Leaders Club member. "My father was a banker for 35 years in Denmark, and we often talked money and financial planning when I was growing up. Talking to Skip just brought it all back."
Some months later, John was in Phoenix building another ice cream factory when his managers told him he needed to come back to work in the corporate offices in Wisconsin. "That's the moment I smartened up and changed careers again," says John. Wisconsin in February didn't appeal to even a Dane, so he looked up Skip and visited him in his Edward Jones office. He liked what he saw and decided to follow in his dad's footsteps into the financial services industry. He took a position with American Express Financial Advisors in 1996 and then moved to Edward Jones a year later. "I was one of the earlier Edward Jones advisors in Scottsdale, and I had a good run of about 16-17 years with them," says John. "About two years ago I was recruited to Raymond James, which had become quite a name in this market. "
---
"I learned early that my heritage simply allowed me to integrate with the Danish community wherever I was." – JOHN LARSEN
---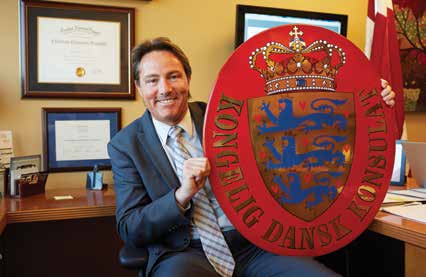 RODDER (ENG: ROOTS)
John built a very successful practice in large part due to his Danish heritage and pockets of Danish culture he found almost everywhere he traveled throughout the U.S. "I learned early that my heritage simply allowed me to integrate with the Danish community wherever I was," says John. "It's more cultural than nationalistic, and almost every Dane I meet introduces me to another in the area. Soon, I became well-known in Danish circles, and many of my better clients are quite influential here and back in our home country."
So when the local Danish consul announced his plans for retirement, some of the more established and successful Danes in the area – also John's clients – nominated John to the Danish government as a possible successor.
An ambassador was dispatched to Scottsdale to meet with John and interview him for the consulate position. "I guess he liked the things I had done for the Danish community – providing financial guidance, helping families – and decided that I would be a good representative. I was appointed consul for Arizona and New Mexico in 2005," he says. While the title of consul is an honorary one, it is important as John helps out his fellow countrymen with passport issues, business communications and even organizing cultural events. He has managed to continue to grow his business despite his obligations to Denmark, and simultaneously because of them. "Having this role does put you in a different frame of mind with clients and prospects because it gives you a level of credibility that's really hard to get otherwise," says John.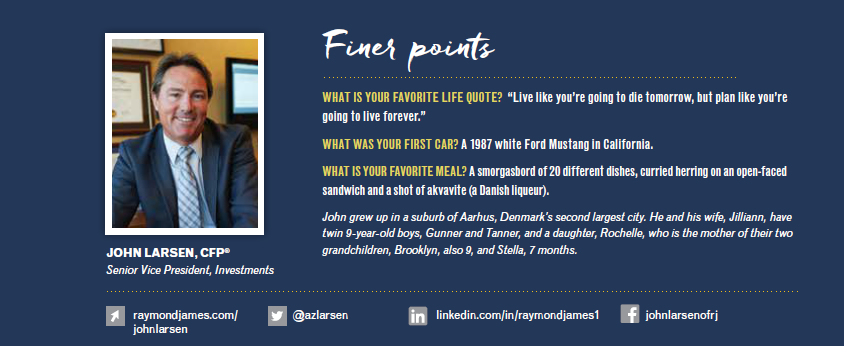 ---
There seemed to be a disconnect, however, between John and Edward Jones when it came to his work with the Danish government and how it might impact his business. That, among other things, prompted him to begin exploring other firms. He didn't know much about Raymond James, except he kept hearing from other advisors about the client-first mentality of a firm that regards its advisors as their clients. "Raymond James has a much more global perspective about the business and understands that we're not all alike and have our own ways of managing our businesses and our lives," says John, who joined the firm in 2013. "I've been very happy with the way this firm has embraced my unique role in the Danish community." And it's from that thriving Danish community that John has built a very successful advisory practice.
He has clients in 25 states and says about 30% of his clientele is Danish-inspired, with small business owners, executives, retirees, families, individuals and a handful of retirement plan clients. He is a CFP who prefers to work with managed money, and he admits that has led him to be a very meticulous businessman. He and his longtime assistant, Peggy Quain, manage his practice with regimented processes and procedures, from a disciplined onboarding process to broad use of the Goal Planning & Monitoring platform, for which he is an avid proponent. "Obviously, when you work with your clients, their goals are the most important thing, and with GPM you can frame those goals within discussions of volatile markets and short-term issues that come with managed money," says John. "The biggest joy I get out of my job is working with a motivated client who sets goals and works toward them, and bringing a sense of peacefulness to his or her in that part of his or her life."
---
RIDDERSKAB (ENG: KNIGHTHOOD)
Being such a purveyor of peacefulness to his fellow Danes, as consul or advisor or both, has brought him well-deserved recognition among his countrymen. So much recognition that his name was submitted for consideration to the Danish government and royal family for knighthood. Danish nobility reaches all the way back to the 13th century, but in 1683 laws were passed that allowed people not born into the noble houses of Denmark to achieve noble rank through standing in their community or a certain capability to serve the crown and the nation.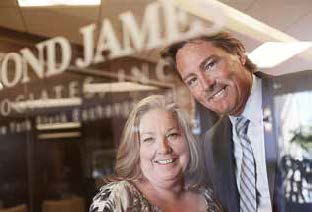 Those laws still stand, and as a consul and established businessman who has helped hundreds if not thousands of fellow Danes in matters of commerce and personal finance, John was deemed worthy of knighthood. In 2014, he returned to Copenhagen to be knighted and receive the Grand Cross for meritorious service to Denmark, and become an enduring part of national history. "As a knight, you get to write your own biography and genealogy to be placed in the Danish national archives," explains John. And you better believe that historical saga features some strong Danish roots.
The projections or other information generated by Goal Planning & Monitoring regarding the likelihood of various investment outcomes are hypothetical in nature, do not reflect actual investment results, and are not guarantees of future results. Goal Planning & Monitoring results may vary with each use and over time.