---
Click below to read the latest edition of Around the Square, a quarterly publication featuring exclusive insight into subjects of interest from special guest commentators and original content from Park Square Financial Advisors. We hope you enjoy!
To subscribe, unsubscribe, or submit comments, please email Kristin at kristin.sturm@raymondjames.com
Current Issue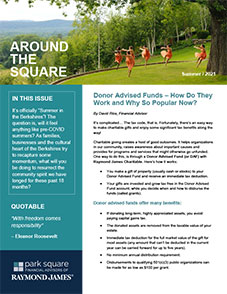 Summer 2021
IN THIS ISSUE: It's officially "Summer in the Berkshires"! The question is, will it feel anything like pre-COVID summers? As families, businesses and the cultural heart of the Berkshires try to recapture some momentum, what will you be doing to resurrect the community spirit we have longed for these past 18 months?
Past Issues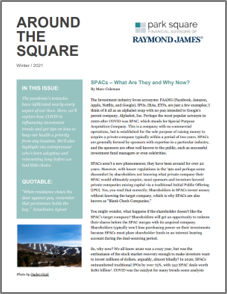 Winter 2021
IN THIS ISSUE: The pandemic's tentacles have infiltrated nearly every aspect of our lives. Here, we'll explore how COVID is influencing investment trends and get tips on how to keep our health a priority from any location. We'll also highlight one entrepreneur who's been adapting and reinventing long before we had little choice.
Fall 2020
IN THIS ISSUE: Our guest columnists dig into topics, including how COVID19 impacted the summer tourism industry here in the Berkshires and how the various stimulus packages passed by Congress may affect your personal tax planning this year.