Online Economic & Market Update – November 2018
The following video was an online held webinar held Friday, 11/9/18. This meeting was held with individuals from with JPMorgan Asset Management, who used the most recent edition of their "Guide to the Markets," to walk us through the current landscape and outlook for the remainder of 2018 and into next year. We also discussed key drivers and trends taking place in the markets.
The information contained in this presentation does not purport to be a complete description of the securities, markets, or developments referred to in this material. The information has been obtained from sources considered to be reliable, but we do not guarantee that the foregoing material is accurate or complete. Any opinions are those of J.P. Morgan and not necessarily those of Raymond James. Raymond James is not affiliated with J.P Morgan.
There is no guarantee that these statements, opinions or forecasts provided herein will prove to be correct. Diversification and asset allocation do not ensure a profit or protect against a loss. Keep in mind that individuals cannot invest directly in any index, and index performance does not include transaction costs or other fees, which will affect actual investment performance. Individual investor's results will vary. Past performance does not guarantee future results
August was "Raymond James Cares Month." The Saginaw, MI and Grand Blanc, MI branches partnered together to volunteer at the Food Bank of Eastern Michigan. 21 associates and family members inspected, sorted and boxed 6770 pounds of bread to be distributed to local soup kitchens, homeless shelters and food pantries. The Food Bank provides 21 million pounds of food each year to over 400 agencies that feed 300,000 people in Eastern Michigan who go hungry on a daily basis.
To donate and for further information, please visit their website: https://www.fbem.org/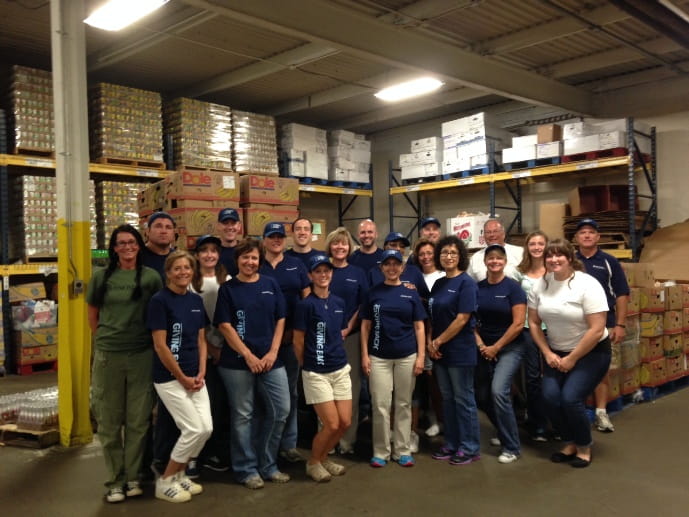 Saturday, August 23rd was the 37th Annual Crim Festival of Races in downtown Flint. David participated and ran the 10 mile race for the sixth time, along with his brother, Tim. RJ has "retired" from the Crim, having run several in the 1980's and having sat on the organizational board for inaugural race in 1977. This year, one of the official photographers happened to catch David action near the start line.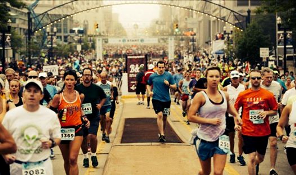 On Wednesday, July 16th, 2014, the Grand Blanc office of Raymond James surprised R.J. with a party celebrating his 45th year with the firm. RJ joined Roney & Co. in 1969, and stayed on when the firm merged with Raymond James & Associates. His 45 years with the firm shows a true commitment to his clients, co-workers, and company. We were happy to celebrate with him and look for even more success in the future.