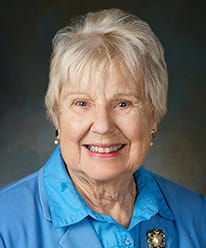 Cecilia Scigliuto
Director of First Impressions
---
Director of First Impressions
2002-present: Cecilia has been our Director of First Impressions at David A. Scigliuto Wealth Management since 2002 providing warmth, hospitality and kindness to all. Her responsibilities include reception, mailings, and clerical support.
1995-2002: Provided Clerical support at AG Edwards
1995-2000: Cecilia was a school aide and an assistant to the counselor at Starkey Elementary.
1993-1995: Performed Clerical duties at Pinellas County Social Services
Hobbies:
Cecilia loves her kitty and ANY sport! She loves to read, watch TV & collect items. You can always call and ask her about current baseball scores and weather forecasts!
Accomplishments:
Won $15 (think of what that would be worth if she invested it!) in 1947 with the furthest softball throw of all the females at a company picnic!
Cecilia was in charge of making a spaghetti dinner for over 200 people.
Organizations:
Member of the Blessed Sacrament Catholic Church
---