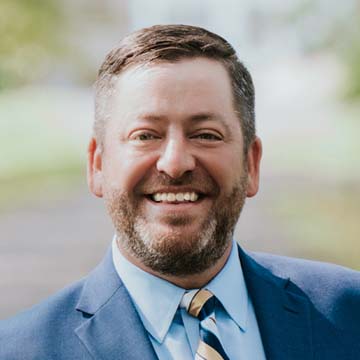 Jesse
Brookreson,
CRC®
Senior Vice President, Wealth Management
Financial Advisor
Jesse strives to empower his clients with high confidence, rooted in his thoughtful and practical approach investing and planning.
To achieve this, he works with his team to provide clarity, structure and confidence to each of his client's finances and provide them with the information and guidance they need to make decisions. This includes working to understand the complexities of clients' lives and proposing practical and relevant recommendations.
Jesse's clients know him for his authenticity and integrity. He takes the time to understand their circumstances – including their families, businesses and goals – and build a relationship founded on trust and candor. He also works to always do the right thing for his clients, knowing that the only way to have enduring success is to hold himself to high standards and the best practices of his profession.
He is a seasoned financial professional who, before joining Raymond James in 2021, had been with Wells Fargo Advisors since 2005. Prior to that, he worked on the institutional side of investing as a trader and equity specialist starting in 1997. He relies on this experience and expertise to advise clients on how a sound investment plan can make help them better navigate their life's journey.
Among his clients, Jesse counts individual investors, families, small business and business owners who he assists with a wide range of financial services including tailored investment management and estate and legacy planning. Jesse has also earned the Certified Retirement Counselor® professional designation. Additionally, Jesse specializes in working with captive insurance and reinsurance companies in managing their capital, with a focus on managing the capital of automotive finance and insurance – F&I – reinsurance companies.
Jesse is a graduate of LaSalle University where he earned a Bachelor of Science in business administration. He believes in the importance of civic engagement as an avenue of community betterment, spending his free time with the Rotary Club of Hatboro, Pennsylvania, as an active member since 2006, past president and Paul Harris Fellow. He also serves on the finance committee of his church, St. Robert Bellarmine Church in Warrington.
In his spare time, he enjoys golfing, hunting, fishing and cooking. He and his wife, Molly Ann Brookreson, have five children: Mavis, Martha, Kendrick, Nellie and Harry. Jesse grew up in Huntingdon Valley and now lives in Warrington.