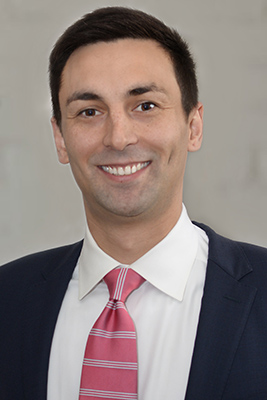 THOMAS N. WALL
Financial Planner
thomas.wall@raymondjames.com

Nearly everyone recognizes the importance of doing something with their money. It's just that many don't know where to start. Thomas' passion is helping his clients define their goals and make a lasting impact, for themselves and their loved ones, one controlled action at a time.
With genuine care for his clients, Thomas guides people during the times when financial decisions are most impactful. This goes for mid-career clients, soon-to-be retirees, and those in their best years – late-stage retirees thinking about their legacies. He has a keen ability to listen and truly understand what motivates people, a skill he's been refining since first becoming a financial advisor with Edward Jones in 2012. Today, at the Grand Rapids office of Guide Point Financial Partners, Thomas puts those same abilities to work, along with compassion, commitment, and a problem-solving approach - attributes that help clients feel like they are truly heard and understood.
Originally from Lansing, Thomas graduated from Central Michigan University, where he earned a Bachelor of Science in Business Administration. He currently resides in Ionia with his wife, Samantha, and their twins, Greyson and Jaxson, and is active in various community service and fundraising projects as part of the Ionia Jaycees. In his spare time, he enjoys the outdoors in every season – fishing, hiking and camping in spring, and hunting and snowboarding when the weather cools.
That's Thomas' story. What's yours?